Overview
Practice Essentials
An angiosarcoma (AS) is an uncommon malignant neoplasm characterized by rapidly proliferating, extensively infiltrating anaplastic cells derived from blood vessels and lining irregular blood-filled spaces. Specialists apply the term angiosarcoma to a wide range of malignant endothelial vascular neoplasms that affect a variety of sites. Angiosarcomas are aggressive and tend to recur locally, spread widely, and have a high rate of lymph node and systemic metastases. The rate of tumor-related death is high. See the images below.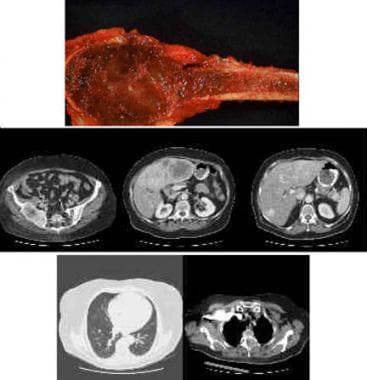 This is a gross specimen from a proximal humerus bone angiosarcoma. These tumors generally are red and hemorrhagic. Although the tumor has not extended into the adjacent soft tissues, cortical erosion is evident. The patient was treated with wide excision and reconstruction with a humeral spacer. The patient's next oncologic recheck showed multiple lesions, including a large destructive lesion in the right ilium extending to the sacroiliac joint and the right sacral ala. Also noted was an upper thoracic vertebral lesion, multiple indeterminate pulmonary nodules, extensive hepatic metastases most marked in the left lobe, and an indeterminate left adnexal mass.
Pathophysiology
Angiosarcomas arising at different sites and in different organs have some distinct features. Angiosarcomas may occur in any region of the body but are more frequent in skin and soft tissue. Angiosarcomas also can originate in the liver, breast, spleen, bone, or heart. [1, 2, 3, 4]
The Angiosarcoma Project performed whole-exome sequencing of 47 tumors and found recurrent mutations of genes including KDR, TP53, and PIK3CA. PIK3CA-activating mutations were observed predominantly in primary breast angiosarcoma, while angiosarcoma of the head, neck, face, and scalp was associated with a high tumor mutation burden and a dominant ultraviolet damage mutational signature, suggesting that ultraviolet damage may be a causative factor and that immune checkpoint inhibition may be beneficial. [5]
Epidemiology
Frequency
United States
Angiosarcomas are rare neoplasms. Approximately 50% of angiosarcomas occur in the head and neck, but they account for less than 0.1% of head and neck malignancies. [6]
Around 2% of soft tissue sarcomas in general and 5.4% of cutaneous soft tissue sarcomas are angiosarcomas [1] . This is in contrast with the classic report of 1%. [7] The incidence of soft tissue sarcomas from 1973 to 2006 was 5.9 per 100,000 persons. [8]
International
Worldwide incidence is also low; in the United Kingdom, for example, the National Cancer Intelligence Network (NCIN) reported that angiosarcomas represent 3.3% of all soft tissue sarcomas, with an incidence rate of 1.5 per million. [9]
Mortality/morbidity
All angiosarcomas tend to be aggressive and are often multicentric. These tumors have high rates of local recurrence and metastasis because of their intrinsic biologic properties and because they are often misdiagnosed, leading to a poor prognosis and a high mortality rate. Malignant vascular tumors are clinically aggressive, difficult to treat, and have a reported 5-year survival rate around 20-35%. [3, 10, 11] Advanced stage at presentation and lack of radical or wide excision are associated with higher recurrence rates, higher distant metastasis rates, and worsened survival. This is in contrast to the 5-year survival for all types of soft tissue sarcomas, which is around 65%. [12] Angiosarcoma of the viscera (particularly liver and heart) and retroperitoneal disease are especially associated with poor outcome. [1] More than 50% of patients develop metastatic disease, with the lung the primary organ involved. [10, 11]
Race-, sex-, and age-related demographics
Demographic variation includes the following:
African Americans in the United States are rarely affected by cutaneous angiosarcoma.

[6]

Cutaneous angiosarcoma is more frequent in males than in females, with a male-to-female ratio of 2:1.

Bone angiosarcoma appears most often in adults (second to seventh decades of life).

Cutaneous angiosarcoma of the head and neck tends to occur in the elderly population.

[6]
What would you like to print?