Treatment
Medical Care
Although complete surgical resection is the only therapy to afford a chance of cure, en bloc resections of the gallbladder and portal lymph nodes carry a high morbidity and mortality (similar to bile duct carcinoma). Adequate surgical margins may be difficult to achieve. The role of adjuvant radiation therapy is to control microscopic residual deposits of carcinoma in the tumor bed and regional lymph nodes. The rationale for radiation therapy with or without concurrent chemotherapy in patients with unresectable disease is to provide palliation of symptoms. Rarely, it may increase survival.
The role of radiotherapy for carcinoma of the gallbladder is unclear because the available literature is derived from small, single institutional experiences over many years, with a variety of treatment methods used. Complicating this is the fact that only approximately 25% of patients with carcinoma of the gallbladder can undergo curative surgery.
Even large institutions do not accrue more than single-digit numbers of patients per year, and many are not on protocol. Available reports contain small numbers of patients with incomplete reporting of technical treatment data, histological grading, and tumor extent. The literature is strongly biased by patient selection, and interpretation of the reports is difficult. Given these difficulties, the data support the following statements:
Radiotherapy has been delivered in a variety of situations, including after curative resections with close or positive microscopic margins, gross macroscopic residual disease, and palliative debulking with bypass.
Significant increases in survival rates have been reported after curative surgery is attempted and only microscopic residual disease remains. Survival in these patients after surgery alone ranges from 6-7 months and can be prolonged to longer than 12 months with external beam radiotherapy administered as adjuvant therapy. This excludes patients with T1 or stage I disease confined to the mucosa of the gallbladder. Their survival rates are extremely high and they are at very low risk for lymph node metastases.
All patients with tumors beyond the mucosa are candidates for external beam radiotherapy. Patients with curative resection and AJCC stages T2-T4 who have had complete resection who receive radiation have a mean survival of over 16 months. This is compared to less than 6 months mean survival with surgery alone.
5-FU–based chemotherapy is usually given in conjunction with concurrent radiation therapy in the adjuvant setting. Adjuvant chemotherapy can be given with single agent gemcitabine or a fluorpyrimidine-based agent. No evidence-based clinical study exists to demonstrate the benefit of any form of adjuvant therapy in gallbladder cancer. Wherever possible, patients eligible for adjuvant therapy should be entered in a clinical trial. Gemcitabine by itself is an effective agent in the treatment of patients with unresectable recurrent or metastatic disease. The combination of gemcitabine and cisplatin [21] or the combination of gemcitabine and capecitabine may be more effective than gemcitabine alone.
In a randomized, controlled, single institution study from India, Sharma et al compared best supportive care versus 5FU/leucovorin or gemcitabine/oxaliplatin in 81 patients with unresectable gallbladder cancer. The gemcitabine/oxaliplatin treatment arm was statistically superior in terms of overall response rate, median overall survival, and progression-free survival. [22]
In the UK ABC-02 trial, [23] a multicenter, phase III randomized trial, gemcitabine plus cisplatin demonstrated a survival advantage over gemcitabine alone. The median overall survival was11.7 months for those receiving gemcitabine plus cisplatin compared with 8.1 months for those receiving gemcitabine alone; progression-free survival was 8 months in the group receiving gemcitabine plus cisplatin group compared with 5 months in those receiving only gemcitabine.
Because some patients are not able to receive cisplatin-based chemotherapy, Iqbal et al explored gemcitabine plus capecitabine as a possible treatment option in a phase 2 study of 57 patients with advanced or metastatic biliary cancer. This study included both patients with cholangiocarcinoma (67%) and patients with gallbladder cancer (33%). No complete responses were seen. Of the 52 patients who were able to continue the study, a confirmed partial response was seen in 7 patients, and an unconfirmed partial response was seen in 6 patients. Stable disease was seen in 12 patients. Six-month overall survival was 55%, and median survival was 7 months. Of the 51 patients available for toxicity assessment, 6 had grade 4 toxicities. The study concluded that the combination of gemcitabine and capecitabine was well-tolerated. [24]
Because EGFR is overexpressed in a vast majority of biliary tract cancers, trials using EGFR-targeting agents have occurred. The BINGO trial, a phase II clinical trial of 101 patients (24% with gallbladder cancer), compared gemcitabine with oxaliplatin (GEMOX), alone or in combination with cetuximab; an interim analysis demonstrated a benefit for the GEMOX plus cetuximab arm, with a progression-free survival of 5 months compared with 7 months in the other arm. [25]
In support of this, a 30-patient, single-arm, phase II trial also evaluated the role of cetuximab with GEMOX in patients with unresectable advanced or metastatic biliary cancer (10% with gallbladder cancer). [26] An improvement in progression-free survival and overall survival was seen (progression-free survival, 8.8 mo; median overall survival, 15.2 mo). Wild-type KRAS was found in 90% of patients; however, all 3 patients who had tumors with KRAS mutations responded to therapy. Although the data are encouraging, more definitive phase III clinical trials are needed to direct therapy for patients with this particular malignancy.
Selected patients with unresectable disease may be considered for surgical resection after response to chemotherapy. This is based on a retrospective study showing markedly improved survival in a small number of patients who received gemcitabine and cisplatin followed by surgery. [27] More trials are needed to evaluate this benefit.
Patients with a good performance status should be considered for a clinical trial or for treatment with the regimens described in this section. Patients with a poor performance status may be best treated with supportive care.
Surgical Care
Complete surgical resection is the only therapy to offer a chance of cure in this disease. Unfortunately, only a minority of patients present with early-stage disease and are, therefore, considered for curative resection.
Optimistically, 5 year survival rates for gallbladder cancer have increased 5-12% up to 38%. This increase is felt to be related to a trend in standardizing aggressive approaches to locally confined disease. [28] Studies evaluating the significance of tumor involvement of the liver in early T-stage tumors and lymph node metastases on outcomes suggest that a need to standardize minimum requirements for adequate surgical resection and pathological examination of gallbladder cancer resections. [29]
Patients who present with a gallbladder mass or jaundice are evaluated preoperatively for resectability, including chest imaging, abdominal/ pelvic CT scan, or MRI and possibly a staging laparoscopy. Nodal metastases outside of the regional area (ie, porta hepatis, gastrohepatic ligament, retroduodenal area) are not resectable. If the tumor is resectable, the patient should undergo a cholecystectomy, hepatic resection, and regional lymphadenectomy (see the image below). The extent of hepatic resection is currently undefined. However, approximately 25% of T2 tumors have liver involvement. Liver involvement is a prognostic indicator of worse outcome. [29] Bile duct excision may also be necessary, especially if jaundice is present. The operative morbidity and mortality rate increases with the complexity of the operative procedure.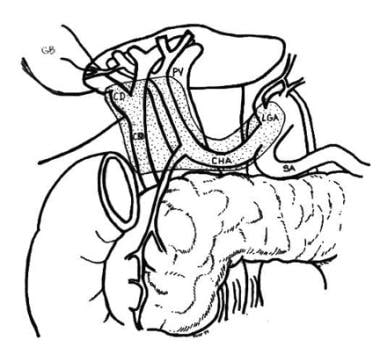 A schematic drawing of the extent of lymphadenectomy for gallbladder cancer, especially when the extrahepatic biliary tree is resected.
Gallbladder cancer is sometimes an incidental pathology finding after a cholecystectomy is performed for reasons other than cancer. If the tumor is carcinoma in situ (Tis) or only invades the lamina propria (T1a) and the margins of resection are negative, then postoperative observation alone is acceptable. If the tumor is T1b or greater or the margins of resection are positive and if no metastatic disease is present on evaluation (CT or MRI scan and chest radiograph), then a second surgical resection is required. This additional surgery should include partial hepatic resection and regional lymphadenectomy (porta hepatis, gastrohepatic ligament, and retroduodenal lymph nodes). A bile duct resection may also be necessary, depending on tumor size and location. If the original surgery was performed via a laparoscopic approach, then the port sites should also be resected to avoid tumor seeding.
Because of the high incidence of gallbladder cancer in a calcified (porcelain) gallbladder, patients with this finding should be strongly considered for an open cholecystectomy, even if they are asymptomatic. Avoid a laparoscopic cholecystectomy in this setting to avoid the risk of peritoneal seeding if, indeed, gallbladder cancer is present.
Lymph node evaluation is a critical component of radical resections for gallbladder cancer and has been shown to improve survival in a recent retrospective trial. [30] Although no consensus has been reached on the minimum number of lymph nodes required for evaluation for accurate staging, one study demonstrated in a prospectively maintained database that patients with an R0 resection who were determined to be N0 based on total lymph node count (TLNC) of 6 or more had a relapse free (RFS) and disease specific survival (DSS) rates of 70% and 72%, respectively. Patients with an R0 resection who were determined to be N0 based on a TLNC of less than 6 had RFS and DSS rates of 32% and 45%, respectively. This underscores the importance in a thorough lymphadenectomy of the porta hepatis and complete review of the pathological specimens for accurate risk stratification of patients with gallbladder cancer.
The surgical role in treatment of unresectable disease is usually limited to biopsy of the tumor for diagnosis and possible biliary decompression procedures.
Consultations
A radiation oncologist and medical oncologist should be part of the multidisciplinary team participating in the treatment of patients with gallbladder cancer.
What would you like to print?