Workup
Approach Considerations
Order the usual laboratory studies, including the following:
Complete blood count (CBC)

Hemoglobin/hematocrit

Platelet count

Urinalysis
Order imaging studies as appropriate. [15]
When rhabdomyoma is suspected, a biopsy of the lesion is indicated. Needle biopsies can reveal sufficient information to make a histopathologic diagnosis.
Imaging Studies
Perform routine radiographic studies, including radiographs of the chest and affected areas of the body.
Magnetic resonance imaging (MRI) of the affected area might be useful.
Occasionally, computed tomography (CT), particularly of the chest in cases of cardiac rhabdomyoma, might be of value (see the image below).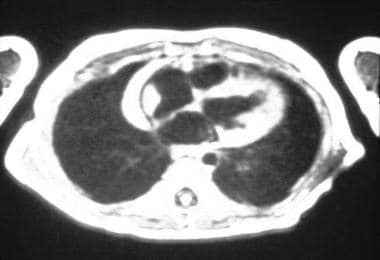 Atrial rhabdomyoma as seen on cardiac CT scan in a patient with tuberous sclerosis.
Biopsy
Any masses, such as those found in the head and neck of patients with adult rhabdomyoma, should be biopsied to establish a diagnosis.
Make a small incision directly over the mass, and remove a small amount of tumor tissue. Close the wound in the usual manner.
A needle biopsy can be performed with a Tru-Cut needle. A small stab wound is made directly over the mass. The needle is introduced into the tumor, then withdrawn with a small amount of tumor tissue attached. Subsequently, a dressing is applied to the wound.
Histologic Findings
The histopathologic findings from patients with adult rhabdomyoma are characterized by the presence of well-differentiated large cells, which resemble striated muscle cells. The cells are deeply eosinophilic polygonal cells with small, peripherally placed nuclei and occasional intracellular vacuoles (see the image below).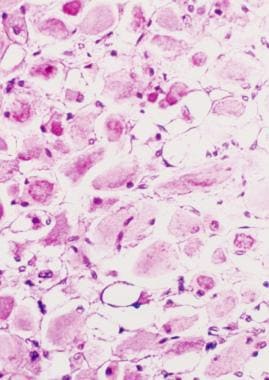 Histopathology of adult rhabdomyoma. Microscopically, the adult rhabdomyoma contains deeply eosinophilic polygonal cells with peripherally placed nuclei. Cross-striations can be observed (X250).
Fetal rhabdomyoma is identifiable by the presence of a mixture of spindle-shaped cells with indistinct cytoplasm and muscle fibers, which resemble striated muscle tissue seen in intrauterine development at 7-12 weeks.
Genital rhabdomyoma is made up of a mixture of fibroblastlike cells with clusters of mature cells containing distinct cross-striations and a matrix containing varying amounts of collagen and mucoid material.
Cardiac rhabdomyoma consists of cells that closely resemble embryonic cardiac muscle cells.
The histopathology of rhabdomyomatous mesenchymal hamartoma of the skin reveals that the lesions contain poorly oriented or perpendicular bundles of well-differentiated skeletal muscle with islands of fat, fibrous tissue, and occasionally proliferating nerves.
Staging
Rhabdomyomas may be characterized on the basis of grade (G), site (T), and metastasis (M), as follows:
G0 - Benign

T0 - Intracapsular

T1 - Extracapsular, intracompartmental

M0 - None
Staging is as follows:
Benign stage 1, latent (G0T0M0) - Remains static or heals spontaneously

Benign stage 2, active (G0T0M0) - Progressive growth but limited by natural barriers

Benign stage 3, aggressive (G0T1M0) - Progressive growth not limited by natural barriers
What would you like to print?