Workup
Approach Considerations
The following workup should be considered for the diagnosis of papillary carcinoma, a relatively common well-differentiated thyroid cancer:
Thyroid function studies

Thyroid-stimulating hormone (TSH) suppression test

Thyroid ultrasound

Fine-needle aspiration biopsy (FNAB)
If possible, assessment of the RET proto-oncogene expression should be performed in any patient having a relative with a history of papillary thyroid cancer. Papillary thyroid cancer is strongly associated with some specific rearrangements of RET. [42]
The serum level of carcinoembryonic antigen (CEA) can be measured (reference range is < 3 ng/dL). However, the implications of an elevated CEA level are not specific; CEA levels are high in several cancers, and numerous healthy people may have small amounts of CEA, especially pregnant women and heavy smokers.
Procedures
FNAB is considered the best first-line diagnostic procedure for a thyroid nodule. A thyroid biopsy can also be performed using the classic Tru-Cut or Vim-Silverman needles, but the FNAB technique is preferable, as it has the highest patient compliance.
Perform indirect or fiberoptic laryngoscopy to evaluate airway and vocal cord mobility and to have preoperative documentation of any unrelated abnormalities.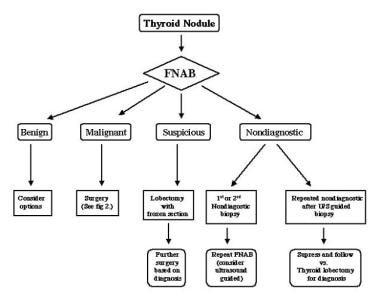 Algorithm for the workup of a solitary thyroid nodule. FNAB = fine needle aspiration biopsy.
Imaging Studies
Chest radiography, computed tomography (CT), and magnetic resonance imaging (MRI) are not usually used in the initial workup of a thyroid nodule. National Comprehensive Cancer Network (NCCN) guidelines recommend CT or MRI for the evaluation of fixed, bulky, or substernal lesions. [8] Chest x-ray may be considered in patients with apparent metastatic disease at presentation.
A study by Choi et al concluded that preoperative [18F]fluoro-2-deoxy-D-glucose positron emission tomography (FDG-PET)/CT did not provide any additional information compared with neck sonography in patients with papillary thyroid carcinoma. [43]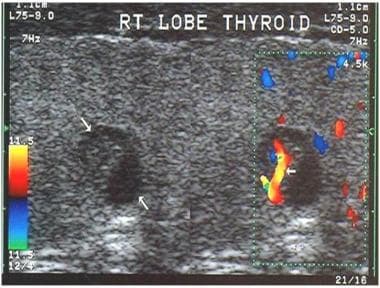 Planar and color Doppler image showing a cystic papillary thyroid carcinoma.
Cabrera et al reported that single-photon emission computed tomography (SPECT)/CT and radioguided sentinel lymph node biopsy (rSLNB) can affect therapy by detecting occult cervical lymph node metastases in patients with papillary thyroid carcinoma. In their study, rSLNB results prompted management changes in 14 of 37 patients, with use of higher radioiodine ablation doses and closer clinical surveillance. [44]
Thyroid Function Studies
Perform a complete assessment of thyroid function in any patient with thyroid nodules. No available blood tests are specific for papillary cancer of the thyroid. Higher-than-normal levels of thyroxine (reference range is 4.5-12.5 mcg/dL), triiodothyronine (reference range is 100-200 ng/dL), and thyroid-stimulating hormone (TSH) (reference range is 0.2-4.7 mIU/dL) may or may not be associated with thyroid cancer.
If the TSH level is low, thyroid scintigraphy is indicated. If the scan reveals an autonomously functioning (hot) nodule, the patient should undergo evaluation for thyrotoxicosis, as malignancy is rare in such cases. [8]
Evaluate serum levels of thyroglobulin. Calcium and calcitonin may be elevated in medullary carcinoma of the thyroid.
TSH suppression test
Thyroid cancer is autonomous and does not require TSH for growth, whereas benign lesions do require TSH. When exogenous thyroid hormone feeds back to the pituitary to decrease the production of TSH, thyroid nodules that continue to enlarge are likely to be malignant. However, 15-20% of malignant nodules are suppressible.
Preoperatively, the TSH suppression test is useful for patients with nontoxic solitary benign nodules and for women with repeated nondiagnostic test results. Postoperatively, the test is useful for monitoring papillary thyroid cancer cases.
Thyroid Ultrasound
Thyroid ultrasound is the first imaging study to perform in any patient with possible thyroid malignancy. Ultrasound is noninvasive and inexpensive, and it represents the most sensitive procedure for identifying thyroid lesions and for determining the diameters of a nodule.
Ultrasound is also useful for localizing lesions when a nodule is difficult to palpate or is deeply seated. The images can help determine if a lesion is solid or cystic and can help detect the presence of calcifications.
Ultrasound may be used to help direct a fine-needle aspiration biopsy (FNAB).
Pulsed and power Doppler ultrasound may provide important information about the vascular pattern and the velocimetric parameters. Such information can be useful preoperatively to reach a correct differential diagnosis of malignant or benign thyroid lesion.
Scintigraphy
Before the advent of fine-needle aspiration biopsy (FNAB), thyroid scintigraphy (or thyroid scanning) performed with technetium Tc 99m pertechnetate (99mTc) or radioactive iodine (I-131 or I-123) was the initial diagnostic procedure of choice for a thyroid evaluation. The procedure is not as sensitive or specific as FNAB for distinguishing benign nodules from malignant nodules. Iodine-containing compounds and foods such as seafood interfere with any tests using radioactive iodine.
Scintigraphic images of the thyroid are acquired 20-40 minutes after intravenous administration of the radionuclide. In more than 90% of cases, clearly benign nodules appear as hot nodules because they are hyperfunctioning and have a high captation rate of radionuclide and, physiologically, of iodine. Malignant nodules usually appear as cold because they are not functioning.
Findings from thyroid scanning are helpful and specific in the preoperative and immediate postoperative periods for localization of cancer or residual thyroid tissue and in observing for tumor recurrence or metastasis. Thyroid scanning can also be useful for diagnosing benign lesions (by FNAB) or solid lesions (by ultrasound).
Fine-Needle Aspiration Biopsy
Fine-needle aspiration biopsy (FNAB) is considered the best first-line diagnostic procedure for a thyroid nodule. FNAB is a safe and minimally invasive procedure.
To perform FNAB, administer local anesthesia at the puncture site, then guide the aspiration biopsy needle (21- or 23-gauge) into the mass. Hold the nodule with the fingers of the left hand while introducing the needle through the skin into the thyroid nodule with the right hand. After aspiration, the material is deposited on a glass slide, fixed with alcohol-acetone, and then stained according to the Papanicolaou test protocol.
The accuracy of FNAB results is better than any other test for detecting papillary thyroid carcinoma. The sensitivity of the procedure is near 80%, the specificity is near 100%, and errors can be diminished by using ultrasonographic guidance. False-negative and false-positive results occur less than 6% of the time, as the pathologist may experience difficulty distinguishing some benign cellular adenomas from their malignant counterparts. [45]
Histologic Findings
Papillary thyroid carcinoma usually appears as a grossly firm mass that is irregular and not encapsulated. Microscopically, it is multifocal, and may demonstrate a net invasion of the lymphatics. Complete or partial papillary architecture is presesnt, with some follicles. Otherwise, in some patients, the tumor may lack any papillary pattern.
The thyrocytes are large and show an abnormal nucleus and cytoplasm with several mitoses. In some cases, the thyrocytes may have so-called "Orphan Annie eyes," that is, large round cells with a dense nucleus and clear cytoplasm. Another typical feature of this cancer is the presence of psammoma bodies, probably the remnants of dead papillae.
On immunohistochemistry, papillary thyroid carcinoma usually exhibits the following pattern:
Carcinoembryonic antigen (CEA) negative

Calcitonin negative

Thyroglobulin positive

Keratin positive
A study by Liu et al found that when hematoxylin and eosin staining demonstrates loss of cellular polarity/cohesiveness (LOP/C) in the invasive front of papillary thyroid carcinoma, this finding may indicate lymph node metastasis and aggressive clinical behavior of the cancer. LOP/C of 20% or greater correlated significantly with extrathyroid invasion, advanced tumor stage, and recurrence after surgery. [46]
The Afirma gene expression classifier (GEC) test uses thyroid cells obtained at the time of biopsy to screen for molecular markers (genes) that are associated with thyroid cancer. Its manufacturer claims that the test can predict which indeterminate nodules are likely to be benign (with 95% certainty), and therefore do not require surgery, from those that are likely cancerous (with 50% certainty) and need to be referred to surgery. The hope is that this test will prevent unnecessary thyroid surgeries.
In a multicenter study of Afirma GEC testing of cytologically indeterminate nodules in 393 patients, GEC results significantly altered care recommendations, as 4 of 175 GEC benign nodules were recommended for surgery, versus 141 of 149 GEC suspicious nodules. Of 121 cytologically indeterminate/GEC suspicious nodules surgically removed, 53 (44%) proved to be malignant. On clinical follow-up for an average of 8.5 months, one of 71 GEC-benign nodules proved cancerous. [47]
The encapsulated follicular variant of papillary thyroid carcinoma (EFVPTC) demonstrates highly indolent behavior. To distinguish this variant from conventional papillary thyroid cancer—and reduce the psychological and clinical consequences associated with the diagnosis of cancer—an international team of thyroid pathologists, and the the American Thyroid Association, have recommended reclassifying EFVPTC as "noninvasive follicular thyroid neoplasm with papillary-like nuclear features" (NIFTP). [48, 2]
Staging
The staging of well-differentiated thyroid cancers follows the tumor, node, metastasis (TNM) classification system. Staging differs, depending on whether the patient is younger or older than 45 years of age.
Staging for patients younger than 45 years is as follows:
Stage I - Any T, any N, M0 (cancer in thyroid only)

Stage II - Any T, any N, M1 (cancer spread cervical lymph nodes or to distant organs)
Staging for patients aged 45 years and older is as follows:
Stage I - T1, N0, M0 (cancer only in thyroid, and less than 2 cm)

Stage II - T2, N0, M0 and T3, N0, M0 (cancer only in thyroid and between 2-4 cm)

Stage III - T4, N0, M0 and any T, N1, M0 (tumor greater than 4 cm or cancer spread outside thyroid but not outside of the central neck compartment)

Stage IV - Any T, any N, M1 (cancer spread to either cervical lymph nodes outside of the central neck or distant organs)
See Thyroid Cancer Staging for more information.
What would you like to print?