Workup
Laboratory Studies
Expect the following studies to show results consistent with cirrhosis:
Total bilirubin

Aspartate aminotransferase (AST)

Alkaline phosphatase

Albumin

Prothrombin time
Alpha-fetoprotein (AFP) is elevated in 75% of cases. The level of elevation correlates inversely with prognosis. An elevation of greater than 400 ng/mL predicts for hepatocellular carcinoma with specificity greater than 95%. In the setting of a growing mass, cirrhosis, and the absence of acute hepatitis, many centers use a level greater than 1000 ng/mL as presumptive evidence of hepatocellular carcinoma (without biopsy). AFP is inadequate for screening purposes because of the high rate of false positives in active hepatitis; it only begins to rise when vascular invasion occurs. [16]
Des-gamma-carboxy prothrombin (DCP) has been studied as a biomarker for early diagnosis of hepatocellular carcinoma. Lok et al found that the sensitivity and specificity of DCP at the time of diagnosis of hepatocellular carcinoma was 74% and 86%, respectively, at a cutoff of 40 mAU/mL and 43% and 100%, respectively, at a cutoff of 150 mAU/mL. Twelve months before diagnosis, the sensitivity and specificity at the 40 mAU/mL cutoff was 43% and 94%. [17] Combining DCP with AFP increased the sensitivity to 91% but lowered the specificity to 74%. Lok et al concluded that DCP is not optimal for detection of early hepatocellular carcinoma.
Imaging Studies
Obtain liver imaging using ultrasonography, computed tomography (CT), or magnetic resonance imaging (MRI). See the image below. When performed for suspected hepatocellular carcinoma due to a rising AFP, each test has a 70-85% chance of finding a solitary lesion; sensitivity is higher with multiple tumors.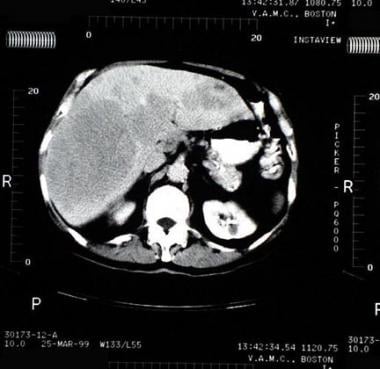 Hepatic carcinoma, primary. Noncontrast CT scans at 1 day and 3 months following chemoembolization with doxorubicin/Ethiodol Gelfoam.
Ultrasonography is the least expensive choice for screening, but it is highly operator-dependent. A suspicious lesion on a sonogram generally requires additional imaging studies to confirm the diagnosis and the stage of the tumor. Sensitivity of ultrasonography for detection of small nodules is low. An advantage is that Doppler imaging can be performed at the same time to determine the patency of the portal vein.
Use the triphasic technique when performing CT scanning (ie, without contrast, then with early [arterial] and late [portal] imaging). The addition of arterial phase imaging to conventional CT scanning increases the number of tumor nodules detected. Unfortunately, in nodular cirrhotic livers, the sensitivity of CT scanning for detecting hepatocellular carcinoma is low. CT scanning has the added benefit of detecting extrahepatic disease, especially lymphadenopathy.
MRI may detect smaller lesions and can also be used to determine flow in the portal vein. The overall sensitivity of MRI is thought to be similar to that of triphasic CT scanning. However, in patients with nodular cirrhotic livers, MRI has been shown to have better sensitivity and specificity. High cost and restricted access to MRIs makes its widespread use limited.
Angiography shows characteristic tumor blush in hepatocellular carcinoma lesions. Less invasive imaging with CT scan and MRI has decreased the necessity for this mode of imaging. Angiography is still used for chemoembolization, one of the treatment options for hepatocellular carcinoma.
Chest radiography may demonstrate pulmonary metastases (see image below).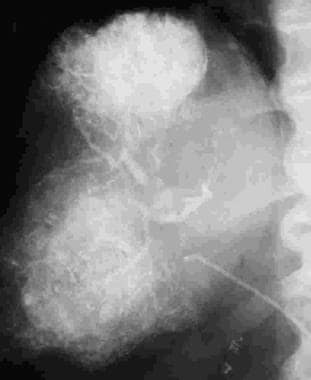 Hepatic carcinoma, primary. Plain radiograph immediately following chemoembolization, demonstrating catheter placement and Ethiodol enhancement of tumors.
Bone scanning and head CT scanning are of low yield in the absence of specific symptoms.
Positron emission tomography (PET) scanning has been evaluated in the experimental setting, but to date its role is uncertain. Routine use of PET scanning for diagnosis or staging of hepatocellular carcinoma is not recommended.
For more information, see Hepatocellular Carcinoma Imaging.
Liver Biopsy
Biopsy is frequently necessary in order to make the diagnosis. In general, core biopsy is favored over fine needle biopsy since larger amounts of tissue, often with normal surrounding parenchyma, can be obtained.
Controversy exists regarding the potential risk of tumor seeding along the needle tract. Some studies report a small increase in risk (approximately 1 in 1000), while others show no difference. Regardless, potential risks and complications should be considered before performing a biopsy.
Biopsy may be omitted in a patients with a growing mass in a cirrhotic liver (>2 cm) visualized with 2 coincident imaging techniques with at least one imaging showing contrast enhancement. Likewise, a growing mass in a cirrhotic liver on one imaging modality with an associated AFP level greater than 500-1000 ng/mL is clinically diagnostic of hepatocellular carcinoma. The need for biopsy should be carefully evaluated, especially if the risk for complications is high. In addition, btaining a biopsy may be unnecessary in patients who will be undergoing resection regardless of the diagnosis.
Biopsy is generally performed percutaneously under ultrasonographic or CT guidance. Prior to obtaining biopsy, large-volume paracentesis may be useful in patients with massive ascites; similarly, platelet transfusion may be necessary in patients with cirrhosis who have severe thrombocytopenia (< 50,000/μL). Bleeding risk does not correlate with elevations in prothrombin time.
Lesions that are 2-3 cm or smaller may be dysplastic nodules in a cirrhotic background. These are probably premalignant, and obtaining a biopsy is especially important to distinguish them from hepatocellular carcinoma. False-negative rates as high as 30-40% have been reported for biopsied tumors smaller than 2 cm in size.
Using laparoscopic guidance may make obtaining a percutaneous biopsy easier. Laparoscopy allows visualization of the liver to evaluate the extent of cirrhosis if surgery is being contemplated.
Histologic Findings
Histology is quite variable, ranging from well-differentiated tumors to anaplastic tumors. The fibrolamellar subtype is associated with a better prognosis, possibly because it is not associated with cirrhosis and is more likely to be resectable. The presence of intracellular bile or staining for AFP may be helpful in distinguishing hepatocellular carcinoma from other hepatic malignancies (eg, cholangiocarcinoma). Immunohistochemistry using the marker Hep-Par 1 may aid in the diagnosis.
Aberrations of chromosome 1 and 8 are common features of hepatocellular carcinoma that can be detected by fluorescent in situ hybridization (FISH) technique. The role of FISH in the diagnosis of hepatocellular carcinoma is still under investigation.
Staging
The tumor, node, and metastases (TNM) staging system, while widely accepted, is really only useful in patients who undergo surgical resection. This is a small minority of patients. Since most patients have unresectable disease and prognosis actually depends more on the state of the liver than on the size of the tumor, several staging systems have been evaluated that incorporate clinical features of the liver and the patient, such as ascites, portal vein involvement, and performance status. [5]
Currently, perhaps the most widely accepted and reproducible of such staging systems are the Barcelona Clinic Liver Cancer (BCLC) system [7, 18] and the Cancer of the Liver Italian Program (CLIP) scoring system. CLIP assigns a cumulative prognostic score ranging from 0-6 based on Child-Pugh class, tumor morphology, alpha-fetoprotein level, and portal vein thrombosis, which can predict median survival time. [19] The BCLC system includes a treatment algorithm that helps with individual patient decisions. [3, 20] Both systems have strong proponents, and each has been externally validated in multiple populations. [11, 12, 13, 1]
Below is a summary of 3 staging systems.
TNM staging criteria for hepatocellular carcinoma
See the list below:
T1 - Solitary tumor without vascular invasion

T2 - Solitary tumor with vascular invasion or multiple tumors none more than 5 cm

T3 - Multiple tumors more than 5 cm or tumor involving a major branch of the portal or hepatic vein(s)

T4 - Tumor(s) with direct invasion of adjacent organs other than the gallbladder or with perforation of visceral peritoneum

N0 - No nodal involvement

N1 - Regional nodal involvement

M0 - No distant metastasis

M1 - Metastasis presence beyond the liver
Stage grouping:
See the list below:
Stage IIIA = T3 + N0 + M0

Stage IIIB = T4 + N0 + M0

Stage IIIC = TX + N1 + M0
CLIP scoring system
A score of 0-2 is assigned for each of the 4 features listed below; a cumulative score ranging from 0-6 is the CLIP score.
Child-Pugh class:
Tumor morphology:
Uninodular and extension less than 50% = 0

Multinodular and extension less than 50% = 1

Massive and extension greater than 50% = 2
Alpha-fetoprotein:
Portal vein thrombosis:
Estimated survival based on CLIP score
Patients with a total CLIP score of 0 have an estimated survival of 31 months; those with score of 1, about 27 months; score of 2, 13 months; score of 3, 8 months; and scores 4-6, approximately 2 months.
BCLC algorithm
See the algorithm below.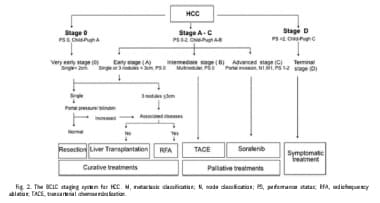 The Barcelona Clinic Liver Cancer (BCLC) staging system for hepatocellular carcinoma. Image reproduced with permission reproduced with permission of the American Association for the Study of Liver Diseases (AASLD.org), from Bruix J and Sherman M (2011), Management of hepatocellular carcinoma: An update. Hepatology, 53: 1020–1022. doi: 10.1002/hep.24199.
Screening for Hepatocellular Carcinoma
Despite the widespread use of screening and surveillance programs for hepatocellular carcinoma, the efficacy and cost-effectiveness of screening programs for at-risk patients is unclear. [21]
In general, the annual incidence of developing hepatocellular carcinoma in the setting of cirrhosis is approximately 1-4%. Screening studies have shown that, although lesions may be discovered at an earlier stage, the lack of curative treatment options in patients with cirrhosis may not lead to improvements in survival. Patients with chronic hepatitis B without cirrhosis have a much lower annual incidence of developing hepatocellular carcinoma (0.46%). The incidence of hepatocellular carcinoma in patients with chronic hepatitis C without cirrhosis is even lower.
Screening programs using AFP and an imaging modality in patients with hepatitis B or C without cirrhosis is not cost-effective, given the low incidence of hepatocellular carcinoma in these patients and the high cost of imaging techniques. Survival advantage with screening in these at-risk populations has not been demonstrated. The retrospective screening studies that have shown modest survival advantages are confounded by lead-time and length-time bias.
If screening is to be undertaken, AFP should not be used alone as a screening test. Instead, AFP should be combined with an imaging modality (ultrasonography, CT scan) to improve sensitivity and specificity.
What would you like to print?