Overview
Practice Essentials
Carcinoma of the ampulla of Vater, shown in the image below, is a rare malignant tumor arising within 2 cm of the distal end of the common bile duct, where it passes through the wall of the duodenum and ampullary papilla.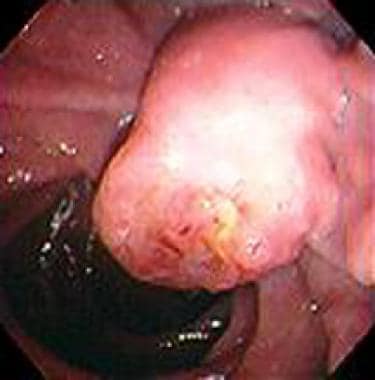 Endoscopic view of an ampullary carcinoma.
The common bile duct merges with the pancreatic duct of Wirsung to form a common channel that exits through the ampulla into the duodenum. The most distal portion of the common bile duct is dilated (ie, forms the ampulla of Vater) and is surrounded by the sphincter of Oddi, which spirals upward around the terminal portion of the duct.
Carcinoma of the ampulla of Vater tends to manifest early due to biliary outflow obstruction, as opposed to pancreatic neoplasms that often are advanced at the time of diagnosis. Clinically, however, ampullary tumors can be virtually indistinguishable from tumors of the distal bile duct or pancreatic head; the point of origin of tumors in this region is typically not determined until the patient undergoes surgery.
Pancreaticoduodenectomy is the standard resection procedure for ampullary carcinoma. When preoperative endoscopic biopsy identifies a lesion as an ampullary adenoma with no high-risk features (eg, high-grade dysplasia), treatment with local resection (ampullectomy) may be considered, if the patient is not a candidate for pancreaticoduodenectomy. However, such patients require surveillance endoscopy to monitor for recurrence.
Surgical resection with curative intent is the only option for long-term survival. Surgical, endoscopic, or radiologic biliary decompression; relief of gastric outlet obstruction; and adequate pain control may improve the quality of life but do not affect overall survival rate.
Pathophysiology
Periampullary carcinoma includes tumors arising in the head, neck, or uncinate process of the pancreas, tumors arising in the distal common bile duct, tumors arising in the duodenum, as well as tumors arising from the ampulla of Vater.
Review of the Surveillance, Epidemiology, and End Results (SEER) Program of the National Cancer Institute indicates adenocarcinoma is the most frequently identified histology for ampullary cancer. Adenocarcinoma (not otherwise specified [NOS]) was reported in 65% of cases. Carcinoma (NOS) was reported in 8.1%; adenocarcinoma arising from adenoma (adenocarcinoma in villous adenoma, in tubulovillous adenoma, in adenomatous polyp and villous adenocarcinoma) was third most common in 7.5%. Other pathologic diagnoses reported included papillary adenocarcinoma (5.6%), mucinous adenocarcinoma (4.7%), and signet ring cell carcinoma (2%). [1, 2, 3]
Lymph nodes metastases are present in as many as half of patients. Pericanalicular lymph nodes usually are the first to be involved. Nodes along the superior mesenteric, gastroduodenal, common hepatic, and splenic arteries, as well as the celiac trunk, are the second station of lymph nodes. Perineural, vascular, and lymphatic invasion are associated with a poor prognosis. Liver is the most common site (66%) of distant metastasis, followed by lymph nodes (22%). In advanced cases, lung metastasis also may occur.
The concept of ampullary carcinoma as a distinct entity is challenged by the categorization of tumors into intestinal type and biliopancreatic type histologically. A review of 118 adenocarcinomas revealed that the biliopancreatic type had a worse prognosis while the intestinal type may behave more like duodenal carcinoma. [4]
Epidemiology
Frequency
United States
Carcinoma of the ampulla of Vater is an uncommon tumor. Between 1973 and 2005, 5,625 cases were recorded in the Surveillance, Epidemiology, and End Results (SEER) Program of the National Cancer Institute. Ampullary cancer accounts for approximately 0.5% of all gastrointestinal tract malignancies. [1] The incidence has been increasing since 1973 at an annual percentage rate of 0.9%. [1] Prior to the recently reported increase, the quoted incidence for ampullary carcinoma was 0.2% of all gastrointestinal malignancies and 6% of all periampullary tumors. [5]
International
Worldwide incidence is not known.
Mortality/Morbidity
Most of these tumors are resectable for cure at diagnosis; however, the 5-year survival rate is only approximately 40% [6, 7, 8] to 67% at best. [5]
Operative mortality rates have decreased significantly over the last decade because of increased surgical experience, improved anesthesia, better preoperative imaging, and better postoperative management.
Pancreatic fistulas, prolonged gastric emptying, wound complications, intra-abdominal sepsis, thrombophlebitis, and marginal ulceration are the most common complications.
Postoperative mortality rates in the best centers are 1-2%.
Race-, sex-, and age-related demographics
As follows [1] :
Ampullary carcinoma may be more common in whites than blacks.

A higher rate of ampullary cancer is observed in men.

Ampullary cancer is most often diagnosed in the fifth through the seventh decades of life.
What would you like to print?