Presentation
History
The primary manifestations of multicentric reticulohistiocytosis (MRH) are joint and skin involvement. Inflammatory joint disease is a presenting symptom in approximately 40% of cases and is the sole symptom in 45% of patients. Although the arthritis may wax and wane, it can rapidly become severe.
Approximately 30% of patients first develop skin papules and nodules (see images below), while another 25% of patients develop skin and joint manifestations at the same time. One tenth to one third of patients report pruritus.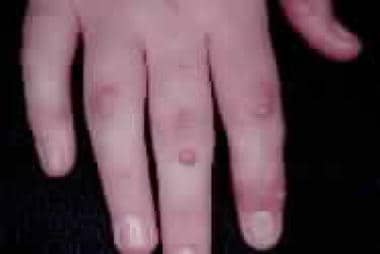 Multiple erythematous nodules are present on the dorsal hands of this adolescent with an inflammatory arthropathy.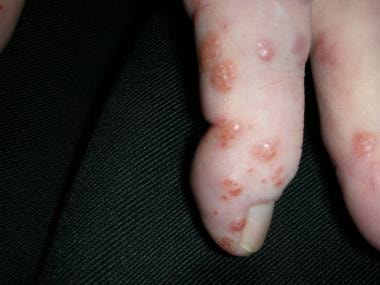 Multiple erythematous to brown nodules on the fingers.
Nonspecific pulmonary findings, such as pleural effusions and infiltrates, have been reported in association with MRH. Direct pulmonary involvement by MRH is extraordinarily rare but has been reported in 5 cases to date. [44]
Cardiac involvement is also extremely rare, but it has been reported in isolated cases and can manifest with myocardial involvement or pericardial disease. [45, 46, 47, 48]
There is one reported case of hepatic involvement in a patient with MRH and lung involvement. [49]
About one third of patients have constitutional symptoms, such as weakness, weight loss, and fever.
Physical Examination
Arthritis
MRH is a polyarthritis with a predilection for the distal interphalangeal joints but capable of affecting several others (see the image below). The rates of distribution are as follows:
Hands (76%)

Knees (73%)

Shoulders (64%)

Wrists (64%)

Hips (61%)

Ankles (58%)

Elbows (58%)

Feet (58%)

Spine (52%)
Cutaneous lesions
Lesions vary from papules that are 1-2 mm in diameter to nodules that are 1 cm in diameter or larger. Papules and lesions may be isolated from one another, or they may be clustered, sometimes giving them a cobblestone appearance (see the image below). Clustering of papulonodules overlying the periungual areas may result in a characteristic "coral-bead" appearance. Nodules overlying extensor joints may resemble rheumatoid nodules.
The lesions are usually nontender and may be skin colored, red, or yellowish. The nodules grow slowly and rarely ulcerate. Infiltrated plaques may resemble mucinosis.
The Koebner phenomenon has been reported, wherein trauma to the skin, including from ultraviolet (UV) radiation, [50] gives rise to new lesions.
Although MRH lesions have a predilection for the hands and face, they may occur on any surface of the body. Distribution rates are as follows:
Face (ears, nose, paranasal areas) and hands (90%): Several miscellaneous nail changes have also been described, but most are due to adjacent arthritis.

Ears (76%)

Elbows (40%)

Scalp (40%)

Mucosal surfaces (eg, lips, tongue, gingiva, nasal septum) (50%)
In rare cases (9 reported to date), patients have a photodistribution of lesions simulating dermatomyositis, although it is possible that this manifestation is underrecognized. (See the images below.) [51, 52, 53]
Malignancy is associated with MRH in approximately 25% of cases, similar to the observed frequency in dermatomyositis. The presence of features mimicking dermatomyositis in a patient with MRH, however, do not appear to increase the likelihood of malignancy.
About one third of patients have been reported to have xanthelasma, but whether this is related to MRH is unclear. [51]
What would you like to print?