Overview
Practice Essentials
Multicentric reticulohistiocytosis (MRH) is a rare disease characterized by papulonodular skin lesions containing a proliferation of true histiocytes (macrophages), along with arthritis that primarily affects the interphalangeal joints. [1, 2] (see the image below). MRH is not life threatening and, after an average course of 7-8 years, the disease often goes into remission. However, in 45% of cases, the associated arthritis may cause severe joint destruction known as arthritis mutilans.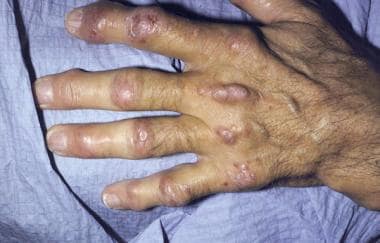 Nodules on a hand with deformed joints from arthritis due to multicentric reticulohistiocytosis.
In addition to the joints, MRH can involve the bones, tendons, and muscles, as well as almost any organ (eg, the eyes, larynx, thyroid, salivary glands, bone marrow, heart, lungs, kidneys, liver, gastrointestinal tract).
MRH has been associated with an underlying internal malignancy in about one fourth of cases, suggesting that it may be a paraneoplastic condition. The proliferating histiocytes in this disease are thought to be reactive and are not themselves malignant.
Signs and symptoms
Joint involvement primarily manifests with symmetric polyarthritis with a predilection for the distal interphalangeal joints. However, several other joints may be affected. The rates of distribution of joint disease are as follows:
Hands (76%)

Knees (73%)

Shoulders (64%)

Wrists (64%)

Hips (61%)

Ankles (58%)

Elbows (58%)

Feet (58%)

Spine (52%)
Skin involvement generally manifests with translucent reddish-brown to flesh-colored papulonodules varying from 1-2 mm to 1 cm in diameter or larger. Lesions may be isolated from one another, or they may be clustered, sometimes giving them a cobblestone appearance.
The lesions are usually nontender, although some patients may complain of pruritus, which can be diffuse. The nodules grow slowly and rarely ulcerate. Infiltrated plaques may resemble mucinosis. Although MRH lesions have a predilection for the hands and face, they may occur on any surface of the body.
See Presentation for more detail.
Diagnosis
No laboratory studies are specific for MRH. Findings, however, are as follows:
Elevated erythrocyte sedimentation rate (ESR) or anemia: In about one half of patients

Thyroid function abnormalities: In some, but not all, patients

Diabetes: In about 6% of patients

Hypercholesterolemia: Found in one third of patients; often associated with xanthelasma, but this seems to be unrelated to MRH

Rheumatoid factor: Characteristically negative, but it has reportedly been positive in at least 4 cases

Paraproteinemia, cold agglutinins, cryoglobulinemia, antinuclear antibody, or hypergammaglobulinemia: Occasionally found

Synovial fluid abnormalities: Variable; reports exist of elevated counts of neutrophils or mononuclear cells.
Histiologic studies in MRH reveal the following:
Early skin lesions demonstrate a dermal lymphohistiocytic infiltrate

Histiocytes may be oncocytic, small, or multinucleated

Histiocytes may occasionally be lipid-laden, but are not usually foamy to the degree found in other histiocytic disorders

Mature lesions demonstrate multinucleated giant cells, with a pale, fine, granular (ie, ground-glass) eosinophilic cytoplasm filling the dermis

Periodic acid–Schiff stain results are positive and are diastase resistant

Lipid stain results may be positive

Results of acid phosphatase, nonspecific esterase, and lysozyme stains are usually positive

S100 protein, CD34, factor XIIIa, and alpha-1-antitrypsin results are typically negative

Histiocytes stain positive for vimentin, CD68, and CD45, and small activated histiocytes stain positive for MAC387

[3]

Langerhans granules are absent on electron microscopy
One study demonstrated aberrant expression of CD10 (a 90- to 110-kd cell surface zinc-dependent metalloprotease) in skin and synovial multinucleated giant cells in patients with MRH, whereas expression of CD10 was not detected in other histiocytic lesions, including skin samples of granuloma annulare, giant-cell tendon sheath tumor, ruptured epidermoid cyst, sarcoidosis, xanthogranuloma, and synovial samples of rheumatoid arthritis and pigmented villonodular synovitis. [4]
In a synovial biopsy, lipid-laden giant cells and histiocytes are similar to those seen on skin biopsy; histiocytes are sometimes found after blind synovial biopsies in patients who have unclassified arthritis but no skin lesions. [5]
Routine radiographs of joints may be helpful in the diagnosis of MRH. Changes, which may develop rapidly, are most commonly seen in the proximal or distal interphalangeal joints.
See Workup for more detail.
Management
Although no consistently effective treatment is known for MRH, the associated arthritis may respond to therapy with nonsteroidal anti-inflammatory drugs (NSAIDs).
Systemic corticosteroids, such as prednisone, and/or cytotoxic agents—particularly cyclophosphamide, [6, 7] chlorambucil, [6] and methotrexate, [8, 9, 7, 10] —may also affect the inflammatory response, as well as prevent further joint destruction and cause skin lesions to regress. Azathioprine, cyclosporine, antimalarials, bisphosphonates, leflunomide, and tumor necrosis factor–alpha (TNF-alpha) antagonists have also been used effectively. [11, 12, 13, 14, 15, 16, 17, 18, 19, 20, 21, 22, 23, 24, 25, 26] More recently, a case of MRH responsive to tocilizumab has been reported, [27] and carbon dioxide laser has been reported to improve cosmetically disfiguring facial lesions of MRH. [28]
See Treatment and Medication for more detail.
For patient education resources, see Arthritis.
Pathophysiology
The pathogenesis of MRH is unknown but probably has an immunologic basis. Increased interleukin-12, interleukin-1b, interleukin-6, and urokinase have been described and are thought to play a role in bone destruction. [29, 30, 31]
Some studies have demonstrated increased levels of tumor necrosis factor (TNF)–alpha in the blood and in the tissue. [11, 12] A report on one patient with MRH described overexpression of monocyte chemoattractant protein–1 (MCP-1), which is stimulated by TNF-alpha, in the serum and lesional epidermis. In this patient, serum levels of MCP-1 decreased with treatment. The authors hypothesized that MCP-1 may play a role in attracting histiocytes and giant cells in patients with MRH. [32]
In addition, increased osteoclastic activity has been implicated in the pathogenesis of MRH, and synovial macrophages in patients with MRH may possess the ability to differentiate into osteoclasts. [33] These findings may help explain the success of bisphosphonate treatment in some cases. [33, 34]
Etiology
The cause of MRH is unknown, but various associated diseases have been reported in patients with MRH.
Malignancy is the most commonly recognized association with the disorder, having been reported in multiple patients with MRH (perhaps as many as 25-33%); MRH precedes the development of cancer in 73% of these cases. No specific site or type of malignancy has been identified as most commonly found with MRH, and most of the reported specific cancer types have been reported less than 5 times each in the literature.
Reported malignancies include the following:
Breast cancer (scirrhous, intraductal, unspecified types)

[35]

Cervical cancer

Colon cancer (adenocarcinoma)

Stomach cancer (adenocarcinoma)

Kidney cancer (sarcomatoid renal cell carcinoma)

[37]

Lung cancer (bronchogenic carcinoma, pleural mesothelioma, squamous cell carcinoma

[39]

)

Bronchial cancer

Laryngeal cancer

Ovarian cancer (medullary carcinoma, adenocarcinoma)

[40]

Lymphoma

Leukemia

Sarcoma (omentum, axilla)

Melanoma

Extramammary Paget disease

[41]

Cancers of unknown primary
Because MRH is rare, a reporting bias exists in the literature toward those cases with underlying malignancy, especially previously unreported malignancies. Some of these associations may be a coincidence.
The activity of the arthritis and skin lesions in MRH may or may not correlate with the eradication of the cancer, unlike some paraneoplastic disorders in which removal of the malignancy can produce improvement in the paraneoplastic findings.
Other conditions associated with MRH include the following:
Pregnancy
MRH has been reported in a patient with both Sjögren syndrome and systemic sclerosis. [44]
Rarely, onset of MRH may follow infection. A case of MRH was reported following severe COVID-19. [45]
Epidemiology
Worldwide, MRH is very rare and there is no published data on incidence and prevalence. MRH has largely been reported in single case studies, mostly in Western countries and Japan. [44] The average dermatologist, rheumatologist, or orthopedist will see at most 1-2 cases in an entire career.
MRH affects all races, but about 88% of the reported cases have been in white patients. Like many other rheumatologic diseases, females are affected more often than men. The ratio of women to men for MRH has been reported as either 2:1 or 3:1.
Although MRH can occur at any age, but it has been reported primarily in middle-aged adults, with a mean age of 43 years. There are rare reports of MRH occurring during childhood.
Prognosis
MRH is not life threatening and, after an average course of 7-8 years, often goes into remission. The major morbidity of the disease is due to the associated arthritis, which primarily involves the interphalangeal joints. Although the arthritis may wax and wane, it can cause severe joint destruction known as arthritis mutilans in approximately 45% of cases. Therefore, even after the disease remits, some patients are left with deformed, crippled joints. In addition, skin lesions in MRH can result in disfigured, leonine facies.
The prognosis in MRH is also related to that of any associated malignancy. Pulmonary and cardiac involvement are other potential complications. Although these complications are rare, they may confer a poor prognosis.
If cytotoxic agents are used in the treatment of MRH, the patient should be monitored for subsequent development of a malignancy.
What would you like to print?