Workup
Approach Considerations
No laboratory studies are specific for multicentric reticulohistiocytosis (MRH). Findings, however, are as follows:
Elevated erythrocyte sedimentation rate (ESR) or anemia: In about 50% of patients

Thyroid function abnormalities: In some, but not all, patients

Diabetes: In about 6% of patients

Hypercholesterolemia: Found in one third of patients; often associated with xanthelasma, but this seems to be unrelated to MRH

Rheumatoid factor: Characteristically negative, but it has been reported to be positive in at least 4 cases

Paraproteinemia, cold agglutinins, cryoglobulinemia, antinuclear antibody, or hypergammaglobulinemia: Occasionally found

Synovial fluid abnormalities: Variable; reports exist of elevated counts of neutrophils or mononuclear cells.
Because some patients with MRH may have an underlying malignancy, evaluation for this is important. Patients ought to have at least a good review of systems to direct appropriate additional studies.
Imaging Studies
Radiography
Routine radiographs of joints may be helpful. Changes, which may develop rapidly, are most commonly seen in the proximal or distal interphalangeal joints. Findings can include the following:
Destruction of bone in affected joints is disproportionate to cartilage loss

Lesions may resemble gouty erosions

Mild osteopenia is notedMarked resorption of subchondral bone is common

Cutaneous nodules may be seen as soft tissue swellings

Findings on joint fluid analysis vary; effusions may contain polymorphonuclear leukocytes or mononuclear cells

Bilaterally symmetrical, sharply circumscribed erosions spread from the margins to the joint surfaces

Separation of the bone ends often occurs, but no subchondral sclerosis and little or no periosteal reaction are seen

Osteoporosis is mild or absent

Erosions in osteoarthritis begin centrally rather than at the joint margins

In psoriatic arthritis and reactive arthritis, erosions are asymmetrical and have poorly defined margins; the erosions are also associated with periosteal new bone formation
Other modalities
Magnetic resonance imaging (MRI) [56] and computed tomography (CT) scanning [57] have been reported to be helpful, but they are not needed in most cases.
Fluorodeoxyglucose positron emission tomography (FDG-PET)/CT may be useful for identifying the characteristic features of MRH, in addition to screening for a possibly associated malignancy. [58, 59, 60]
Histologic Findings
When the skin lesions are present, skin is the easiest site from which to obtain a biopsy specimen. Histiologic studies in MRH reveal the following (see the images below):
Early skin lesions demonstrate a dermal lymphohistiocytic infiltrate

Histiocytes may be oncocytic, small, or multinucleated

Histiocytes may occasionally be lipid-laden, but are not usually foamy to the degree found in other histiocytic disorders

Mature lesions demonstrate multinucleated giant cells, with a pale, fine, granular (ie, ground-glass) eosinophilic cytoplasm filling the dermis

Periodic acid–Schiff (PAS) stain results are positive and are diastase resistant

Lipid stain results may be positive

Results of acid phosphatase, nonspecific esterase, and lysozyme stains are usually positive

S100 protein, CD34, factor XIIIa, and alpha-1-antitrypsin results are typically negative

Histiocytes stain positive for vimentin, CD68, and CD45, and small activated histiocytes stain positive for MAC387

[3]

One study demonstrated aberrant expression of CD10 (a 90- to 110-kd cell surface zinc-dependent metalloprotease) in skin and synovial multinucleated giant cells in patients with MRH. Expression of CD10 was not detected in other histiocytic lesions, including skin samples of granuloma annulare, giant-cell tendon sheath tumor, ruptured epidermoid cyst, sarcoidosis, xanthogranuloma, and synovial samples of rheumatoid arthritis and pigmented villonodular synovitis

[4]

Langerhans granules are absent on electron microscopy

In a synovial biopsy, lipid-laden giant cells and histiocytes are similar to those seen on skin biopsy; histiocytes are sometimes found after blind synovial biopsies in patients who have unclassified arthritis but no skin lesions

[5]
In addition to macrophage properties, the histiocytes may have osteoclastic properties. Those of the osteoclast phenotype express osteoclast selective markers, tartrate-resistant acid phosphatase, and cathepsin K, and they respond to treatment with bisphosphonates. [4]
Stains
The cytoplasm of the histiocytes stains with PAS stain. Although positive staining with Sudan black B and scarlet red indicates the presence of lipid within these cells, they are not usually foamy to the degree found in many other histiocytic disorders.
The cells stain with the usual macrophage markers, such as lysozyme (see the image below), CD68, MAC387, and human alveolar macrophage-56 (HAM-56), as well as CD10 (multinucleated giant cells only). [4] Staining results for S-100, CD1a, CD34, factor XIIIa, or alpha-1-antitrypsin are typically negative.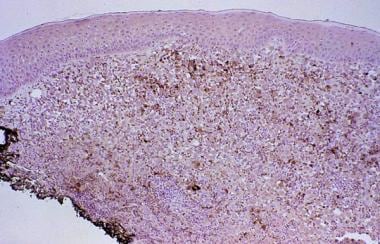 Brown immunoperoxidase staining for lysozyme in histiocytes.
What would you like to print?