Workup
Approach Considerations
Laboratory assessments and studies are not routinely indicated for the diagnosis of asthma, but they may be used to exclude other diagnoses. Eosinophilia and elevated serum IgE levels may help guide therapy in some cases. Arterial blood gases and pulse oximetry are valuable for assessing severity of exacerbations and following response to treatment.
Blood and Sputum Eosinophils
Blood eosinophilia greater than 4% or 300-400/μL supports the diagnosis of asthma, but an absence of this finding is not exclusionary. Eosinophil counts greater than 8% may be observed in patients with concomitant atopic dermatitis. This finding should prompt an evaluation for allergic bronchopulmonary aspergillosis, Churg-Strauss syndrome, or eosinophilic pneumonia.
In assessing asthma control, the British Thoracic Society recommends using sputum eosinophilia determinations to guide therapy. An improvement in asthma control, a decrease in hospitalizations, and a decrease in exacerbations were noted in those patients in whom sputum-guided therapy was used. [59] A controlled prospective study has shown that adjusting inhaled corticosteroid (ICS) treatment to control sputum eosinophilia—as opposed to controlling symptoms, short-acting beta-agonist (SABA) use, nocturnal awakenings, and pulmonary function—significantly reduced both the rate of asthma exacerbations and the cumulative dose of inhaled corticosteroids. [60] In 2015, mepolizumab (anti-IL-5 antibody) was FDA approved for the treatment of severe asthmatics with an eosinophilic phenotype who have a baseline eosinophil count of 150 cells/μL or an eosinophil count of 300 cells/μL within the past 12 months.
Serum Immunoglobulin E
Total serum immunoglobulin E levels greater than 100 IU are frequently observed in patients experiencing allergic reactions, but this finding is not specific for asthma and may be observed in patients with other conditions (eg, allergic bronchopulmonary aspergillosis, Churg-Strauss syndrome). A normal total serum immunoglobulin E level does not exclude the diagnosis of asthma. Elevated serum IgE levels are required for chronic asthma patients to be treated with omalizumab (Xolair).
Arterial Blood Gas
Arterial blood gas (ABG) measurement provides important information in acute asthma. This test may reveal dangerous levels of hypoxemia or hypercarbia secondary to hypoventilation and, hence, respiratory acidosis. However, the typical finding in the early stages of an acute episode is respiratory alkalosis. Because of the accuracy and utility of pulse oximetry, only patients whose oxygenation is not restored to over 90% with oxygen therapy require an ABG. The clinical picture usually obviates ABGs for most ED patients with acute asthma.
Venous levels of PCO2 have been tested as a substitute for arterial measurements, and a venous PCO2 greater than 45 mm may serve as a screening test but cannot substitute for the ABG evaluation of respiratory function.
Hypercarbia is of concern in that it reflects inadequate ventilation and may indicate the need for mechanical ventilation if the PCO2 is elevated as a result of patient exhaustion; however, the decision to proceed with endotracheal intubation and mechanical ventilation is a clinical assessment.
Periostin
Periostin is a novel biomarker that is currently under investigation as a diagnostic and treatment adjunct. [61] Evidence suggests that periostin is a marker of Th2/eosinophilic inflammation and airway remodeling that occurs with asthma. While there are no therapies currently approved based on periostin testing, several investigational medications are being studied with periostin as a predictor of medication effect. In one phase IIb study, periostin was a good predictor of response to lebrikizumab in patients not controlled on inhaled corticosteroids, with an increase in FEV1 of 8.2% for high periostin levels compared with placebo with an increase in FEV1 of 1.6% for low periostin levels. Currently, there is no clinical role for routine periostin testing.
Pulse Oximetry Assessment
Pulse oximetry measurement is desirable in all patients with acute asthma to exclude hypoxemia. The hypoxemia of uncomplicated acute asthma is readily reversible by oxygen administration. Oxygenation decreases 4-10 mm Hg with beta-agonist inhalant therapy due to increases in V/Q mismatch. Therefore, all patients with acute asthma should have oxygen saturation measured by pulse oximetry, or they simply should be placed on oxygen therapy.
In children, pulse oximetry is often used to grade severity of acute asthma. Oxygen saturation of 97% or above constitutes mild asthma, 92-97% constitutes moderate asthma, and less than 92% signifies severe asthma. Although an isolated pulse oximetry reading at triage is not predictive in most cases (with the notable exception of severe attacks that usually are self-evident on visual inspection), serial monitoring of pulse oximetry status can provide more subtle evidence for or against the need for hospital admission.
Chest Radiography
The chest radiograph remains the initial imaging evaluation in most individuals with symptoms of asthma. The value of chest radiography is in revealing complications or alternative causes of wheezing and the minor importance of wheezing in the diagnosis of asthma and its exacerbations. Chest radiography usually is more useful in the initial diagnosis of bronchial asthma than in the detection of exacerbations, although it is valuable in excluding complications such as pneumonia and asthma mimics, even during exacerbations.
In most patients with asthma, chest radiography findings are normal or may indicate hyperinflation. Findings may help rule out other pulmonary diseases such as allergic bronchopulmonary aspergillosis or sarcoidosis, which can manifest with symptoms of reactive airway disease. Chest radiography should be considered in all patients being evaluated for asthma to exclude other diagnoses.
Because pneumonia is one of the most common complications of asthma, chest radiography is indicated in patients with fever to rule out pneumonia. With new-onset asthma and eosinophilia, a radiograph may be useful in identifying prominent streaky infiltrates persisting less than 1 month, indicating Loeffler pneumonia. The infiltrates of Loeffler pneumonia are peripheral with central sparing of the lung fields. These findings have been described as the radiographic negative of pulmonary edema.
Patients with pleuritic chest pain or those with an acute asthmatic episode that responds poorly to therapy, require a chest film to exclude pneumothorax or pneumomediastinum, particularly if subcutaneous emphysema is present.
Chest CT Scanning
High-resolution CT (HRCT) is a second-line examination. It is useful in patients with chronic or recurring symptoms and in those with possible complications such as allergic bronchopulmonary aspergillosis and bronchiectasis. [62] In the last decade, the role of CT in the imaging of airway disease increased after the development of lung HRCT. The technical progress of thin-section acquisition, high-spatial-frequency data reconstruction (ie, bone algorithm technique), and targeted reconstruction has allowed the visualization of finer details on HRCT scans; these details include airtrapping, measurable bronchial wall thickening, atelectasis, centrilobular nodules due to mucous plugging, and acinar nodules due to low-grade inflammatory changes. [63]
HRCT findings in bronchial asthma include the following:
Bronchial wall thickening

Cylindrical and varicose bronchiectasis

Reduced airway luminal area

Mucoid impaction of the bronchi

Centrilobular opacities, or bronchiolar impaction

Airtrapping, as demonstrated or exacerbated with expiration

Mosaic lung attenuation, or focal and regional areas of decreased perfusions
Note the images below.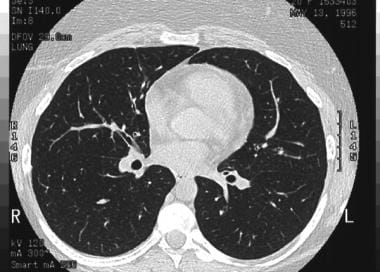 High-resolution CT scan of the thorax obtained during inspiration demonstrates airtrapping in a patient with asthma. Inspiratory findings are normal.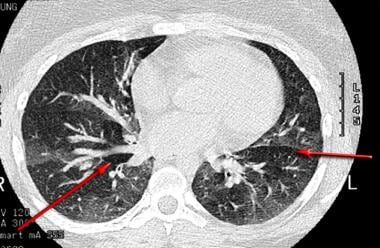 High-resolution CT scan of the thorax obtained during expiration demonstrates a mosaic pattern of lung attenuation in a patient with asthma. Lucent areas (arrows) represent areas of airtrapping (same patient as in the previous image).
Electrocardiography
Patients with asthma who are severely symptomatic should undergo ECG monitoring, as with any seriously ill patient. Sinus tachycardia and ECG evidence of right heart strain are common in patients with acute asthma. The use of beta2 -agonist therapy will cause a paradoxical decrease in heart rate as pulmonary function improves and symptoms are relieved. Supraventricular tachycardia raises the consideration of theophylline toxicity. Arrhythmias, other than supraventricular tachycardia, are rare.
MRI
Aside from cardiovascular applications, MRI of the thorax is used primarily as a problem-solving modality in the workup of patients with lung, mediastinal, or pleural lesions. MRI is a useful alternative to CT pulmonary angiography in evaluating possible pulmonary embolic disease in patients in whom iodinated contrast agent cannot be administered and when the avoidance of ionizing radiation is preferred. In bronchial asthma, the most promising work appears to involve the use of special paramagnetic gases, which amplify the low signal-to-noise ratio of conventional spin-echo and gradient-echo techniques by several thousand times. The use of such gases offsets the disadvantages of the large magnetic susceptibility states with consequent shortened T2 signals induced by the air-alveolar interfaces.
Nuclear Imaging
Nuclear medicine technology has been used in the study of aerosol and particulate distribution in the airways. Technetium-99m DTPA radioaerosol lung scintigraphy is a classic technique that shows the extent of major airway distribution, peripheral distribution (depending on particle size), and absorption in the oronasal air passages. Technetium-99m radioaerosol has been used to show improved peripheral lung distribution of corticosteroid both in normal persons and in persons treating their asthma using dry-powder inhalers as opposed to pressurized metered-dose inhalers (pMDIs) with a spacer device. Ventilation scanning with Technetium-99m DTPA has also been used as an indicator of ventilation defects in asthmatic children.
Allergy Skin Testing
Allergy skin testing is a useful adjunct in individuals with atopy. Results help guide indoor allergen mitigation or help diagnose allergic rhinitis symptoms. The allergens that most commonly cause asthma are aeroallergens such as house dust mites, animal danders, pollens, and mold spores. Two methods are available to test for allergic sensitivity to specific allergens in the environment: allergy skin tests and blood radioallergosorbent tests (RASTs). Allergy immunotherapy may be beneficial in controlling allergic rhinitis and asthma symptoms for some patients.
Pulmonary Function Testing
Spirometry assessments should be obtained as the primary test to establish the asthma diagnosis. Spirometry should be performed prior to initiating treatment in order to establish the presence and determine the severity of baseline airway obstruction. [64] Optimally, the initial spirometry should also include measurements before and after inhalation of a short-acting bronchodilator in all patients in whom the diagnosis of asthma is considered. Spirometry measures the forced vital capacity (FVC), the maximal amount of air expired from the point of maximal inhalation, and the forced expiratory volume in one second (FEV1). A reduced ratio of FEV1 to FVC, when compared with predicted values, demonstrates the presence of airway obstruction. Reversibility is demonstrated by an increase of 12% and 200 mL after the administration of a short-acting bronchodilator.
As a preliminary assessment for exercise-induced asthma (EIA), or exercise-induced bronchospasm (EIB), perform spirometry in all patients with exercise symptoms to determine if any baseline abnormalities (ie, the presence of obstructive or restrictive indices) are present. The assessment and diagnosis of asthma cannot be based on spirometry findings alone because many other diseases are associated with obstructive spirometry indices.
Single-breath counting (SBC) is a novel technique for measuring pulmonary function in children. SBC is the measurement of how far an individual can count using a normal speaking voice after one maximal effort inhalation. The count is in cadence to a metronome that is set at 2 beats per second. A study by Ali et al determined that SBC correlates well with standard measures of pulmonary function. [65] However, further studies are needed to establish values and to evaluate the use in an ED population of patients with acute asthma exacerbation.
Bronchoprovocation
Methacholine/histamine challenge
Bronchoprovocation testing with either methacholine or histamine is useful when spirometry findings are normal or near normal, especially in patients with intermittent or exercise-induced asthma symptoms. Bronchoprovocation testing helps determine if airway hyperreactivity is present, and a negative test result usually excludes the diagnosis of asthma. Methacholine is a direct stimulant that acts directly on acetylcholine receptors on smooth muscle, causing contraction and airway narrowing. Methacholine has been reported to have a high sensitivity to identify airway hyperresponsiveness and a negative test is often used to exclude asthma.
Trained individuals should perform this asthma testing in an appropriate facility and in accordance with the guidelines of the American Thoracic Society published in 1999. [66] Methacholine is administered in incremental doses up to a maximum dose of 16 mg/mL, and a 20% decrease in FEV1, up to the 4 mg/mL level, is considered a positive test result for the presence of bronchial hyperresponsiveness. The presence of airflow obstruction with an FEV1 less than 65-70% at baseline is generally an indication to avoid performing the test.
Eucapnic hyperventilation
Eucapnic hyperventilation with either cold or dry air is an alternative method of bronchoprovocation testing. It has been used to evaluate patients for exercise-induced asthma and has been shown to produce results similar to those of methacholine-challenge asthma testing.
Exercise testing
Exercise spirometry is the standard method for assessing patients with exercise-induced bronchoconstricition. Testing involves 6-10 minutes of strenuous exertion at 85-90% of predicted maximal heart rate and measurement of postexercise spirometry for 15-30 minutes. The defined cutoff for a positive test result is a 15% decrease in FEV1 after exercise.
Exercise testing may be accomplished in 3 different ways, using cycle ergometry, a standard treadmill test, or free running exercise. This method of testing is limited because laboratory conditions may not subject the patient to the usual conditions that trigger exercise-induced bronchoconstriction symptoms, and results have a lower sensitivity for asthma than other methods.
Allergen-inhalation challenge
Allergen-inhalation challenges can be performed in selected patients but are generally not needed or recommended. This test requires an available allergen solution and specialized centers able to handle potentially significant reactions. A negative test finding may allow continued exposure to an allergen (eg, family pet); a positive test finding can dramatically indicate that the patient should avoid a particular allergen. This test is often needed to help diagnose occupational asthma
Mannitol
Mannitol is a provocation test that uses indirect stimuli, causing smooth muscle contraction by release of endogenous mediators, including prostaglandins, leukotrienes, and histamine. Mannitol is equivalent for the diagnosis of asthma compared with methacholine but is not currently available for use in the United States. [67]
Peak Flow Monitoring
Peak expiratory flow (PEF) measurement is common in the ED because it is inexpensive and portable. Serial measurements document response to therapy and, along with other parameters, are helpful in determining whether to admit the patient to the hospital or discharge from the ED. A limitation of PEF is that it is dependent on effort by the patient. FEV1 is also effort dependent but less so than PEF. FEV1 is not often used in the ED except in research settings.
PEF in the ED can be compared with asymptomatic (baseline) PEF, if known. Unfortunately, patients often do not know their asymptomatic PEF. Moreover, the reference group for the ideal PEF percent predicted (based on age, sex, height) may not be accurate for the patient population seen in many inner-city EDs, since most equations are based on white populations.
Impulse Oscillometry
Impulse oscillometry (IOS) is gaining attention for the evaluation of obstructive lung disease, including asthma. IOS uses a speaker to produce pressure oscillations within the airway, resulting in measurement of pressure changes and flows with calculation of resistance, reactance, and resonance. Different frequencies are used to assess large and small airways, which is helpful to determine where the primary obstruction is occurring. For example, a patient with asthma would demonstrate increased resistance at 5 Hz (R5, distal airways) with a normal resistance at 20 Hz (R20, central airways). The primary benefit of IOS is the effort-independent nature of the test, such that small children and frail adults can easily perform the test. Therefore, in patients unable to perform spirometry or with normal spirometry but symptoms suggestive of asthma, IOS could be used to determine if there is increased airway resistance or a bronchodilator response compatible with bronchial hyperreactivity. IOS is also very quickly obtained, but provides no information on lung volumes or oxygen diffusion capacity. Currently, routine use of IOS is limited by a lack of universally accepted reference values across all patient populations.
Exhaled Nitric Oxide
Exhaled nitric oxide analysis has been shown to predict airway inflammation and asthma control; however, it is technically more complex and not routinely used in the monitoring of patients with asthma.
A prospective, controlled study has shown that when inhaled corticosteroid asthma treatment was adjusted to control the fraction of exhaled nitric oxide, as opposed to controlling the standard indices of asthma, the cumulative dose of ICS was reduced, with no worsening of the frequency of asthma exacerbations. [68]
Sinus CT Scanning
Sinus CT scanning may be useful to help exclude acute or chronic sinusitis as a contributing factor. In patients with chronic sinus symptoms, CT scanning of the sinuses can also help rule out chronic sinus disease. Conventional wisdom regarding the sinus radiographic evaluation of chronic coughing and asthma suggests that a workup for chronic coughing should be performed first, as outlined in a Finnish study of hospital admissions for acute asthma. Admission chest radiographs showed abnormalities in 50% of the patients and resulted in treatment changes in 5%. The numbers were more remarkable when a paranasal sinus series was obtained in unselected patients who presented primarily because of asthma.
A sinus abnormality of any kind was found in 85% of patients; maxillary sinus abnormalities occurred alone in 63%. In 29% of patients with a sinus abnormality, treatment was immediately altered. All abnormalities were identified on the Waters view alone, which is 6 times more useful than chest radiography in directing the treatment of acute asthma. [69, 70]
24-Hour pH Monitoring
A 24-hour pH probe can be used to help diagnose gastroesophageal reflux disease (GERD) if a patient's condition is refractory to asthma therapy. Empirical medical therapy is often tried without performing diagnostic tests for GERD, especially if a patient has symptoms of GERD. In cases of GERD, a prolonged trial of therapy may be necessary. The median time to improvement of GERD-induced cough has been reported as 3 months. [71] A 2012 study of severe asthmatics demonstrated that GERD was a significant component in these patients. [72]
Histologic Findings
Asthma is an inflammatory disease characterized by the recruitment of inflammatory cells, vascular congestion, increased vascular permeability, increased tissue volume, and the presence of an exudate. Eosinophilic infiltration, a universal finding, is considered a major marker of the inflammatory activity of the disease.
Histologic evaluations of the airways in a typical patient reveal infiltration with inflammatory cells, narrowing of airway lumina, bronchial and bronchiolar epithelial denudation, and mucus plugs. Additionally, a patient with severe asthma may have a markedly thickened basement membrane and airway remodeling in the form of subepithelial fibrosis and smooth muscle hypertrophy or hyperplasia.
What would you like to print?