Workup
Laboratory Studies
Blood BeLPT currently is the test of choice to identify beryllium workers who develop beryllium sensitization or chronic beryllium disease (CBD). [6, 7, 8, 9, 10] Blood BeLPT has an integral role in reaching a diagnosis of CBD. The test involves exposing peripheral blood mononuclear cells in vitro to beryllium salts at varying concentrations for variable time intervals. Cell proliferation in the presence of beryllium indicates a positive test result. BeLPT is only performed in selected specialized laboratories, including the following:
Center for Epidemiologic Research
Oak Ridge Institute for Science and Education
Former Beryllium Worker Medical Surveillance Program
ORISE/CER, P.O. Box 117
Oak Ridge, TN 27831-0117
(865) 576-3115
(865) 241-6152
FAX (865) 241-2923
Cleveland Clinic Foundation
9500 Euclid Avenue
Cleveland, OH 44195-0001
(216) 444-2200
(216) 444-8844
(800) CCF-CARE (223-2273) ext 48844 or 55763
Hospital of the University of Pennsylvania
Pulmonary Immunology Laboratory
815 East Gates Building, 4300 Spruce Street
Philadelphia, PA 19104-4283
National Jewish Center for Immunology and Respiratory Medicine
Cellular Immunology Tests
Pulmonary Division and Occupational/Environmental Medicine Division
1400 Jackson Street
Denver, CO 80206
(303) 388-4461
Specialty Laboratories, Inc.
OncQuest
2211 Michigan Avenue
Santa Monica, CA 90404-3900
(310) 828-6543 or (800) 421-4449
Imaging Studies
Findings on chest radiograph are normal in about half of the patients with documented chronic beryllium disease (CBD). Abnormal findings include hilar adenopathy and/or increased interstitial markings.
High-resolution CT (HRCT) scan of the chest is more sensitive than the chest radiograph. [11] Typical findings on HRCT scan are ground glass opacification (see the image below), parenchymal nodules, or septal lines. Findings on HRCT scan are negative in 25% of patients with documented CBD.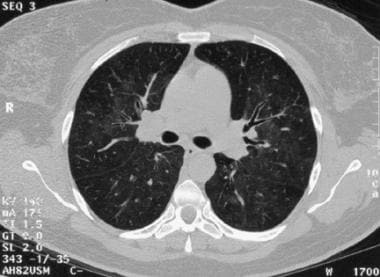 A high-resolution CT scan of the chest showing the typical ground glass appearance in a patient with chronic beryllium disease, or berylliosis.
Other Tests
Pulmonary function tests include the following:
Diffusing capacity of lung for carbon monoxide (DLCO)
With disease progression, spirometry may show evidence of obstruction, restriction, or both. In an early study in 40 patients with advanced CBD, an obstructive pattern was observed in 39% of patients, a restrictive pattern in 20%, and a low DLCO in 36%.
The DLCO declines over the course of the disease.
The most sensitive test is abnormalities in gas exchange during exercise.
Laser microprobe mass spectrographic (LAMMS) analysis can be used to detect beryllium in histologic sections from lung biopsy specimens. This test is not necessary for the diagnosis and is not widely available.
Procedures
Flexible fiberoptic bronchoscopy with BAL and transbronchial biopsies (TBBX) usually is the first invasive step necessary to confirm a suspected diagnosis of CBD. Patients with CBD usually have BAL lymphocytosis (>20% lymphocytes). The BeLPT test also can be performed on BAL cells. Transbronchial biopsies are sent for histology. A minimum of 6 high-quality biopsies should be obtained to optimize the yield. If TBBX results are negative but the suspicion for CBD remains high (eg, a positive result on BeLPT and/or a high percentage of lymphocytes in the BAL specimens), consider repeat bronchoscopy.
Open lung biopsy may need to be performed if repeat bronchoscopy findings still are negative.
Histologic Findings
The hallmark of CBD is the presence of nonnecrotizing granulomas on lung biopsy (see the image below). These granulomas are histopathologically indistinguishable from sarcoid granulomas.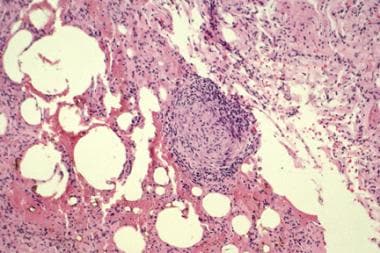 A histopathology slide (hematosin and eosin stain) showing the typical well-formed granuloma of chronic beryllium disease, or berylliosis.
What would you like to print?