Overview
Practice Essentials
Blastomycosis is a systemic pyogranulomatous infection usually caused by the inhalation of (spores) conidia of Blastomyces dermatitidis. Clinical presentations vary widely, ranging from an asymptomatic, self-limited pulmonary infection to acute respiratory distress syndrome (ARDS), a life-threatening disease.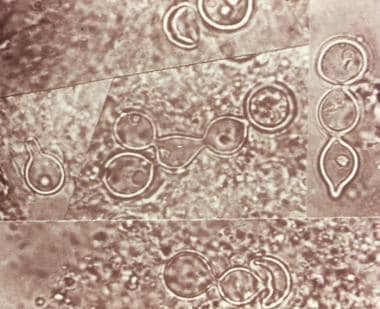 Composite photomicrograph of a tissue specimen from a patient with blastomycosis infection shows an abundance of large budding cells that had been configured in chains. Courtesy of CDC/Dr. Lucille K. George.
Signs and symptoms
Blastomycosis is usually localized to the lungs and may present with:
A self-limited flulike illness with fever, chills, myalgia, headache, and a nonproductive cough

An acute illness resembling bacterial pneumonia, with high fever, chills, a productive cough, and pleuritic chest pain; mucopurulent or purulent sputum

Chronic illness, with low-grade fever, a productive cough, fatigue, night sweats, and weight loss

Rapidly progressive, and severe disease, eg, multilobar pneumonia or ARDS, with fever, shortness of breath, tachypnea, hypoxemia, and finally hemodynamic collapse
Extrapulmonary manifestations are present in 25-40% of cases and may present with:
Cutaneous lesions – Usually either verrucous or ulcerative and may be asymptomatic

Osteoarticular lesions – Cause bone or joint pain; soft-tissue swelling possible; possible involvement of any bone may be involved, but the vertebrae and pelvis are common sites

Genitourinary manifestations including prostatitis and epididymitis – May be asymptomatic or may cause pain on urinating

Other sites – Blastomycosis dermatitidis has been reported to involve almost all organs including the eye, liver, sleep, breast, thyroid, and adrenal gland.

Central nervous system involvement – Intracranial or epidural abscesses and meningitis
See Clinical Presentation for more detail.
Diagnosis
Diagnostic studies include the following:
Sputum specimens processed with 10% potassium hydroxide, cytology smears, or a fungal stain

Culture of sputum or tissue specimens

Enzyme immunoassay (EIA) techniques on sputum, tissue, or bronchoscopic specimens

Imaging studies (eg, chest radiography, CT, MRI)
See Workup for more detail.
Management
Antifungal treatment is as follows:
Patients with mild to moderate pulmonary disease - Oral azole such as itraconazole

Patients with moderate-to-severe disseminated disease or immune compromise - Initial amphotericin B with step-down to an oral azole after clinical improvement

CNS disease should always be treated with amphotericin B initially
See Treatment and Medication for more detail.
Background
Blastomycosis is a fungal infection caused by inhalation of aerosolized conidia (spores) of Blastomyces dermatitidis. Clinical presentations occur across a wide spectrum, ranging from an asymptomatic, self-limited pulmonary infection to widely disseminated life-threatening disease.
Blastomycosis is endemic to the United States and Canada and most cases are clustered around the Mississippi and Ohio River Valley states and Canadian provinces around the Great Lakes. Within the United States, the most commonly affected states are Arkansas, Illinois, Kentucky, Louisiana, Mississippi, North Carolina, Tennessee, and Wisconsin. Prior epidemiologic studies reported a higher incidence of infection in men; however, some of these studies were from Veterans Administration medical centers, which provided a male bias to the data. More recent series have shown no predilection for any sex, age, race, or occupation or any seasonal variation. Rather, exposure to soil is the common factor associated with contracting this disease. Blastomycosis is rare in children and is recognized increasingly in immunocompromised hosts, particularly in patients with acquired immune deficiency syndrome (AIDS). [1] (See Epidemiology.)
The diagnosis of blastomycosis is readily obtained by microscopic identification of the fungus in the affected body fluid or tissue specimens followed by confirmatory culture. Culture is usually positive within 2-4 weeks. In one study of patients with pulmonary involvement, sputum culture was positive for the organism in 86% of cases and 100% of bronchial washings in patients with confirmed pulmonary disease. [2] (See Workup.)
Chest imaging findings are nonspecific and may range from scattered centrilobular nodules to areas of dense consolidation on high resolution computed tomography (CT). (see Workup.)
Oral azoles, usually itraconazole or amphotericin B are the first line treatment for blastomycosis depending on the severity of disease, clinical form, and immune status of the host. In general, mild-to-moderate disease is typically treated with oral itraconazole except in pregnant women and those with CNS disease who should always receive amphotericin B. Moderately severe to severe disseminated disease should receive amphotericin B followed by a long-term oral azole when they clinically improve. [3]
Blastomycosis requires prolonged treatment. Patients with mild-to-moderate disseminated blastomycosis without central nervous system involvement should be treated for 6 months. In patients with bone involvement, the treatment period should be extended to 12 months. Patients with severe disease occasionally require even longer treatment. See Treatment and Medication.
Pathophysiology
Blastomycosis is a systemic pyogranulomatous infection caused by the inhalation of conidia (spores) of Blastomyces dermatitidis, the asexual (imperfect) form of Ajellomyces dermatitidis, dimorphic fungus. The mycelial form grows as a fluffy white mold at 25°C and a brown folded yeast at 37°C. The conidia are round, ranging from 2-10 μm in diameter. Conidia become aerosolized when the fungus in the mycelia phase in the soil is disturbed. These can be inhaled, passing into the lower respiratory tract and resulting in pulmonary infection.
The inhaled conidia are phagocytized by bronchopulmonary mononuclear cells. The organism's susceptibility to phagocytosis and killing by neutrophils, monocytes, and alveolar macrophages explain why some individuals remain asymptomatic despite exposure to environments that would cause clinical infection in others. At 37°C, B dermatitidis convert from the mycelial form to the yeast form.
This transformation provides a survival advantage to the infecting fungus, as the yeast form is larger, at 8-10 μm in diameter, and possesses a thick cell wall that provides greater resistance to phagocytosis and killing. Another virulence factor is the expression of BAD-1, an immune-modulating glycoprotein that is expressed on the cell surface and released into the extracellular matrix. [4] BAD-1 facilitates the binding of B dermatitidis to macrophages. The yeast forms multiply and may disseminate through the blood and lymphatics to other organs. The evoked pyogranulomatous inflammatory response is a distinctive feature of blastomycosis characterized by an initial influx of neutrophils, followed by macrophage and granuloma formation. [4]
Blastomycosis may be asymptomatic in nearly 50% of infected person. In the remainder, the median incubation period from inhalation of the fungus to manifestations of symptoms is 45 days (range 21-106 d). Symptoms of blastomycosis are similar to influenza, with most patients presenting with cough, fever, sputum production, chest pain, and dyspnea. Cellular immunity is a major protective factor in preventing progressive disease secondary to B dermatitidis.
The lungs are the usual point of entry and in one study, pulmonary involvement was present 91% of all cases. [5] Pulmonary symptoms range from acute and chronic pneumonias to ARDS. Evidence of dissemination to other organs may be present.
Rarely, an extrapulmonary site (eg, skin, bone) may be the only presenting clinical manifestation.
In earlier reported case series, extrapulmonary involvement was noted in 50% of chronic blastomycosis cases. However, in present times, with earlier recognition and effective treatment, the extrapulmonary manifestations are seen in only about 20% of cases. Extrapulmonary dissemination occurs more commonly in patients with chronic pulmonary illness or immunocompromise.
Skin is the most common site of extrapulmonary blastomycosis and is involved in about 20% of cases. Other areas affected, and the approximate frequency of such involvement, are as follows: [5]
Prostate and other genitourinary organs - 2%

Other (lymph nodes, adrenal, eye, liver, sleep, trachea, breast, and thyroid) - 3%
Reactivation of blastomycosis may occur after a pulmonary infection that resolved, with or without treatment. An extrapulmonary site (eg, skin, bone, brain) is only rarely a site of reactivation.
As dogs are infected in a similar way and often in the same place as humans, an early clue to a diagnosis in humans is a history of a fungal infection in a pet dog. Blastomycosis is not transferred from animals to humans other than from bite wounds. [6] Blastomycosis has also been reported in other animals, including the horse, cow, cat, bat, and lion.
Etiology
Blastomyces dermatitidis is the asexual (imperfect) form of Ajellomyces dermatitidis, which is a thermal dimorphic fungus. The mycelial form grows as a fluffy white mold at 25°C and a brown folded yeast at 37°C, body temperature. The fungus is usually isolated in the soil in its mycelial form wet earth that has been enriched with animal droppings, rotting wood, and other decaying vegetable matter.
The conidia are round, ranging from 2-10 μm in diameter. Conidia become aerosolized when the fungus in the mycelia phase is disturbed. Conidia are inhaled, passing into the lower respiratory tract and resulting in pulmonary infection. In infected tissue specimens, B dermatitidis appears as a characteristic thick-walled yeast, 8-10 μm in diameter, which provides greater resistance to phagocytosis and killing.
Epidemiology
United States statistics
Blastomycosis can be endemic or sporadic. Most cases of blastomycosis occur in the United States and Canada, although occasional cases have been reported in Central and South America, Africa, the United Kingdom, India, and the Middle East. [7] The disease is endemic in the central and southeastern parts of the country, near the Mississippi River, Ohio River, and Great Lakes. The states commonly affected are Arkansas, Kentucky, Mississippi, North Carolina, Tennessee, Louisiana, Illinois, and Wisconsin. [8]
The true incidence and prevalence are unknown, because there are no reliable antigen markers for skin testing. Based on confirmed cases, the annual incidence is less than 1 case per 100,000 people in Mississippi, Kentucky, Arkansas, and Wisconsin. Within the endemic areas (eg, Vilas County, Wisconsin), infection in hyperendemic foci is reported at an annual incidence rate of 40 per 100,000. [9] and 3-6 cases per million persons require hospitalization annually. [10]
National data are limited, but analysis of the 2002 Nationwide Inpatient Sample (NIS), a national database of hospital inpatient stays, revealed 703 adults and children with blastomycosis were hospitalized in US hospitals. [11]
Significant construction, such as interstate road expansion, can release Blastomyces spores from the soil. [12] One such urban outbreak was the identification of 34 confirmed cases of blastomycosis in Indianapolis from 2005-2008, which coincided with a period of major highway construction in the same area. [12] Residence near rivers and waterways is also associated with an increased risk of blastomycosis. In Vilas County, north-central Wisconsin, 73 patients with laboratory-confirmed blastomycosis were identified over an 11-year period, and 82% of these patients lived or had visited within 500 m of rivers or associated waterways. [13]
Canine blastomycosis can be an early warning sign for concomitant blastomycosis in humans. One case series of 5 households in which 6 patients were diagnosed with blastomycosis, one or more pet dogs were diagnosed with blastomycosis on average 6 months before the patients became symptomatic. [6]
International statistics
Blastomycosis can be seen outside of the United States. Internationally, most reported cases stem from Canada (Ontario, Manitoba) and Africa. Most African cases originate from South Africa [14] and Zimbabwe, [15] although cases have been seen in Nigeria [16] and Tunisia. [17, 18] Often the disease is mistaken for pulmonary tuberculosis or malignancy, and only after lack of response to standard treatment is the diagnosis made. [16, 15, 19] Cases have also been reported from disparate regions, including Mexico, South America, the Middle East, and India.
Because of the erroneous belief that the disease is limited to the United States, blastomycosis is often referred to as North American blastomycosis, which is an obsolete term. The term European blastomycosis is a confusing synonym of cryptococcosis, a systemic infection caused by the yeastlike fungus Cryptococcus neoformans. Likewise, South American blastomycosis (ie, Brazilian blastomycosis) is an older name for paracoccidioidomycosis, a chronic, often fatal, mycosis caused by a large dimorphic fungus Paracoccidioides brasiliensis.
Racial, sexual, and age-related differences in incidence
Most studies of blastomycosis have shown no racial disparity in susceptibility. Rather, the distribution tends to mirror the ethnic and racial makeup of the area affected. However, in a few case series, certain races show a higher incidence of the disease. Some examples include an outbreak in Wisconsin, where 20 of the 55 patients affected were Hmong, [20] and an analysis of Missouri cases in which 57% of those affected were black although blacks account for only 13% of the population. [21] One possible explanation for these findings is that these groups have greater exposure to environments containing wet soil or organic matter where B dermatitidis thrives.
Blastomycosis has been reported to occur more frequently in males, possibly because of greater occupational and recreational exposure. Men were more likely to participate in activities associated with B dermatitidis, such as fishing, hunting, and camping. In Wisconsin from 1986-1995, 60% of cases were in males. [22] However, analysis of outbreak cases from a common source and recent reports do not indicate a significant sex difference. [23] Additionally, historically, epidemiological reports were skewed due to the collection of data from Veterans Administration (VA) hospitals nationwide, which serve predominantly male patients. [24]
The mean age at diagnosis is approximately 45 years. Most patients are 30-69 years of age; however, persons of any age can acquire the disease. Blastomycosis also occurs in infants and in very elderly persons. [25]
The disease is rare in children and adolescents. A retrospective study at a children's hospital in Arkansas identified only 10 patients diagnosed with the disease from 1983-1995. [26] In past reviews, however, about 2-10% of patients reported were younger than 15 years. In children, both sexes are equally susceptible.
Prognosis
Immunocompetent patients generally do not experience complications and can expect a full recovery. In contrast, prognosis is poor for immunocompromised patients with blastomycosis. Cellular immunity is the fundamental host defense against B dermatitidis. The loss or compromise in T-lymphocyte function, for example in HIV/AIDs or immune suppression after solid organ transplant, can predispose to severe disseminated disease, cavitary lung disease, and often involves the CNS. [27, 28, 29]
Mortality rates of 30-40% have been reported in patients with AIDS who develop blastomycosis. Pulmonary disease complicated by respiratory failure and acute respiratory distress syndrome (ARDS) has a high mortality rate with only 3 out of 10 surviving to long-term follow up in one small case series. [30] In another series, 8% of patients with pulmonary blastomycosis had ARDS, 78% of whom died of respiratory failure. [28] Most deaths tend to occur within the first few weeks of therapy.
Complications
Potential complications include progressive pulmonary disease and extrapulmonary dissemination. Risk of dissemination is increased in immunocompromised individuals. Severe pulmonary disease complicated by cavitary lesions and ARDS occurs in approximately 20% of compromised hosts. [30] CNS disease appears to be 3-5 times more common in immunocompromised patients than in normal hosts. Meningitis or mass lesions have been reported to occur in approximately 40% of adult patients with AIDS.
Extrapulmonary disease, frequently to the skin, bones, genitourinary system, and CNS can occur in 25-40% of patients with blastomycosis. The skin is the second-most common site of involvement after the lungs, and cutaneous findings range from the characteristic verrucous lesions to friable ulcerative lesions. Complications include abscesses, nodules, an extensive cutaneous lesions may undergo central healing with scarring and contracture.
Osteomyelitis occurs in approximately 25% of extrapulmonary cases, [8] usually concomitantly with pulmonary blastomycosis. The infection can spread into nearby joints, leading to septic arthritis, or contiguous spread from the vertebral bodies can cause psoas abscess.
Mortality/morbidity
Retrospective reports in the 1960s indicated a mortality rate of 42% in untreated blastomycosis and 5% in treated cases. Reports in the 1990s indicated a mortality rate of 0-2% in treated cases among immunocompetent patients. In contrast, the mortality rate is 29% in immunocompromised patients (eg, transplant recipients, patients receiving immunosuppressive or cytotoxic therapy [27] ) and 40% in the subgroup of patients with AIDS. [1] The reported mortality rate of patients presenting with ARDS is 68%. [30] Most deaths occur within the first few weeks of therapy.
What would you like to print?