Workup
Laboratory Studies
No characteristic laboratory abnormalities exist in lymphomatoid granulomatosis. Note the following:
White blood cell (WBC) count: Leukopenia (20%) and lymphopenia (33%) may be present; CD4 lymphocyte count may be low; leukocytosis greater than 10,000 cells/μ L is rare.

Hematocrit is normal or slightly elevated.

Erythrocyte sedimentation rate (ESR) has mild-to-moderate elevation but may be normal.

Renal and liver function study findings are usually normal.

Urinalysis results are usually normal.

Cerebrospinal fluid (CSF) analysis may show elevated protein levels with pleocytosis. [11]

Delayed-type hypersensitivity and lack of anergy have been reported in more than 50% of cases.
Imaging Studies
Obtain chest radiographs. Results are usually abnormal but nonspecific. The radiologic differential diagnosis for lymphomatoid granulomatosis includes pseudolymphoma, malignant lymphoma, lymphocytic interstitial pneumonia, metastasis, sarcoidosis, granulomatosis with polyangiitis, and cryptogenic organizing pneumonia. Some lesions regress, while others progress. Chest radiograph lesions and abnormalities include the following:
Bilateral nodules or masses in the lower and peripheral lung fields (80-100%). These nodules may occasionally be migratory in nature.

Pneumonitis or large masslike lesion (30%)

Cavitation of nodules (30%)
See the image below.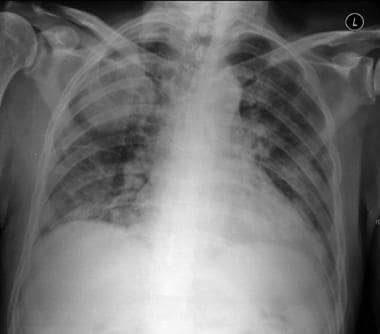 Lymphomatoid Granulomatosis. Chest radiograph showing a dense, large, right upper lobe masslike infiltrate and bilateral nodular disease.
Hilar and mediastinal lymphadenopathy are rare and should prompt consideration of an alternative diagnosis or raise concern of transformation into aggressive lymphoma. Airway disease can involve the following:
Main bronchial disease (occasionally)

Atelectasis or lobar collapse on chest films
Radiographic differential diagnoses can include the following:
Primary pulmonary and metastatic malignancy

Granulomatous diseases, including granulomatosis with polyangiitis and sarcoidosis

Eosinophilic granulomatosis
Perform chest computed tomography (CT) scanning, albeit the role of CT scanning requires further study. This imaging modality better defines pulmonary lesions, but findings are nonspecific. CT scanning is also useful for monitoring disease progression and response to treatment.
CT findings can include the following [23] :
Consolidation in perilymphatic distribution

Mediastinal lymphadenopathy (uncommon)
See the images below.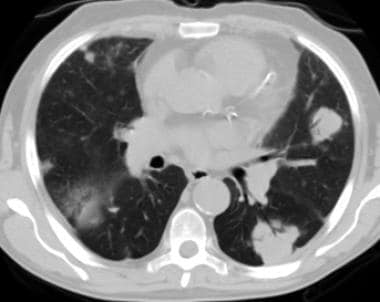 Lymphomatoid Granulomatosis. Contrast-enhanced chest computed tomography scan showing poorly defined nodular peribronchovascular infiltrates with air-bronchograms.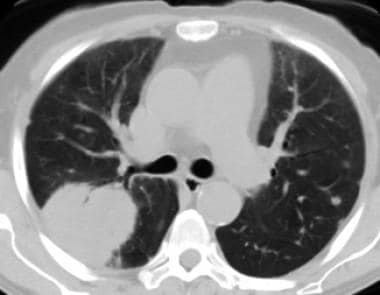 Lymphomatoid Granulomatosis. Contrast-enhanced chest computed tomography scan showing poorly defined nodular peribronchovascular infiltrates with air-bronchograms.
F18-FDG PET/CT scans show increased FDG uptake of the lesions. [24, 25, 26] This imaging modality can be used to monitor disease progression and treatment response, such as in high-grade pulmonary lymphomatoid granulomatosis, as well as to demonstrate multisystem disease distribution and guide high-yield biopsy. [27]
For patients with central nervous system involvement, CT scanning shows high-density lesions. On magnetic resonance imaging (MRI), lesions are isointense or hyperintense on T1-weighted images and hyperintense on T2-weighted images. Enhancement may be punctate and linear, a finding that can be relatively specific for inflammation of deep cerebral vessels.
Procedures
Establishing the diagnosis of lymphomatoid granulomatosis usually requires an open lung or video-assisted thoracoscopic biopsy. Transbronchial lung biopsy has not been studied rigorously. Because of the focal nature of lymphomatoid granulomatosis and the fact that it is not bronchocentric, a low diagnostic yield with bronchoscopic transbronchial biopsies is likely. In one study, the diagnosis was established with the aid of open lung biopsy in 70% of cases, bronchoscopic lung biopsy in 15% of cases, and extrapulmonary biopsy in 15% of cases. In cases where bronchoscopic lung biopsy is nondiagnostic, a thoracoscopic lung biopsy may be necessary. Inform the pathologist that lymphomatoid granulomatosis is clinically suspected to ensure that appropriate studies are performed.
Histologic Findings
A definitive diagnosis of lymphomatoid granulomatosis requires the presence of the following histologic triad:
Polymorphic lymphocytic infiltrate

Granulomatosis (central necrosis)
A nodular perivascular infiltrate containing plasma cells, lymphocytes, and large atypical mononuclear cells in various stages of maturity is present. This is a destructive lesion due to vessel occlusion by lymphocytic infiltration and subsequent tissue necrosis.
Perform analysis for cell phenotype, clonality, and Epstein-Barr virus (EBV) infection. Despite the predominance of T cells, the malignant cells appear to be B cells, and the T-cell infiltrate is polyclonal. In general, the B-cell population is clonally expanded; however, oligoclonal populations have been identified in rare cases. A similar finding is described in posttransplant lymphoma and probably reflects an EBV-related phenomenon.
When peripheral nerve involvement exists, the infiltrate surrounds the nerve and causes spotty demyelination.
Staging
Lymphomatoid granulomatosis is pathologically divided into three grades related to the proportion of Epstein-Barr virus (EBV) positive B cells relative to the reactive background lymphocytes, as follows [28] :
Grade 1: Infrequent EBV positive cells (< 5/HPF)

Grade 2: EBV positive large lymphoid cells or immunoblasts (5-50/HPF)

Grade 3: Large atypical CD20+ B cells with extensive necrosis and >50/HPF EBV positive cells
What would you like to print?