DDx
Diagnostic Considerations
Although the progression of decreased exercise tolerance, increased breathlessness, and breathlessness at rest is almost always recognizable as high-altitude pulmonary edema (HAPE), the differential diagnosis includes viral upper respiratory infection, pneumonia, bronchospasm, myocardial infarction, or pulmonary embolism (see the image below). [2, 3, 4, 19]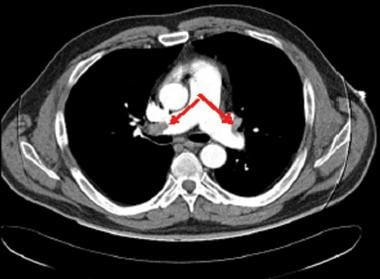 High-altitude pulmonary edema (HAPE). Pulmonary embolism masquerading as HAPE. Axial computed tomography (CT) pulmonary angiogram showing thrombi as filling defects in the right main pulmonary artery (right arrow) extending into its branch and in the distal left pulmonary artery (left arrow) with extension into its superior branch. Courtesy of High Altitude Medicine & Biology (PMID: 27768392, online at https://www.liebertpub.com/doi/full/10.1089/ham.2016.0008).
Differential Diagnoses
Mucous Plugging

Pneumonia
What would you like to print?