Workup
Laboratory Studies
No specific laboratory study confirms the diagnosis of neurogenic pulmonary edema (NPE). Cardiac injury enzyme levels are elevated in patients with neurologic injury, especially subarachnoid hemorrhage. The magnitude of elevation often correlates with the severity of the neurologic event and its effect on cardiac function.
In one series, 20% of patients with subarachnoid hemorrhage were found to have serum troponin I levels greater than 1 mcg/L (range, 0.3-50 mcg/L). [19]

Elevated natriuretic peptides, A-type and B-type, have also been reported in patients with subarachnoid hemorrhage, with B-type natriuretic peptide peak levels reported as 355 ± 80 pg/mL. [20]
Imaging Studies
Chest radiographs demonstrate a bilateral alveolar filling process and a normal-sized heart. This may mimic congestive heart failure with cephalization of blood flow, although other features of heart failure, such as septal Kerley B lines, are usually not evident. See the images below.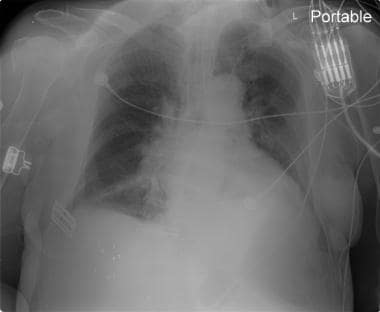 Neurogenic pulmonary edema in a patient with a subdural hematoma.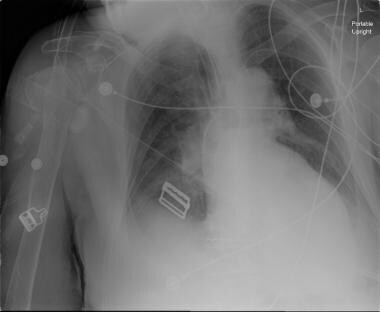 Progression of neurogenic pulmonary edema in the same patient in the image above, with subdural hematoma (day 2).
Other Tests
No specific test confirms the diagnosis of neurogenic pulmonary edema.
Initial studies of cardiac function are usually unremarkable. These include normal ECG findings, echocardiography findings, central venous pressure, and pulmonary artery occlusion (pulmonary artery capillary wedge) pressure.

Serial monitoring of cardiac function may demonstrate reduced left ventricular function attributed to a neurogenic stress cardiomyopathy. Findings include regional wall motion abnormalities that extend beyond a single vascular bed. Echocardiographic findings may demonstrate a reduced ejection fraction and large areas of akinesis in the setting of modestly elevated serum troponin levels. Normal pulmonary artery capillary wedge pressures may increase and approach high levels.

Coronary angiography, if performed, shows no obstructing lesions.

Separating the cardiac effects of the neurologic event from the effect of therapy used in these critically ill patients may be difficult.
Procedures
Hemodynamic measurements with right-sided heart catheterization (ie, Swan-Ganz catheter) may be necessary to differentiate neurogenic pulmonary edema from hydrostatic or cardiogenic pulmonary edema. Systemic blood pressure, cardiac output, and pulmonary capillary wedge pressure are usually normal by the time neurogenic pulmonary edema is diagnosed clinically.
Histologic Findings
No specific histologic findings confirm the diagnosis of neurogenic pulmonary edema.
Staging
No staging system is applicable to neurogenic pulmonary edema.
What would you like to print?