Workup
Approach Considerations
Diagnostic algorithms can help in completing a thorough workup. In 2004, the American College of Chest Physicians (ACCP) published a consensus statement with diagnostic and treatment recommendations. [15, 16] In 2009, the American Heart Association (AHA) and the American College of Cardiology (ACC) published a joint guideline that provides extensive coverage of PAH diagnosis and management. [17]
Imaging Studies
Radiography
Chest radiography may be the first diagnostic step in the evaluation of a patient with dyspnea; however, for many patients with PAH, the findings do not help reveal the underlying etiology. Chest radiography is useful for excluding interstitial and alveolar processes that may cause hypoxia-mediated pulmonary vasoconstriction.
Findings sometimes seen in IPAH include enlargement of the central pulmonary arteries with peripheral arterial pruning, oligemia of the lung fields, right ventricular enlargement with diminished retrosternal airspace, and right atrial enlargement manifesting with a prominent right heart border.
Echocardiography
Echocardiography is often the first clue that PH exists, and it is often recommended as a screen for APAH for high risk populations (such as connective tissue disease patients). Echocardiography is extremely useful for assessing right and left ventricular function, estimating pulmonary systolic arterial pressure, and excluding congenital anomalies and valvular disease. This is particularly important in the initial workup of patients with PH because the findings can help steer the clinician towards the likely type of PH (ie, Group 1, Group 2, etc).
Findings on echo in IPAH patients include flattening of the intraventricular septum (D-shaped left ventricle) during systole and diastole, right ventricular enlargement and hypertrophy, and reduced right ventricular function. Tricuspid regurgitation (TR) is usually present, and TR waveform is used to estimate right ventricular systolic pressure. Pulmonic insufficiency may be present. On M-Mode echocardiography, early mid-systolic notching of the pulmonic valve is associated with poorer right ventricular function and worse hemodynamics in PAH patients, including IPAH. Finally, the presence of a pericardial effusion denotes a poor prognosis in PAH patients, including IPAH.
In approximately a third of patients with PAH, echocardiography demonstrates right-to-left shunting across a patent foramen ovale. (See the image below.)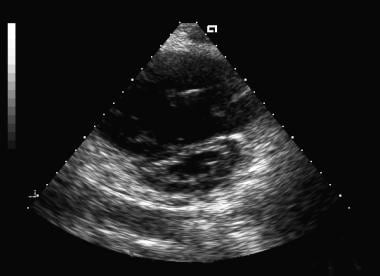 Two-dimensional short-axis echocardiogram image. Note the flattened interventricular septum due to right ventricular overload.
Computed tomography and lung scanning
High-resolution chest CT scanning and ventilation-perfusion (V/Q) lung scanning are frequently obtained to help exclude interstitial lung disease and thromboembolic disease. The V/Q scan is the preferred method for excluding chronic thromboembolic disease because it is more sensitive for chronic pulmonary embolism than CT scanning.
Pulmonary angiography
This test is occasionally required to help definitively exclude thromboembolic disease. While considered a high-risk procedure in patients with elevated pulmonary arterial pressures and/or right ventricular failure, a carefully performed study is generally safe.
For more information, see the Medscape Reference topic Imaging of Pulmonary Hypertension.
Cardiac Catheterization
Right heart catheterization is the criterion standard test to definitively confirm any form of PAH, including IPAH. However, it must be understood that a thorough workup for suspected IPAH includes a range of tests to exclude all reasonable causes of PH. Excluding left-sided heart disease (including diastolic dysfunction) with catheterization is especially important in these patients because of major treatment implications (see Catheter Placement for Long-term Therapy). Catheterization is also performed to determine pulmonary vasoreactivity, which may have implications in the initiation and titration of high-dose calcium channel blocker (CCB) therapy. The initiation of intravenous therapy with prostacyclin analogues requires placement of a central venous catheter and detailed instruction on the long-term use of PAH-specific therapy.
Serologic Analyses
Excluding autoimmune disorders is an important part of the workup in a patient with suspected pulmonary hypertension. Reportedly, up to 40% of patients with IPAH have a positive finding on an antinuclear antibody (ANA) assay but no other clinical manifestations of autoimmune disease.
Most connective-tissue diseases associated with pulmonary artery hypertension are diagnosed on the basis of clinical findings (ie, physical examination), with serology results used as adjunctive confirmation of the disease. These serologies may include rheumatoid factor (RF), anti-neutrophil cytoplasmic antibody (ANCA), and anti-topoisomerase antibody (SCL70), (Also see Scleroderma.)
Thyrotropin
Screen for thyroid abnormalities during the initial workup for IPAH because these abnormalities are common in patients with IPAH. Thyroid abnormalities may be the cause of or contribute to symptoms similar to IPAH. In addition, hyperthyroidism itself may lead to an elevation in pulmonary artery pressure.
B-Type Natriuretic Peptide
Levels of B-type natriuretic peptide (BNP) and N-terminal BNP have been shown to be elevated in patients with IPAH, and levels appear to be prognostic. [18] Data are conflicting as to whether changes in BNP over time are also predictive.
Electrocardiography
ECG results are often abnormal in patients with PAH, revealing right atrial enlargement, right axis deviation, right ventricular hypertrophy, and characteristic ST depression and T-wave inversions in the anterior leads. Sometimes, an incomplete RBBB may be seen (usually in patients with atrial septal defects). However, some patients with IPAH have few or no abnormal ECG findings. Thus, normal ECG results do not exclude a diagnosis of PAH.
Exercise Testing
Six-minute walk testing is commonly used as a surrogate test for aerobic capacity and IPAH severity. It is simple and relatively easy to perform; however, it lacks specificity in that it cannot be used to discern between several causes of an impaired ability to walk. [19]
Assessment of aerobic capacity and ventilatory efficiency can help identify a pulmonary vascular limit to exercise and can be used to differentiate intrinsic pulmonary vascular disease from cardiac deconditioning and restrictive or obstructive lung disease or left-sided cardiac dysfunction.
In patients with IPAH, values for peak exercise oxygen consumption, oxygen pulse, and ventilator equivalents (ratio of expired volume to carbon dioxide output [ie, wasted ventilation fraction] at the anaerobic threshold) during exercise are abnormal to varying degrees.
Histologic Findings
Several histologic subtypes are associated with pulmonary arteriopathy in IPAH, one of which involves in situ thrombosis. Thrombotic pulmonary arteriopathy may be observed, with or without plexiform lesions. It is characterized by in situ thrombosis of small muscular arteries of the pulmonary vasculature. Thrombotic pulmonary arteriopathy is often present at earlier stages of IPAH (ie, before the development of plexogenic pulmonary arteriopathy) or as an irreversible lesion in later stages. Platelet activation and increased levels of circulating procoagulant factors are observed.
Other Studies
Assessment of mechanical lung function can also help differentiate intrinsic pulmonary vascular disease from restrictive or obstructive lung disease. The diffusing capacity of the lung for carbon dioxide (DLCO) is known to decrease in proportion to the degree of IPAH severity.
Sleep apnea must be excluded as a contributor or cause of pulmonary hypertension if the patient's history suggests this diagnosis.
HIV-positive patients have a higher rate of IPAH than the general population; therefore, include an HIV test as part of the routine evaluation.
Staging System
Traditionally, New York Heart Association/World Health Organization functional classification is used to grade IPAH disease severity. This grading system has obvious limitations because it is subjective.
Other means to characterize disease severity include hemodynamic findings after right-sided heart catheterization, exercise capacity (eg, peak exercise oxygen consumption, 6-min walk distance), and clinical severity of heart failure signs found during the physical examination.
More recent studies show that the echocardiographically determined parameters such as eccentricity index, a marker of interventricular septum flattening, and indices of right ventricular function such as tricuspid annular plane systolic excursion (TAPSE) are prognostic. Positive findings for serum troponin and the presence of a pericardial effusion are also of prognostic utility, indicating a worse prognosis. [20]
What would you like to print?