Presentation
History
Presentation depends on the extent and severity of the organ involved. Approximately 5% of cases are asymptomatic and incidentally detected by chest radiography. Systemic complaints of fever, anorexia, and arthralgias occur in 45% of cases. Pulmonary complaints — dyspnea on exertion, cough, chest pain, and hemoptysis (rare) — occur in 50% of cases.
Löfgren syndrome symptoms consist of fever, bilateral hilar lymphadenopathy (BHL), and polyarthralgias. This presentation is associated with an excellent prognosis. Although common in Scandinavian patients, it is uncommon in African-American and Japanese patients.
Physical Examination
Pulmonary findings
They are usually normal but may be significant for crackles. Exertional oxygen desaturation may also be found.
Chest radiography staging system
Stage 0 is normal chest radiography findings.
Stage I is bilateral hilar lymphadenopathy (BHL). See the image below.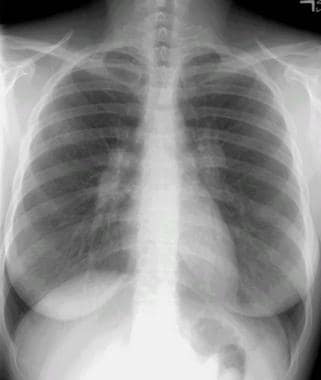 Stage I sarcoidosis.
Stage II is BHL and infiltrates. See the image below.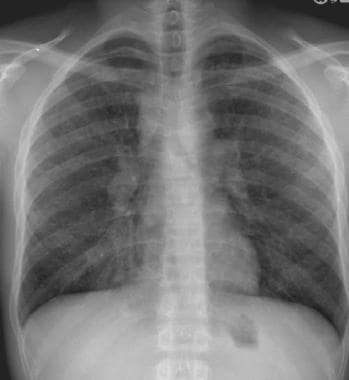 Stage II sarcoidosis.
Stage III is infiltrates alone. See the image below.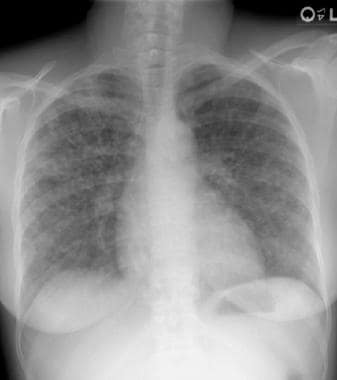 Stage III sarcoidosis.
Stage IV is fibrosis.
Ocular manifestations
About 30-60% of sarcoidosis patients develop intraocular inflammatory signs, and bilateral granulomatous uveitis is the most common presentation. [30]
CD4/CD8 ratio of vitreous-infiltrating lymphocytes has high diagnostic value in ocular sarcoidosis, comparable to that of the CD4/CD8 ratio in bronchoalveolar lavage fluid (BALF) lymphocytosis for pulmonary sarcoidosis. [31]
International criteria for the diagnosis of ocular sarcoidosis have been determined from the results of the first International Workshop On Ocular Sarcoidosis. [32] Four levels of certainty for the diagnosis of ocular sarcoidosis (diagnostic criteria) are recommended in patients in whom other possible causes of uveitis had been excluded. Criteria are as follows:
Biopsy-supported diagnosis with a compatible uveitis was labeled as definite ocular sarcoidosis

If biopsy was not performed but chest the radiograph was positive, showing bilateral hilar lymphadenopathy (BHL) associated with a compatible uveitis, the condition was labeled as presumed ocular sarcoidosis

If biopsy was not performed and the chest radiograph did not show BHL but there were 3 intraocular signs and 2 positive laboratory tests, the condition was labeled as probable ocular sarcoidosis

If lung biopsy was performed and the result was negative but at least 4 signs and 2 positive laboratory investigations were present, the condition was labeled as possible ocular sarcoidosis
The consensus conference identified the following 7 signs in the diagnosis of intraocular sarcoidosis [33] :
Mutton-fat keratic precipitates (KPs)/small granulomatous KPs and/or iris nodules (Koeppe/Busacca)

Trabecular meshwork (TM) nodules and/or tent-shaped peripheral anterior synechiae (PAS)

Vitreous opacities displaying snowballs/strings of pearls

Multiple chorioretinal peripheral lesions (active and/or atrophic)

Nodular and/or segmental peri-phlebitis (+/- candlewax drippings) and/or retinal macroaneurysm in an inflamed eye

Optic disc nodule(s)/granuloma(s) and/or solitary choroidal nodule
The laboratory investigations or investigational procedures judged to provide value in the diagnosis of ocular sarcoidosis in patients having the above intraocular signs included the following [33] :
Negative tuberculin skin test in a BCG-vaccinated patient or in a patient having had a positive tuberculin skin test previously

Elevated serum angiotensin-converting enzyme (ACE) levels and/or elevated serum lysozyme

Chest radiograph revealing BHL

Abnormal liver enzyme tests

Chest CT scan in patients with a negative chest radiograph result
Ocular involvement may lead to blindness if untreated.
Cardiac manifestations
Heart block and sudden death may occur.
The incidence rate of ventricular tachyarrhythmias requiring implantable cardioverter-defibrillator therapy is estimated to be 15% per year in those patients with cardiac involvement. Prophylactic implantable cardioverter-defibrillator implantation should be considered in patients with cardiac sarcoidosis. [34] Corticosteroid therapy may be effective for ventricular arrhythmias in the early stage, but it is less effective in the late stage. [35]
In one study, 90.4% of ECGs in cardiac sarcoidosis patients contained at least fragmented QRS or a bundle-branch block (specificity 0.633), compared with 36.7% of noncardiac cardiac sarcoidosis patients (P< .01). If patients with sarcoidosis have these ECG findings, further workup is indicated. The Japanese Ministry of Health and Welfare has used a right bundle-branch block and advanced A-V block as 2 of the clinical diagnostic criteria used for diagnosis of cardiac sarcoidosis. [36]
The diagnosis of cardiac involvement in systemic sarcoidosis has improved with the development of cardiac MRI. Both plasma A-type natriuretic peptide (ANP) and B-type natriuretic peptide (BNP) can be elevated in cardiac sarcoidosis. [37]
Approximately 25% of patients may have noncaseating granulomas (NCGs) at autopsy, but less than 5% have clinical cardiac disease.
Neurologic manifestations (rare)
Cranial nerve palsies and hypothalamic/pituitary dysfunction may occur. Lymphocytic meningitis is the most common neurologic manifestation.
Other manifestations
Diabetes insipidus is the most frequently reported endocrine disorder, followed by hyperprolactinemia. Hormonal deficiencies associated with hypothalamic-pituitary sarcoidosis frequently include hypogonadism and diabetes insipidus. [38]
The enzyme 25-hydroxyvitamin D3 1α-hydroxylase (1α-hydroxylase) catalyzes the conversion of 25-hydroxyvitamin D3 to the active hormone calcitriol (1,25-dihydroxyvitamin D3). Under normal circumstances, calcitriol is synthesized in proximal renal tubules. Expression of 1 α-hydroxylase has been demonstrated in purified human alveolar macrophages. In one study, the 1 α-hydroxylase mRNA levels in bronchoalveolar lavage cells were 5-fold higher in sarcoidosis patients than in control patients. [39]
Quality of life, anxiety, and depression in sarcoidosis
Sarcoidosis is associated with fatigue and a high rate of psychiatric comorbidity. In one study, 44% of the subjects met the diagnostic criteria for at least one Diagnostic and Statistical Manual of Mental Disorders, Fourth Edition (DSM-IV) axis I disorder. Specifically, 25% of subjects met the criteria for major depressive disorder, 6.3% for panic disorder, 6.3% for bipolar disorder, 5% for generalized anxiety disorder, and 1.3% for obsessive-compulsive disorder. [40]
One double-blind, randomized trial found that the treatment with dexmethylphenidate hydrochloride was associated with a significant improvement in sarcoidosis-associated fatigue. [41]
Complications
Sarcoidosis may initially manifest or be reactivated during or shortly after treatment with antiviral therapy in patients with chronic hepatitis C viral infection. [42]
What would you like to print?