Overview
Background
Recurrent respiratory papillomatosis (RRP) is a disease caused by the human papillomavirus (HPV). See Human Papillomavirus and Medscape's HPV and Cervical Cancer Resource Center for more information on HPV. Warty growths in the upper airway may cause significant airway obstruction or voice change. [1] RRP has a bimodal age distribution and manifests most commonly in children younger than 5 years (juvenile-onset RRP [JORRP]) or in persons in the fourth decade of life (adult-onset RRP [AORRP]).
Respiratory papillomatosis is shown in the image below.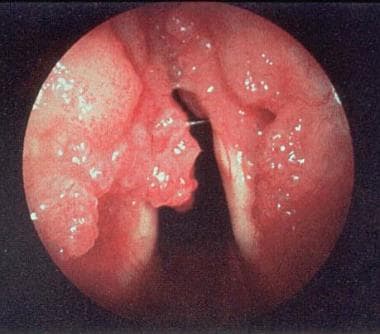 A 48-year-old woman presents with inspiratory stridor, dyspnea, and hoarseness. On direct laryngoscopy, extensive respiratory papillomatosis were diagnosed as the cause of her symptoms. Courtesy of Sat Sharma, MD, and L. Garber, MD.
JORRP is more common and more severe than AORRP. JORRP is caused by exposure to HPV during the peripartum period. The mode of infection in adults is still not known, but sexual transmission is likely.
Treatment usually involves repeated debulking of the warty growths by angiolytic laser or microdebridement coupled with intralesional cidofovir therapy in patients with moderate or severe disease. Interferon treatment appears to slow the rate of growth without curing the disease. Although some antiviral agents (eg, cidofovir) also may slow the rate of regrowth of lesions, they are not curative. Eventually, some patients may enter remission. In 3-5% of patients, respiratory papillomas may undergo malignant degeneration to squamous cell carcinoma, and the prognosis for patients with these cancers is quite poor. See Squamous Cell Carcinoma for more information on this topic.
Pathophysiology
HPV, the virus associated with cutaneous warts, genital condyloma, and cervical cancer, causes RRP. While more than 20 types of HPV can cause genital warts, only 2 of these, HPV-6 and HPV-11, cause the vast majority of cases of RRP. The disease associated with HPV-11 is more severe; thus, in children with HPV-11–associated disease, as many as 70% may require tracheostomy, compared with less than 20% of children infected with HPV-6 (see Human Papillomavirus).
The cause of JORRP is peripartum transmission of the virus from an infected mother. Vaginal delivery is a risk factor, but cesarean delivery is not completely protective. [2] The classic triad for increased risk of JORRP includes being firstborn, vaginal delivery, and having a mother younger than 20 years. [3, 4] Lower socioeconomic status is also a risk factor. Suspect sexual abuse in children older than 5 years who acquire RRP. The mode of transmission of the virus in adults with RRP is unknown, but sexual transmission is probable as risk factors in adults include more lifetime sexual partners and increased frequency of oral sex as compared with controls. [5]
Papillomas may develop anywhere in the respiratory tract, from the nose to the lung; however, >95% of cases involve the larynx. The sites of respiratory system involvement have been described more completely for JORRP; 52% of children have only laryngeal involvement. The trachea is the next most commonly involved site. However, 31.8% of children had papillomas in areas outside of the trachea and larynx (eg, oropharynx, nasopharynx, mouth, bronchi, lung parenchyma).
Epidemiology
Frequency
United States
Based on a 1996 survey, it was estimated that there would be 80-1500 new cases of RRP in children younger than 18 years in the United States in 1999. [6] An earlier survey estimated the incidence in children aged 14 years or younger as 4.3 cases per 100,000 population. In those older than 15 years, the estimated incidence is 1.8 cases per 100,000 population. [7]
International
Researchers in Denmark have studied the incidence of JORRP and concluded that the incidence in Denmark is the same as that in the United States.
Mortality/Morbidity
Because the disease is uncommon and requires direct laryngoscopy for diagnosis, children usually have symptoms for a year before a physician makes the diagnosis. The morbidity of this disease has been studied more completely for JORRP, in which the average number of surgical procedures required is 4.4 per child per year and the average number of procedures per child's lifetime is more than 20. [8] This exacts a tremendous financial cost and severely affects quality of life, including the ability to attend school and work. Ten to 15% of children with JORRP ultimately require tracheostomy, usually when younger than 2 years. Many eventually tolerate decannulation.
The need for tracheostomy in adults appears to be less common than in children, but repeated surgical procedures are the rule, and procedures may be required as often as every few weeks.
Malignant degeneration of papillomatous lesions to squamous cell carcinoma occurs in 3-5% of patients with RRP.
Race
Initial results from the National Registry for Juvenile-Onset Recurrent Respiratory Papillomatosis, [7] a study encompassing 399 children from 20 tertiary care pediatric otolaryngology centers, indicate that 62.7% of the children were white, 28.3% were black, and 2.3% were Asian or Native American.
Sex
JORRP affects males and females in equal numbers, whereas AORRP is more common in males.
Age
The mean age at diagnosis of JORRP is 3.8 years. The adult form usually manifests in the third or fourth decade of life but may rarely manifest in patients older than 60 years. [9]
What would you like to print?