Workup
Laboratory Studies
Once the physician diagnoses recurrent respiratory papillomatosis (RRP) via laryngoscopy or bronchoscopy, typing of the virus may be helpful for determining prognosis. This may be accomplished by polymerase chain reaction on fresh tissue. As noted, HPV-11 is associated with more severe disease and, possibly, with a greater risk of malignant transformation.
Imaging Studies
Chest radiographs rarely may reveal an intratracheal density in recurrent respiratory papillomatosis. This may be observed best on the lateral view. In the uncommon instance of distal bronchial involvement, chest radiographs may reveal segmental or lobar atelectasis or postobstructive pneumonia. Nodules or cystic lesions on chest radiographs provide evidence of pulmonary parenchymal involvement.
CT scans of the upper airway may be helpful in revealing the tumorlike papillomatous growths on the larynx or in the trachea.
Other Tests
Pulmonary function studies may be helpful in suggesting the presence of upper airway obstruction in the workup of recurrent respiratory papillomatosis. The flow-volume loop may show the characteristic flattening of the inspiratory limb, suggesting variable extrathoracic upper airway obstruction or flattening of both the inspiratory and expiratory limbs if the upper airway obstruction is fixed.
Procedures
Laryngoscopy or bronchoscopy findings provide confirmation of the diagnosis of recurrent respiratory papillomatosis (RRP). Confirmation in patients presenting with hoarseness or voice change requires visualization of the vocal cords. Because laryngeal involvement occurs in more than 95% of patients, direct laryngoscopy reveals the characteristic warty growths. Rarely, the trachea is involved without laryngeal lesions, and bronchoscopy may be required for diagnosis. These procedures reveal the characteristic cauliflowerlike warty growths.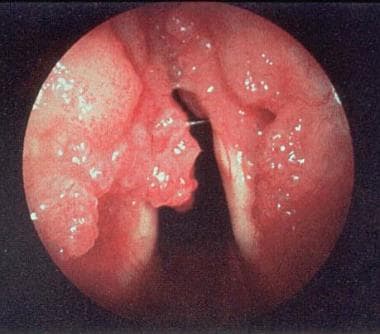 A 48-year-old woman presents with inspiratory stridor, dyspnea, and hoarseness. On direct laryngoscopy, extensive respiratory papillomatosis were diagnosed as the cause of her symptoms. Courtesy of Sat Sharma, MD, and L. Garber, MD.
This adult patient was seen for hoarseness, with a history of several prior procedures for recurrent respiratory papillomatosis. A papillomatous lesion is seen along the left true vocal fold with associated reactive edema. On pathologic analysis, moderate squamous dysplasia was seen within the papilloma. Video courtesy of Vijay R Ramakrishnan, MD.
Obtaining a biopsy specimen of visualized lesions is essential for histologic confirmation of respiratory papillomatosis. Biopsy is necessary both for viral typing and for histologic examination to rule out malignant transformation. Atypical histologic features often are noted, sometimes making the diagnosis of malignant transformation difficult.
Histologic Findings
Under low power, the recurrent respiratory papillomatosis lesion has a papillary appearance. This results from the exophytic growth of keratinized squamous epithelium overlying a fibrovascular core. Koilocytes, vacuolated cells with clear cytoplasmic inclusions, are noted and are indicative of viral infection. Metaplasia and dysplasia occur in varying degrees.
Staging
A staging system for recurrent respiratory papillomatosis was published in 1998 and assigns a numerical score based on clinical and anatomic parameters. [19] The clinical parameters include of urgency of intervention, voice quality, and the presence and severity of stridor and respiratory distress. The anatomic score is based on the number of sites of disease and whether the lesion is surface, raised, or bulky. Elements of the staging system have been found to help predict the frequency of needed surgical intervention. [20]
What would you like to print?