Workup
Approach Considerations
Findings from the history, physical examination, chest radiography, and electrocardiography (ECG) may suggest the presence of pulmonary hypertension and right ventricular dysfunction. Two-dimensional transthoracic echocardiography (TTE) with Doppler analysis should be used as an initial screening measure to estimate the pulmonary artery pressure and assess ventricular function.
Right-sided cardiac catheterization is recommended as the confirmatory test for pulmonary hypertension. This can also be useful for assessment of the reversibility of pulmonary arterial hypertension (PAH) with vasodilatory therapy.
Further studies should then be performed to assess for the etiology of the pulmonary hypertension, as the etiology determines treatment options and prognosis. PAH is a diagnosis of exclusion, and so it is imperative that the practitioner first assess for WHO groups 2-5 pulmonary hypertension. Given this, European guidelines recommend first evaluating for significant group 2 or 3 disease by ordering a TTE, pulmonary function tests with arterial blood gas assessment, and chest imaging. [21]
If this workup is unrevealing, patients should then undergo ventilation-perfusion lung scanning to assess for group 4 disease. If defects are present, pulmonary angiography or spiral CT should be performed. This is crucial in all patients suspected of having PAH, as chronic thromboembolic pulmonary hypertension (CTEPH) is often curable by surgical endarterectomy.
Patients should also be screened clinically for possible nocturnal desaturation and obstructive sleep apnea.
Finally, laboratory studies should be performed in the appropriate clinical scenarios to evaluate for causes of WHO group 1 disease, or PAH.
Laboratory Studies
A complete blood (CBC) count, biochemistry panel, prothrombin time (PT), and activated partial thromboplastin time (aPTT) should be obtained at baseline. Arterial blood gas determinations should be performed to assess for hypoxemia.
Collagen-vascular disease screening can be performed by measuring antinuclear antibody (ANA) levels, as well as checking for rheumatoid factor (RF) and antineutrophil cytoplasmic antibody (ANCA). When there is clinical suspicion for scleroderma, anti-Scl-70, anticentromere, and anti-U1-RNP antibodies can also be checked.
Liver function tests, as well as markers of synthetic function (ie, albumin, international normalized ratio [INR]), and platelet levels may indicate liver disease and/or portal hypertension.
Brain natriuretic peptide (BNP of NT-proBNP) should be performed on appropriate patients.
HIV testing, hepatitis serology tests, and urine toxicology screening should also be considered.
In patients at risk for heritable pulmonary arterial hypertension (PAH), screening for gene mutations such as BMPR2 also may be considered.
Iron studies may also be indicated in at risk patients with PAH, as a study by Soon et al found a high prevalence of iron deficiency in patients with PAH. [22] It was found to be significantly more common in patients with idiopathic PAH (IPAH) than in those with CTEPH.
Chest Radiography and Computed Tomography
The classic finding on a chest radiograph from a patient with pulmonary arterial hypertension (PAH) is enlargement of central pulmonary arteries, attenuation of peripheral vessels, and oligemic lung fields (see the first and second images below). Findings of right ventricular (diminished retrosternal airspace) and right atrial dilatation (prominent right-sided heart border) are possible. Abnormalities may be followed up with a CT scan of the chest (see the third image below).
Cardiac Studies
Electrocardiography
On ECG, signs of right ventricular hypertrophy or strain may be observed. These include right-sided axis deviation, an R-to-S wave ratio greater than 1 in lead V1, increased P-wave amplitude, and an incomplete or complete right bundle-branch block pattern.
Echocardiography
Two-dimensional echocardiography
Echocardiography is generally used to screen patients for pulmonary hypertension. It is also used to rule out left ventricular and valvular dysfunction.
On two-dimensional echocardiography, signs of chronic right ventricular pressure overload are present, including increased thickness of the right ventricle and paradoxical bulging of the septum into the left ventricle during systole. In later stages, right ventricular dilatation occurs, leading to right ventricular hypokinesis. Right atrial dilatation, septal flattening, tricuspid regurgitation, pulmonic insufficiency, and midsystolic closure of the pulmonic valve may develop.
Doppler echocardiography
Doppler echocardiography is the most reliable noninvasive method of estimating pulmonary arterial pressure.
Tricuspid regurgitation is usually present in patients with pulmonary arterial hypertension (PAH), which facilitates measurement of pulmonary arterial pressure with the modified Bernoulli equation. The efficacy of Doppler echocardiography depends on the ability to locate the tricuspid regurgitant jet. Furthermore, acoustic windows may be limited in patients who have other diseases (eg, chronic obstructive pulmonary disease [COPD]) or in those who are obese.
Tricuspid regurgitation is generally detected in more than 90% of patients with severe pulmonary hypertension, and a correlation of greater than 95% is observed when the pressure is measured by means of catheterization. Doppler echocardiography is a useful noninvasive test for long-term follow-up.
Visual inspection of the shape of the right ventricular Doppler flow velocity envelope provides insight into the hemodynamic basis of PAH. [23] Midsystolic notch was associated with the most severe pulmonary vascular disease and right-sided heart dysfunction.
Ventilation-Perfusion Lung Scanning
Ventilation-perfusion scanning should be performed to exclude CTEPH. A high- or low-probability scan result is most useful, whereas intermediate-probability results should lead to the performance of pulmonary angiography.
Diffuse mottled perfusion can be observed in patients with pulmonary arterial hypertension (PAH), as opposed to the segmental or subsegmental mismatched defects observed in patients with CTEPH (see the image below).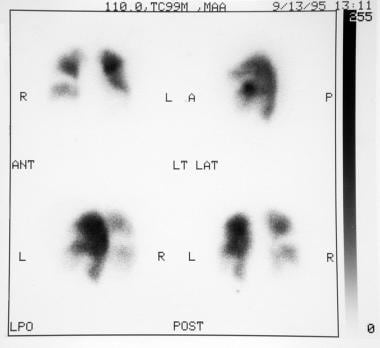 Ventilation-perfusion scan of bilateral mismatched segmental and subsegmental defects, suggesting chronic thromboembolic hypertension.
Pulmonary Function Testing
Pulmonary function tests (ie, spirometry and diffusing capacity for carbon monoxide) should be performed in patients with pulmonary hypertension to exclude an underlying pulmonary disorder. Diffusing capacity is universally reduced in patients with pulmonary hypertension.
These tests may show an obstructive pattern suggestive of COPD or a restrictive pattern suggestive of an interstitial lung disease. Furthermore, the severity of the lung disorder may be established by pulmonary function test findings because these tests provide both qualitative and quantitative data.
Right-Sided Cardiac Catheterization
Right-sided heart catheterization is the procedure of choice in the diagnosis, quantification, and characterization of pulmonary hypertension. Left-sided heart dysfunction and intracardiac shunts can be excluded, and the cardiac output can be measured.
The indications for right-sided cardiac catheterization are as follows:
Making a definitive diagnosis of pulmonary hypertension

Measuring pulmonary pressures accurately (ie, when there is difficulty in measuring pulmonary pressures with Doppler echocardiography)

Conducting a vasoreactivity test for assessment of the acute response to vasodilators.
Vasoreactivity testing is indicated in patients with hereditary, idiopathic, and anorexigen-induced PAH. [4] Acute vasoreactivity is determined by administering a short-acting vasodilator such as prostacyclin, inhaled nitric oxide, or adenosine. A positive vasoreactivity test requires that multiple conditions are met, such that (1) a decrease in mean pulmonary artery pressure of at least 10 mm Hg, (2) to a value less than 40 mm Hg, and (3) without a concurrent decrease in carbon monoxide or blood pressure
An acute response often predicts a beneficial effect from oral agents, such as calcium channel blockers. [24]
Histologic Findings
The histopathologic lesions in patients with pulmonary arterial hypertension (PAH) are the result of long-standing pulmonary hypertension rather than a consequence of different causes.
The plexiform lesion is observed in patients with all types of PAH. These lesions consist of medial hypertrophy, eccentric or concentric laminar intimal proliferation and fibrosis, fibrinoid degeneration, and thrombotic lesions. Fresh or organized and recanalized thrombi may also be present. Diverse types of intimal and muscular lesions of the small muscular arteries may cause the clinical syndrome of PAH, and a plexiform lesion reflecting the abrupt onset of PAH is likely, rather than the lesion being a distinctive cause.
Staging
On the basis of information adapted from the executive summary of the world symposium on Primary Pulmonary Hypertension in Evian, France, in 1998, pulmonary hypertension may be divided into the following functional classes:
Class I: These are patients with pulmonary hypertension but without resulting limitation of physical activity. Ordinary physical activity does not cause undue dyspnea or fatigue, chest pain, or near-syncope in patients.

Class II: These are patients with pulmonary hypertension resulting in slight limitation of physical activity. The patients are comfortable at rest, but ordinary physical activity causes undue dyspnea or fatigue, chest pain, or near-syncope.

Class III: These are patients with pulmonary hypertension resulting in marked limitation of physical activity. Patients are comfortable at rest, but even less-than-ordinary activity causes undue dyspnea or fatigue, chest pain, or near-syncope.

Class IV: These are patients with pulmonary hypertension who are unable to perform any physical activity without symptoms. These patients manifest signs of right-sided heart failure, dyspnea or fatigue may even be present at rest, and discomfort is increased by any physical activity.
What would you like to print?