Treatment
Rehabilitation Program
Physical Therapy
Physical therapy plays an important role in rehabilitation for patients with poliomyelitis. Patients with muscle paralysis benefit from frequent passive range of motion (PROM) and splinting of joints to prevent contracture and joint ankylosis. Chest physical therapy (CPT) helps patients with bulbar involvement prevent any pulmonary complications, such as atelectasis. Frequent repositioning of paralyzed patients helps to prevent bedsores (see image below).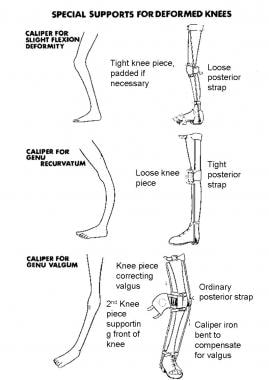 Orthotic treatment for deformities around the knee in poliomyelitis.
Occupational Therapy
Patients with paralysis of the extremities may benefit from hand or arm splints, knee or trochanter rolls, a footboard, or Multi-Podus boots to prevent foot drop, ulcers, and other deformities. Hot packs also are helpful to relieve the muscle pain.
Speech Therapy
Patients with cranial nerve involvement may develop swallowing dysfunction. To protect the airway and prevent aspiration pneumonia, a speech therapist needs to be involved early to perform an evaluation of the safety of swallowing. Decisions on the appropriate consistency of oral foods and use of various strategies/techniques greatly reduce the risk of aspiration. Periodic follow up of patient status can be performed with serial video swallow testing.
Recreational Therapy
Patients may attend leisure activities to reduce stress and learn how to get involved in group activities.
Medical Issues/Complications
All patients should be placed on bedrest in an isolation unit. Monitor patients' vital signs carefully; focus especially on the swallowing function, vital capacity, pulse, and blood pressure, in anticipation of respiratory or circulatory complications. Patients who develop respiratory failure because of depression of the brainstem respiratory center, in addition to paralysis of the intercostal and diaphragmatic muscles, may require immediate positive pressure ventilation and/or tracheotomy in the respiratory intensive care unit.
Surgical Intervention
In severe cases of contracture from limb immobilization, the patient may benefit from orthopedic surgery to release the contracture and restore limb function (see image below).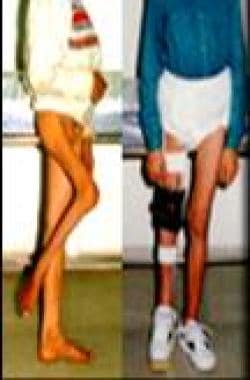 Surgical correction of a fixed flexion deformity of the knee and hip due to iliotibial band contracture, by Souttar and Yount's release.
Other Treatment
No specific treatment exists for acute poliomyelitis except supportive care, which may help to ensure survival, modify the disability, and improve the outcome.
What would you like to print?