Workup
Laboratory Studies
See the list below:
If arthrocentesis is performed (see Procedures), send the fluid for analysis, though a hemarthrosis associated with acute injury often is evacuated only for patient comfort.

Send nonbloody fluid to the laboratory for cell count and determination of glucose and protein levels, Gram stain, bacterial culture, and special tests (eg, crystals), as indicated.

Posttraumatic aspiration of bloody fluid is suggestive of a cruciate ligament tear or an injury to the peripheral vascular part of the meniscus. If the bloody aspirate is associated with fat globules, it is highly suggestive of associated fractures.
Imaging Studies
Radiographic evaluation of the knee should include standing anteroposterior (AP), lateral, tunnel, and skyline views. [16]
MRI of the knee largely has replaced arthrography as the imaging modality of choice for the menisci, as the accuracy has been shown to be greater than 90%. MRI is not routinely required for the diagnosis of meniscal tears before proceeding with arthroscopic surgery; however, MRI helps confirm the diagnosis and provides additional information concerning the status of the ligaments and articular cartilage (see images below). [3]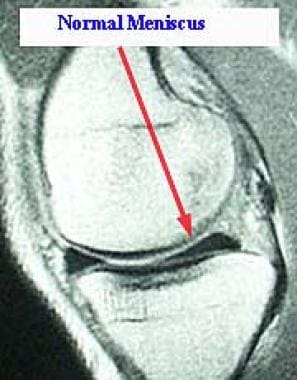 Magnetic resonance imaging scan showing a normal meniscus.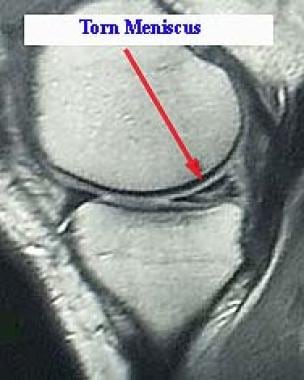 Magnetic resonance imaging scan showing a torn medial meniscus.
A study by Furumatsu et al indicated that existence of the giraffe neck sign on MRI is helpful in diagnosing medial meniscus posterior root tear (MMPRT). The study found the sign in 81.7% of MMPRTs but in only 3.3% of other medial meniscus tears and suggested that a combination of giraffe neck, cleft, ghost, and radial tear signs may play an important role in the MRI diagnosis of MMPRT. [17]
Procedures
See the list below:
Arthrocentesis

Arthrocentesis can be used as a diagnostic tool and a therapeutic procedure.

Not all effusions require aspiration, though drainage of the bloody effusion provides symptomatic relief, improves examination accuracy, and helps confirm severity of the injury.

Arthrocentesis can be accomplished quickly and easily with minimal patient discomfort. The knee is prepared in sterile fashion and anesthetized with local anesthetic to facilitate the use of a large-bore needle. The choice of the site of aspiration is a matter of operator preference. Accepted locations include the level of the joint line, which is 1 cm medial or lateral to the patellar tendon when the patient is seated. Alternatively, a location 2 cm medial or lateral to the anterior-superior patella when the patient is supine can be used. An 18-gauge needle is needed for aspiration of the viscous or bloody fluid.
What would you like to print?