Workup
Laboratory Studies
If arthrocentesis is performed (see Procedures), send the fluid for analysis, though a hemarthrosis associated with acute injury often is evacuated only for patient comfort.
Send nonbloody fluid to the laboratory for cell count and determination of glucose and protein levels, Gram stain, bacterial culture, and special tests (eg, crystals), as indicated.
Posttraumatic aspiration of bloody fluid is suggestive of a cruciate ligament tear or an injury to the peripheral vascular part of the meniscus. Association of the bloody aspirate with fat globules is highly suggestive of associated fractures.
Imaging Studies
Plain radiography
An anteroposterior weight-bearing view, posteroanterior 45° flexed view, lateral view, and Merchant patellar view should be obtained to rule out degenerative joint changes (arthritis) or fractures.
Arthrography
Historically, arthrography was the standard imaging study for meniscal tears, but it has been replaced with MRI.
MRI
This is the criterion standard study for imaging meniscal pathology and all intra-articular disorders. [2, 3] MRI is not routinely required for the diagnosis of meniscal tears before proceeding with arthroscopic surgery; however, it helps to confirm the diagnosis and provides additional information concerning the status of the ligaments and articular cartilage (see images below). [4]
Normal menisci have a homogeneous low signal. Abnormal meniscal signals are classified into the following 3 groups:
Grade I – Small area of increased signal within the meniscus

Grade II – Linear area of increased signal that does not extend to an articulating surface

Grade III – Abnormal increased signal that reaches the surface or edge of the meniscus
Grade I and II changes are common in older patients as evidence of the normal degenerative aging process and in young patients as a demonstration of normal perforating vascular channels. Grade I and II changes are not usually seen arthroscopically and do not represent meniscal tears, but grade III changes do.
MRI has proven to be an effective technique for evaluating menisci, with sensitivity, specificity, and accuracy being as follows:
Average sensitivity - 95% medial, 81% lateral

Average specificity - 88% medial, 96% lateral

Average accuracy - 92% medial, 92% lateral
Meniscal root tears are directly or indirectly diagnosed via MRI by assessing the amount of meniscal extrusion, defined as at least 3 mm of coronal translation beyond the margin of the tibia. [23, 24]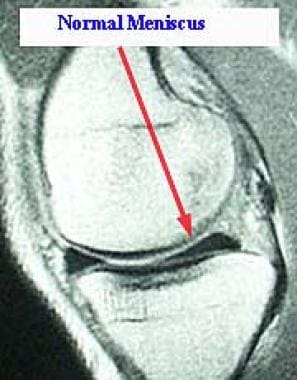 Magnetic resonance imaging scan showing a normal meniscus.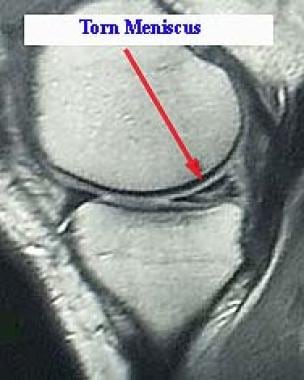 Magnetic resonance imaging scan showing a torn medial meniscus.
A study by Furumatsu et al indicated that existence of the giraffe neck sign on MRI is helpful in diagnosing medial meniscus posterior root tears (MMPRTs). The study found the sign in 81.7% of MMPRTs but in only 3.3% of other medial meniscus tears and suggested that a combination of giraffe neck, cleft, ghost, and radial tear signs may play an important role in the MRI diagnosis of MMPRT. [25]
Procedures
Arthrocentesis
Arthrocentesis can be used as a diagnostic tool and a therapeutic procedure.
Not all effusions require aspiration, though drainage of the bloody effusion provides symptomatic relief, improves examination accuracy, and helps to confirm the severity of the injury.
Arthrocentesis can be accomplished quickly and easily with minimal patient discomfort. The knee is prepared in sterile fashion and anesthetized with local anesthetic to facilitate the use of a large-bore needle. The choice of the site of aspiration is a matter of operator preference. Accepted locations include the level of the joint line, which is 1 cm medial or lateral to the patellar tendon when the patient is seated. Alternatively, a location 2 cm medial or lateral to the anterior-superior patella when the patient is supine can be used. An 18-gauge needle is needed for aspiration of the viscous or bloody fluid.
Arthroscopy
In the hands of a competent arthroscopist, arthroscopy is considered the best tool for meniscal tear diagnosis, with sensitivity, specificity, and accuracy approaching 100%.
Arthroscopy is therapeutic and diagnostic and thus offers the advantage of immediate treatment of most disorders. [3, 26, 27] (See image below.)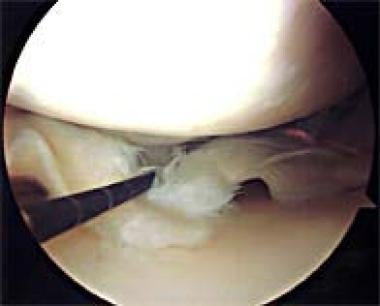 Arthroscopic probing of a posterior horn complex meniscal tear with multiple flaps.
What would you like to print?