Overview
Background
Morton neuroma (interdigital neuroma), first described in 1876, is a perineural fibrosis and nerve degeneration of the common digital nerve. [1] Morton neuroma, or Morton's neuroma, is not a true neuroma, although it results in neuropathic pain in the distribution of the interdigital nerve secondary to repetitive irritation of the nerve. The most frequent location is between the third and fourth metatarsals (third webspace). Other, less common locations are between the second and third metatarsals (second webspace) and, rarely, between the first and second (first webspace) or fourth and fifth (fourth webspace) metatarsals. [2, 3]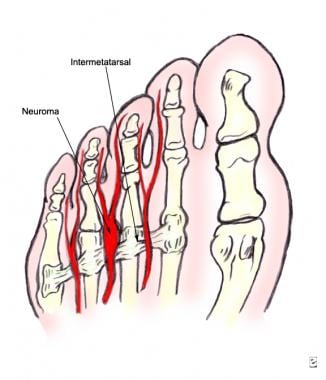 Plantar view showing the relationships between the metatarsal heads, the intermetatarsal ligament, and the neuroma.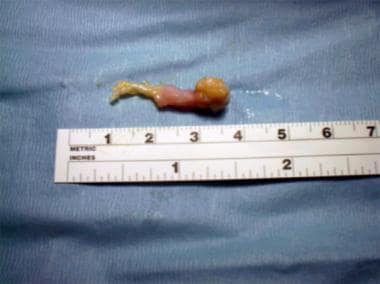 Neuroma and adherent fibrofatty tissue.
Episodes of pain are intermittent. Patients may experience 2 attacks in a week and then none for a year. Recurrences are variable and tend to become more frequent. Between attacks, no symptoms or physical signs occur. Two neuromas coexist on the same foot about 2-3% of the time. Other diagnoses should be considered when 2 or more areas of tenderness are present.
Pathophysiology
Interdigital nerves are composed of communicating branches from the lateral and medial plantar nerves. At the level of the metatarsal heads, the interdigital nerve traverses inferior to the intermetatarsal ligament. At this site, the nerve may be compressed or stretched from repetitive toe flexion and extension. Other studies have shown perineural fibrosis and demyelination at the level of the metatarsal heads, indicating that the damage in Morton's neuroma may be more distal than the intermetatarsal ligament. [4]
Epidemiology
Frequency
United States
Morton's neuroma is a common disease entity of the foot.
International
The incidence of Morton's neuroma is presumed to be the same internationally as in United States.
Sex
The female-to-male ratio for Morton's neuroma is 5:1.
Age
The highest prevalence of Morton's neuroma is found in patients aged 15-50 years, but the condition may occur in any ambulatory patient.
What would you like to print?