Workup
Laboratory Studies
Laboratory studies do not help in diagnosing spondylolytic spondylolisthesis. Workup is radiographic in nature.
Imaging Studies
Radiography
Initial workup includes anteroposterior, lateral (done while standing), and spot view radiographs of the lumbar spine and lumbosacral junction. Oblique views may provide additional information but are not obligatory. Flexion/extension views increase the sensitivity of radiographic studies and give the clinician some idea of the degree of instability that may be present. Percentage of slip and slip angle (calculated by measuring the angle formed by a line drawn from superior endplate inferiorly and the inferior endplate at the segment of involvement) are clinically valuable.
Radiographic studies allow visualization and grading of spondylolisthesis but may not always reveal the presence of an isolated spondylolysis (without spondylolisthesis). The 'Scottie dog' whose neck is broken can be seen on the oblique films when there is a classic spondylolysis. See the images below.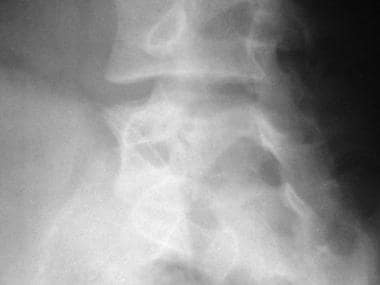 Lumbar oblique radiograph showing the "Scottie Dog." A pars defect is seen at L5.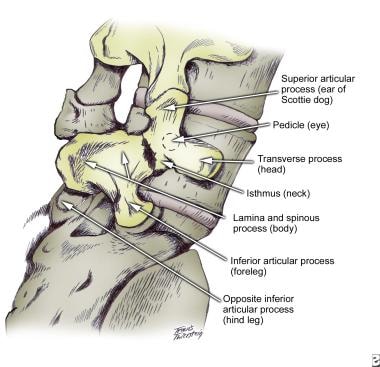 Diagram in the oblique projection shows the components of the vertebrae that result in the appearance of a Scottie dog with a collar.
Bone scan
Bone scan with single-photon emission computed tomography (SPECT) imaging is helpful and often helps to direct management. See the image below.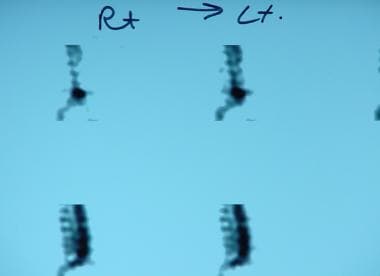 Bone scan with single-photon emission computed tomography (SPECT) imaging showing acute spondylolysis
If the bone scan is positive, then the lesion is metabolically active. The physician may consider bracing, since healing is still in progress. A cold scan in the context of documented spondylolysis indicates that healing is complete; therefore, bracing is of limited utility.
Computed tomography (CT) scan [17, 18]
CT scanning performed with 1 mm sections, including coronal and sagittal reconstructions, allows for better visualization of the spondylolytic defect.
CT scanning not only documents the presence and severity of spondylolysis but can help to rule out more serious causes for a positive bone scan.
Myelogram/CT studies are helpful in delineating the severity of central stenosis. Nerve root cut-off often is observed in the presence of radiculopathy.
Magnetic resonance imaging (MRI) [17]
MRI may visualize edema in the marrow around the sight of an acute spondylolytic defect. MRI also is helpful in identifying the presence of nerve root compression as a result of foraminal or central canal stenosis.
In a study of adolescent athletes suffering from low back pain who had no neurologic symptoms or findings, Yokoe et al determined that male sex and a "ratio of the interfacet distance of the L1 vertebra to that of the L5 vertebra" of greater than 65% independently predicted whether lumbar spondylosis would be revealed on magnetic resonance imaging (MRI). The odds ratios for these predictors were 4.66 and 3.48, respectively. [19]
Other Tests
See the list below:
Electromyography may provide 1 more modality for identifying a concomitant radiculopathy or polyradiculopathy (ie, stenosis), which may be present as a result of spondylolisthesis.
Histologic Findings
Histologic studies completed at the sight of the spondylolisthesis reveal a fibrocartilaginous mesh that often bridges the gap between the edges of the fracture sight if actual healing does not occur.
What would you like to print?