Workup
Laboratory Studies
If the history elicits reports of fever, night sweats, and chills that might suggest other causes for the low back pain, then, at a minimum, obtain a CBC count, erythrocyte sedimentation rate, and urinalysis to rule out cancer or infection. Serum and urine electrophoresis studies may help to rule out multiple myeloma at an early stage when radiographic imaging studies appear negative or inconclusive.
Imaging Studies
The association between symptoms of mechanical low back pain (LBP) and imaging results is weak. Ordering of imaging studies should be limited to patients with clinical findings suggestive of systemic disease (eg, fever, weight loss without explanation, patients older than 50 y, alcohol use, or intravenous drug abuse) or trauma.
In the absence of any findings from the neurologic examination and no evidence of infection or cancer, imaging studies are not clinically helpful in the first 4 weeks of symptoms. The Quebec Task Force of Spinal Disorders (QTFSD) suggests that early radiographs are necessary only if the patient has neurologic deficits, fever, trauma, age older than 50 years or younger than 20 years, or signs of neoplasm. Anteroposterior and lateral views should be used on plain films unless spondylolysis is suggested, in which case oblique views are needed.
Persistent mechanical LBP may require additional imaging studies, including CT scanning, diskography, and 3-phase bone scanning. Sensitivity refers to the ability of the test or study to show that a disorder is present. Specificity refers to the ability of the test or study to rule in a specific disorder. The higher the number [0 to 1], the more sensitive or specific the test or study.
CT scanning has a sensitivity and specificity of 0.92 and 0.88, respectively, for a herniated disk.
MRI is superior to CT scanning for detection of many conditions because it presents soft tissue detail and multiple planar points of view; it should be used if infection, cancer, or persistent neurologic deficit is strongly suggested. See images below.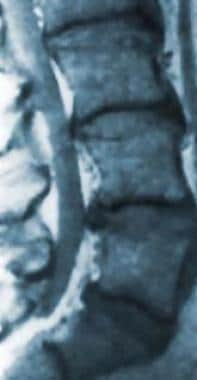 Magnetic resonance image of the lumbar spine. This image demonstrates a herniated nucleus pulposus at multiple levels.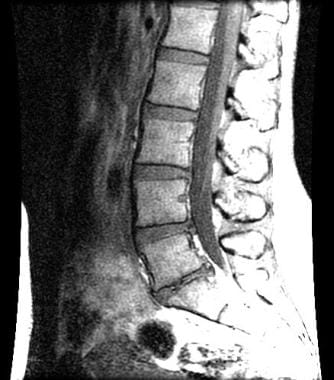 Sagittal magnetic resonance image showing loss of intervertebral disk height at L5/S1. Herniations of the nucleus pulposus are noted at L4/5 and L5/S1.
Diskography has a sensitivity and specificity of 0.83 and 0.78, respectively, for a herniated disk. This test should be interpreted in the context of data on pain reproduction.
A 3-phase bone scanning may be helpful if infection, metastatic cancer, or pathological fracture is suggested.
Thermography has no known role in the evaluation of mechanical LBP.
Other Tests
Electrodiagnostic studies such as electromyography (EMG) and nerve conduction studies (NCS) can be very helpful in the evaluation of neurologic symptoms and/or neurologic deficits seen during the physical examination.
In the context of patients with low back pain (LBP) and neurologic symptoms/signs in the lower limb(s), EMG/NCS can objectively assess whether those symptoms/signs are due to lumbosacral radiculopathy versus peripheral polyneuropathy, myopathy, or peripheral nerve entrapment, among other conditions.
Further, EMG/NCS can often help identify which specific nerve root is involved in a given radiculopathy, which can be extremely helpful for correlation with any abnormal lumbosacral imaging study results (especially when the MRI shows multilevel abnormalities, while the nerve root compromise may be occurring in only 1 specific level). Identifying the specific nerve root involved can help ensure that any spinal injections or eventual surgery are performed at the appropriate level or site within the lumbar spine.
EMG/NCS is considered to have a relatively high degree of sensitivity for detecting radiculopathy, particularly with use of the needle EMG portion of the testing, when performed by an appropriately skilled physician. Further, because a patient is unable to voluntarily influence the appearance of abnormal EMG/NCS findings, the testing can be helpful in providing objective evidence of nerve pathology (or lack of evidence for such nerve pathology) in cases in which symptom magnification or malingering is suspected.
Many of the abnormal EMG/NCS findings take a couple of weeks to appear after an acute injury; hence, many electromyographers wait 2-4 weeks before performing the testing.
Procedures
Selective nerve root blocks and intradiskal injections are 2 diagnostic and therapeutic procedures for identifying the location of a possible pain generator. [8, 9] These interventions depend on the patient's self-report of pain during or after the procedure. Some clinicians videotape the patient's reaction to the injection to correlate the patient's response (subjective) with the physical response (objective).
Histologic Findings
Anatomic studies of autopsy tissues taken from individuals aged in their 20s reveal a superficial annulus fibrosus ligament over the ventral surface of the L5 intervertebral disk. This ligament is completely separate from the overlying anterior longitudinal ligament and the intervertebral disk. The fibers are vertically oriented.
What would you like to print?