Workup
Approach Considerations
Laboratory screening tests for neural tube defects can be performed through blood tests, amniocentesis, or both. These typically are used in combination with fetal ultrasonography. Prenatal diagnosis and ultrasonographic confirmation allow for preparation and parental referral to appropriate care services.
The fetal presence of an open neural tube defect is marked by an elevated alpha-fetoprotein (AFP) level in the amniotic fluid. Peak concentrations of AFP in the 13th to 15th weeks of pregnancy permit diagnosis, and ultrasonographic confirmation with amniocentesis generally is possible at 15-18 weeks. Encephaloceles or skin-covered myeloceles are unlikely to be detected by AFP measurement.
In children with spina bifida, in addition to routine laboratory screening examination, testing would include levels of anticonvulsants, urine cultures, and perhaps cystometrograms and skin testing for latex sensitivity. The last can be performed by enzyme-linked immunosorbent assay (ELISA) or skin prick.
Urine Studies
Perform urinalysis, urine culture, and a serum urea nitrogen creatinine test at birth to evaluate renal function in neonates with spina bifida. Recommend regular bacterial urinary cultures for children who have vesicoureteral reflux or signs and symptoms of urinary tract infection.
Early accurate assessment and subsequent frequent reassessments of neurologic status are necessary with anatomic and physiologic evaluation techniques. Obtain the anatomic information with a voiding cystogram that assesses the lower urinary tract, including bladder capacity and the presence of vesicoureteral reflux. Urodynamics help in physiologic evaluation of urologic function by characterizing abnormalities of detrusor control and sphincter function.
Alpha-Fetoprotein and Acetylcholinesterase
Estimation of maternal serum AFP has been used since the late 1970s. Blood samples are taken early in the second trimester. The AFP level is elevated in 70-75% of cases in which the fetus has an open spina bifida.
Since many possible reasons exist for false-positive results, a presumptive diagnosis based on maternal serum AFP is confirmed with amniocentesis and assay of the amniotic fluid for AFP, as well as for the presence of acetylcholinesterase, a nerve-specific enzyme. Myelomeningocele can be detected in 99% of affected fetuses through combined use of these tests.
Siblings of patients with spina bifida have an increased incidence of neural tube defects. Consequently, following the birth of a child with spina bifida, amniocentesis is suggested during subsequent pregnancies to monitor AFP.
Psychometric Assessment
As previously discussed, cognitive dysfunction is most strongly correlated with the presence of hydrocephalus, along with hydrocephalus-related illness parameters (ie, the necessity of shunting, number of shunt revisions, shunt infections, and additional structural abnormalities of the CNS). [30] Cognitive function has also been related to the level of the patient's lesion.
Psychometric assessments of intelligence and cognitive function are indicated for patients with hydrocephalus and for patients who display deficits in speech and language functions and/or cognitive or academic skills. Repeated, prolonged ventriculoperitoneal shunt dysfunction, as well as CNS infections, are associated with an increased risk of functional and cognitive deficits.
Gait Analysis
Gait analysis has been introduced to evaluate patients functionally. It is also used to study muscle innervation, strength, and coordination patterns, which may interfere with ambulation or with a patient's ability to live independently.
Gait analysis may serve as a useful preoperative diagnostic tool. It can be helpful in evaluating patients for reduction of a dislocated hip and transfer of muscles for imbalances (which lead to progressive deformities, difficulty bracing, and problems with ambulating).
Fetal Ultrasonography
Some centers use fetal ultrasonography as the primary screening tool for neural tube defects, usually at approximately 18 weeks' gestational age. This trend reflects the increasing sophistication of fetal ultrasonographic technology. The procedure avoids the roughly 1% risk of abortion following amniocentesis, but accurate diagnosis depends on the skill and experience of the operator and the quality of the equipment.
The combination of maternal serum AFP screening with second-trimester ultrasonographic screening detects over 90% of neural tube defects from 20 weeks' gestation.
With ultrasonography, myelomeningocele may be detected during scanning of the fetal head for subtle changes in the cranial and cerebellar configurations. The diagnosis of myelomeningocele is certain when the following 3 classic central findings are present:
Concavity of the frontal bones
Currently, ultrasonography is not sensitive enough to provide reliable and accurate detection of the level of the defect. Preliminary experience indicates that the use of 3- and 4-dimensional ultrasonography improves the accuracy in determining the upper level of the myelomeningocele lesion.
After confirmation of fetal myelomeningocele, clinicians at most tertiary care centers perform weekly ultrasonographic examinations to observe the growth and development of the fetus.
CT Scanning and MRI
Hydrocephalus can be tracked with serial cranial ultrasonograms (in infants) or computed tomography (CT) scans. A CT scan of the head is appropriate to evaluate for possible recurrent hydrocephalus or a change in the size or function of the ventricles, which may be affected even with normal pressure hydrocephalus.
Magnetic resonance imaging (MRI) of the spine and brain is helpful in neurologic assessment and provides a baseline for comparison in future investigations, especially in the context of progressive neurologic deterioration. MRI provides considerable detailed information regarding the spinal cord and its malformations, including low-lying or tethered cords. (See the images below.)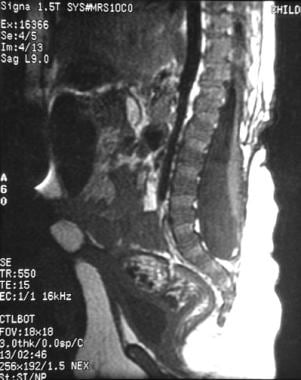 Sagittal, T1-weighted magnetic resonance imaging (MRI) scan of a child after closure of his myelomeningocele. Child is aged 7 years. Note the spinal cord ends in the sacral region far below the normal level of T12-L1. It is tethered at the point at which the neural placode was attached to the skin defect during gestation. The MRI scan showed dorsal tethering, and the child complained of back pain and had a new foot deformity on examination. By definition, all children with a myelomeningocele have a tethered cord on MRI, but only about 20% of children require an operation to untether the spinal cord during their first decade of life, during their rapid growth spurts. Thus, the MRI scan must be placed in context of a history and examination consistent with mechanical tethering and a resultant neurologic deterioration.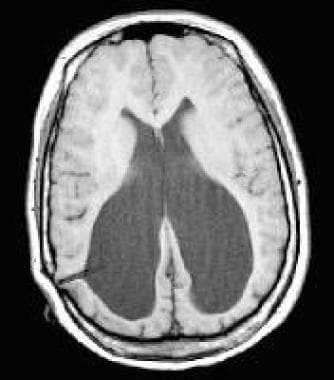 Axial, T1-weighted MRI scan of a 15-year-old girl who was born with thoracic myelomeningocele, hydrocephalus, and Arnold-Chiari II syndrome. She was treated with a ventriculoperitoneal shunt. The ventricular system has a characteristic shape, with small frontal and large occipital horns, which are typical in patients with spina bifida. The shunt tube is shown in the right parietal region.
By definition, all children with a myelomeningocele have a tethered cord on MRI, but only about 20% of children require an operation to untether the spinal cord during their first decade of life, during rapid growth spurts. Thus, the MRI scan must be placed in the context of a history and examination consistent with mechanical tethering and the resultant neurologic deterioration.
Radiography
Radiographs of the vertebrae provide information for early evaluation when an infant is born with myelomeningocele. After delivery, the criterion standard for determining the level of the lesion is a plain film radiograph.
Congenital spinal deformities need to be tracked closely. Acquired or neuromuscular spinal deformities require imaging based on clinical examination; these deformities should be followed routinely during growth and more frequently during times of rapid growth.
Plain radiographs are important for clinical evaluation of the patient for scoliosis, dysplasia, and dislocation of the hip. Radiographs, along with ultrasonographic evaluation, should be used to assess any area of pain because of the high risk of pathologic fractures.
What would you like to print?