Treatment
Rehabilitation Program
Physical Therapy
The treatment of Scheuermann's disease is controversial. [5, 6] Some authors think that the natural history of thoracic Scheuermann's disease is benign and that therefore the condition needs no treatment. Whether orthotics or surgical treatments prevent any of the consequences that may occur is uncertain.
Some authors recommend treatment in the skeletally immature patient in the hope of preventing excessive deformity, which may cause pain and cosmetic concerns. Patients with mild, nonprogressive disease can be treated by reducing weight-bearing stress and avoiding strenuous activity. Exercise alone is not found to be beneficial.
When the kyphosis is more severe, recommendations include casting, a spinal brace, or rest and recumbency on a rigid bed. Orthotic management of Scheuermann's disease usually requires 12-24 months of treatment.
In a 2003 report on one type of brace for the treatment of Scheuermann's disease (evaluated at the Alfred I. duPont Hospital for Children), it was recommended that the orthosis be worn until skeletal maturity (at least 16 mo), in order to induce improvement or halt progression of the disease. [22] The results for this brace were comparable to previous reports discussing the effectiveness of the modified Milwaukee brace, and the duPont kyphosis brace had the advantage of being concealable under normal attire.
Surgical Intervention
Surgery rarely is indicated in patients with Scheuermann's disease. Probably the two most common indications for surgery are spinal pain and unacceptable cosmetic appearance. These criteria are subjective, so it is wise to be cautious in counseling these patients. [7]
In patients with curves greater than 75° and with pain that is unresponsive to nonoperative measures, consider spinal fusion. Spinal fusion consists of an anterior release and fusion, as well as a posterior instrumentation and fusion performed under the same anesthesia on the same day. See the image below.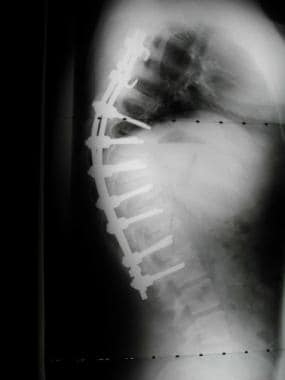 Postoperative lateral demonstrating a 2-rod leverage technique after an anterior release allowing reduction of the deformity to 47º.
A retrospective study by Riouallon et al indicated that with regard to functional and radiologic results, the effectiveness and stability of posterior-only spinal fixation in Scheuermann's disease are the same as for combined anterior/posterior fusion. The investigators therefore recommended that the condition be treated with the anterior/posterior approach only when major deformation is present. [23]
However, a retrospective study by McDonnell et al indicated that better results can be derived from two-stage anterior/posterior fusion than from single-stage posterior fusion, in Scheuermann's disease. Significantly greater kyphosis correction was associated with the two-stage procedure. Moreover, there was no junctional failure with anterior/posterior fusion, compared with a rate of 12.9% for the posterior-only surgery. Nonetheless, the incidence of postoperative infection was greater for the two-stage operation than for the one-stage procedure. [24]
A multi-center, prospective cohort study by Polly et al indicated that patients with Scheuermann's disease who undergo spinal fusion tend to have a higher body mass index than those treated nonoperatively. [25]
Cord decompression is indicated for the rare patients who have neurologic deficits secondary to epidural cysts or increased kyphotic angulation.
The most frequently occurring complication is pseudoarthrosis, followed by instrumentation failure and secondary loss of correction.
The optimal treatment of Scheuermann's disease is controversial. Patients treated with bracing or surgery have experienced an improved self-image, which they have attributed to their treatment. Patients with kyphotic curves extending 70° at follow-up have had an inferior functional result. Soo and colleagues suggested that by carefully selecting the appropriate treatment for patients with Scheuermann's disease on the basis of the patient's age, the spinal deformity, and the severity of back pain, achieving a similar functional result at long-term follow-up is possible. [26] They felt that despite different treatment protocols, patients with Scheuermann's disease tend to achieve a similar functional result at long-term follow-up.
Flexible curves have been suggested as a positive predictor of a successful outcome of bracing.
Other variables that have positively influenced the outcome of treatment have been compliance with conservative treatments (a body cast plus brace and exercise regimen) and the initial presence of the Risser sign of skeletal maturity.
A retrospective study by Yrjälä et al comparing acute and chronic pain outcomes in adolescents (aged 10-21 years) who underwent posterior spinal fusion found that patients with spondylolisthesis reported more pain 2 years post surgery than did those with Scheuermann's disease or adolescent idiopathic scoliosis (AIS). The Scoliosis Research Society 24-item questionnaire (SRS-24) demonstrated that at 2-year follow-up, the adolescents with spondylolisthesis had a mean pain domain score of 4.04, compared with 4.43 and 4.31 for patients with Scheuermann's disease or AIS, respectively. While persistence of pain in the study was linked to the patients' specific disease pathology, the severity of acute postoperative pain and the amount of in-hospital opioid use appeared to have a positive correlation with the number of fused vertebrae. [27]
A retrospective study by Nasto et al indicated that in patients with Scheuermann's disease who undergo posterior-only surgical correction, high preoperative pelvic incidence should be taken into account when planning correction of thoracic kyphosis in order to avoid too much reduction of lumbar lordosis and the development of proximal junctional kyphosis. [28]
What would you like to print?