Treatment
Rehabilitation Program
Physical Therapy
The physician may recommend that the patient with ME receive physical or occupational therapy. The discipline of therapy usually depends on the type of facility available, the accessibility of therapists, and physician preference. The proper means of treatment for ME are discussed below, in the Occupational Therapy section.
Occupational Therapy
Treatment begins with rest, ice, compression, and bracing, to decrease pain and inflammation. One to 6 weeks of relative rest of the affected muscles and tendons is typically advised, until discomfort subsides. Icing is employed for 5-10 minutes, 4-6 times per day and is particularly important if a patient presents after an acute event. Patients should be instructed to avoid icing over the ulnar nerve.
Compression with a medial counterforce brace (ie, a tennis elbow splint) with a pad placed anteromedially on the proximal forearm over the flexor-pronator mass is routine. Discontinue if symptoms of an ulnar neuropathy worsen. In addition, if the symptoms are severe, brace with a wrist splint worn in the neutral position in order to rest the wrist flexors. In milder cases, a counterbalance brace may be used alone instead of a rigid splint; this limits extremes of motion while allowing some movement for functional activities. In the case of ulnar nerve involvement, a nighttime elbow extension splint should be considered. The splint is made in 30-45 º of elbow flexion. A daytime elbow pad also may be useful, by limiting additional trauma to the nerve.
After the patient's initial discomfort has subsided, a rehabilitation program with an occupational therapist should be initiated for muscle/tendon reconditioning. Begin with gentle stretching and add gradual strengthening of the flexor-pronator muscles, as the patient tolerates. Follow this with functional activities and with patient education aimed at avoiding re-injury.
The patient should be advised to perform very slow stretching exercises 10-15 times to warm up muscles and increase flexibility, before doing any strengthening exercises or functional activities. Strengthening begins slowly with isometrics and progresses to eccentric exercises (see the images below), with a gradual increase in resistance. Take care to cut back on exercises if they cause a recurrence of symptoms. Icing for 5-10 minutes after exercise is reasonable, especially if the patient reports pain in the affected area following exercise.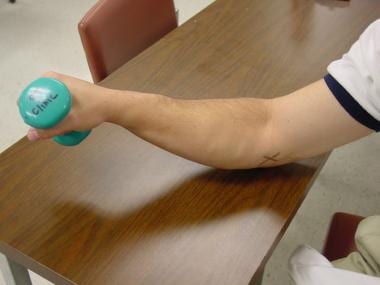 Strengthening exercises are performed once pain has subsided with active range of motion. The starting position (slight pronation) of an eccentric exercise for medial epicondylitis is shown. In order to prevent further injury, a trained therapist should instruct patients in exercises to confirm proper weight and technique.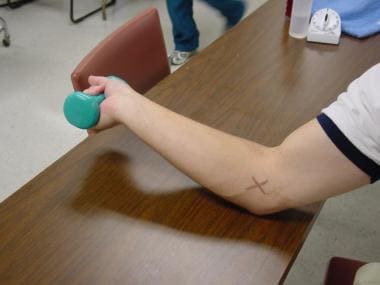 The eccentric exercise proceeds until full supination has been reached.
Concomitant modalities may include ultrasound, iontophoresis, phonophoresis, transcutaneous electrical nerve stimulation, and low-energy, extracorporeal shock-wave therapy. Successful relief from symptoms is variable. Shock-wave therapy has been shown to be less effective for ME than it is for LE. [10]
A study by Beyazal and Devrimsel found that in patients with lateral epicondylitis, better outcomes were achieved by 12-week follow-up with extracorporeal shock-wave therapy than with corticosteroid injection, although both modalities were safe and effective in treating this disorder. The study included 64 patients, who were evaluated at baseline and again at 4 and 12 weeks posttreatment via assessment of hand grip strength, the visual analog scale, and the short-form McGill Pain Questionnaire. [11]
Surgical Intervention
Epicondylar debridement is rarely indicated but has proven to be effective in cases in which conservative treatment has failed. In addition, the ulnar nerve may be decompressed surgically. [4]
A study by Shahid et al of 15 patients (17 elbows) indicated that open surgery can improve elbow function and strength in cases of recalcitrant ME. After a mean follow-up period of 66 months, patients showed an improved score (mean decrease of 25.7) on the Disabilities of the Arm, Shoulder and Hand (DASH) questionnaire, as well as a 10-kg mean increase in grip strength. [12]
A retrospective study by Kim et al indicated that open surgery and arthroscopic debridement have comparable efficacy in the treatment of chronic ME. The DASH scores did not differ significantly between the study's open and arthroscopic groups, with the scores being, respectively, 44.8 and 43.9, preoperatively, and 12.5 and 13.2, postoperatively. The visual analogue scale (VAS) scores were also similar, being, respectively, 8.5 and 8.2, preoperatively, and 1.0 and 1.1, postoperatively. Grip strength outcomes were comparable between the two groups as well. [13]
Kwon et al found the surgical technique known as fascial elevation and tendon origin resection (FETOR) to be a safe and effective treatment for chronic recalcitrant ME. The surgery was performed on 20 adult patients (22 elbows), with pain levels and arm function assessed after a mean follow-up period of 35.6 months. According to results from the visual analogue scale, average pain was reduced by 93%, while the DASH questionnaire indicated that, based on patient perception, arm function equal to that of the healthy population was attained. [14]
Consultations
Referral to an orthopedic surgeon is appropriate after 6-10 months if conservative treatment fails.
Other Treatment
If conservative measures fail, injection with local anesthetic and steroid to the point of maximal tenderness is appropriate. Special care should be taken to avoid injection directly into the tendon or the ulnar nerve. If concern for dislocation of the ulnar nerve exists, the injection should be performed with the elbow extended or semiflexed. The number of injections should be limited to 3 to decrease the risk of tendon atrophy or rupture. Short-term relief of discomfort with cortisone injection may be expected, but a complete rehabilitation program, as previously described, is a more effective and long-lasting way to treat ME.
In a study by Degen et al, 52 out of 1837 patients (2.8%) with ME who received therapeutic injection went on to require ipsilateral surgery. The risk of failure of the injection treatment (leading to the need for surgery) was greater in patients under age 65 years and in those with obesity. [15]
What would you like to print?