Workup
Approach Considerations
Specific diagnostic tests for Behçet disease are lacking. Suggestive features of the disease can be obtained from laboratory evaluations, imaging studies, and histopathologic evaluation in the right clinical context. However, development of those features may take several months to years, leaving the diagnosis of Behçet disease rather suggestive in many cases.
Imaging Studies
Imaging study findings are as follows:
Sacroiliitis may be observed on a radiograph, magnetic resonance imaging (MRI) scan, or computed tomography (CT) scan

Radiographs of peripheral joints may show soft-tissue swelling and/or effusions

Brain CT scanning may identify areas of acute ischemia

Brain MRI/magnetic resonance angiography (MRA) can identify cerebral vasculopathy and areas of acute/subacute ischemia (see the images below)

Single-photon emission computed tomography (SPECT) has been used to identify areas of cerebral hypoperfusion.

Angiography may be used to evaluate for aneurysms
In patients with neurologic manifestations, MRI is the imaging study of choice and often reveals iso-hypointense lesions in T1-weighted images and hyperintense lesions in T2-weighted images, mostly in the mesodiencephalic junction, cerebellar peduncles, and other parts of the brainstem. [47] See the images below.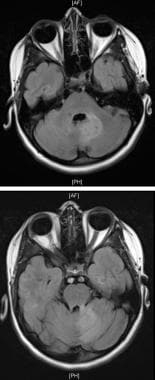 Behçet disease. T2-weighted magnetic resonance images show brainstem involvement with meningoencephalitis in an 11-year-old girl with neurologic Behçet disease.
In a study of lower-extremity vein thrombosis, patients with Behçet disease demonstrated the following findings on Doppler ultrasonography, compared with patients with thrombosis from other causes [48] :
Significantly more bilateral involvement

Less complete recanalization

More frequent collateral formation

Contiguous and symmetric pattern of venous involvement, affecting all deep and superficial veins of the lower extremities, with less affinity for crural veins
Fundus fluorescein angiography
Findings on fundus fluorescein angiography are as follows:
Diffuse retinal vascular leakage and occlusion of retinal vessels

Fluorescein leakage from retinal vessels may be seen before any clinical signs of vasculitis

During acute inflammation, retinal vascular leakage is prominent, especially in the radial peripapillary area.

Affected retinal and optic nerve vessels leak fluorescein profusely during early transit and their walls stain in late transit.

Macular ischemia and cystoid macular edema may also be evident
Other Tests
Pathergy test
For the pathergy test, a sterile blunt needle is inserted into the skin of the forearm. The development of an inflammatory papule or pustule within 24-48 hours constitutes a positive result. This finding reflects an overactive immune response to minor injuries. Histologic studies of these lesions reveals mononuclear cell infiltrates and keratinocytes.
The pathergy test is helpful but is not sensitive or specific for the diagnosis of Behçet disease. Positive results tend to be more common in Mediterranean patients.
Procedures
Arthrocentesis and lumbar puncture may be used to rule out alternate causes of disease presentation, as they normally demonstrate nonspecific inflammatory findings.
Synovial fluid
Synovial fluid usually is cloudy with variable viscosity, and the white blood cell (WBC) counts are 300-36,000/µL (either noninflammatory or inflammatory). Polymorphonuclear leukocytes and protein elevations are the predominant findings, and glucose levels are near normal. Thus, because synovial fluid merely demonstrates general inflammation, examination serves only to rule out the presence of aseptic joint, crystal-induced arthropathy, or other alternative identifiable cause in patients with Behçet disease.
Cerebrospinal fluid
Analysis may indicate local inflammation with increased WBC counts, lymphocyte predominance, and elevated protein levels, as well as Ig levels and Ig index that reflect local production of Ig. Opening pressures are very high in some patients.
Histologic Findings
Although no specific histologic findings characterize Behçet disease, biopsy samples of affected tissue often reveal widespread vasculitis of the arteries and veins of any size. Thrombosis commonly develops in affected areas and must be distinguished from vasculitis as a precipitating cause for organ-specific symptoms.
Other organ-system findings include the following:
Skin -Skin biopsy results often reflect nondiagnostic findings but can be used to differentiate alternate disease entities. Erythema nodosum lesions with characteristic findings and occasional granulomas; folliculitis; leukocytoclastic vasculitis; dermal inflammation and perivascular infiltrates; fibrosis; and mucosal lesions, including aggregated intravascular conglomerates of neutrophils, endothelial cell swelling, fibrinoid necrosis, and a mixed perivascular infiltrate (see the image below)

Eye - Cataracts, posterior and anterior uveitis, retinal vasculitis and thrombosis, cytoid macular degeneration, retinal detachment, and lymphocytic infiltrates in the iris (even during clinical remissions); in late stages, a proliferation of collagen fibers, thickening of the choroid, formation of cyclitic membrane, and sometimes hypotonia and phthisis bulbi are noted

Brain - Infarctions due to vasculitis or thrombosis, meningoencephalitis, lymphocytic meningeal infiltration, or demyelinization

Joint - Superficial inflammatory synovial infiltrates, mainly polymorphonuclear lymphocytes, and deposition of IgG in the synovium

GI tract - Ulcerations from the buccal mucosa to the anus, intestinal perforation, peritonitis, infiltration with polymorphonuclear leukocytes and lymphocytes, hepatitis, cholecystitis, and pancreatitis

Heart - Pericarditis, myocarditis, endocarditis, coronary arteritis, and myocardial fibrosis

Lung - Serositis and vasculitis

Kidneys - Glomerulonephritis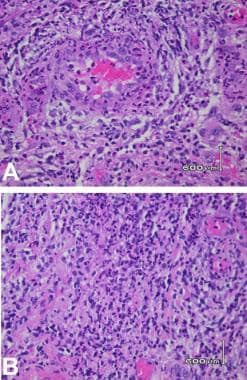 Histology of Behçet disease ulcers revealing neutrophilic infiltrate and vasculitis.
Laboratory Studies
Laboratory findings
Laboratory findings are nonspecific and reflect the inflammatory state.
C-reactive protein levels, erythrocyte sedimentation rate (ESR), leukocyte count, complement components, and acute-phase reactants may all be elevated during an acute attack. Levels of IgA, IgG, alpha-2 globulin, IgM, and immune complexes are occasionally elevated.
In a study of 48 patients with Behçet disease and 47 healthy controls, serum levels of calprotectin were significantly elevated in the Behçet disease group. However, serum calprotectin levels did not correlate with scores on the Behçet Disease Current Activity Form or with measures of depression and anxiety or quality of life. [49]
None of these findings is specific for the diagnosis of Behçet disease, but such findings can corroborate active disease.
Antiphospholipid antibodies
These include lupus anticoagulant, dilute Russell viper venom test (DRVVT), and anticardiolipin antibodies. Although such antibodies are uncommon in Behçet disease, they are worth investigating to rule out alternate causes of thrombosis.
Up to one third of patients with Behçet disease who have thrombosis are found to have factor V Leiden–deficiency mutations. Therefore, antiphospholipid antibodies and other causes of hypercoagulability should be ruled out as contributing factors to thrombosis formation.
Antineutrophil cytoplasmic antibody
Occasionally, patients are found with positive test results for perinuclear antineutrophil cytoplasmic (p-ANCA) antibody. However, positive or negative results on this test do not change prognosis or therapy.
What would you like to print?