Presentation
History
Specific clinical manifestations associated with type I cryoglobulinemia are related to hyperviscosity and thrombosis, as would be expected given the usual high concentrations of immunoglobulins and limited interference with complement function. These manifestations include the following:
Acrocyanosis

Retinal hemorrhage

Livedo reticularis

Purpura

Arterial thrombosis
Specific clinical manifestations associated with types II and III cryoglobulinemia include the following:
Joint involvement (usually, arthralgias in the proximal interphalangeal [PIP] joints, metacarpophalangeal [MCP] joints, knees, and ankles)

Fatigue

Myalgias

Kidney immune-complex disease

Cutaneous vasculitis

Peripheral neuropathy

[32]
Meltzer triad (ie, purpura, arthralgia, and weakness) was first described in 1966 by Meltzer and Franklin in cases of essential mixed cryoglobulinemia. This triad is generally seen with types II and III cryoglobulinemia and is seen in up to 25-30% of patients. [33, 34]
Cutaneous manifestations
These manifestations are nearly always present in cryoglobulinemia. Observed lesions have a predilection for dependent areas (particularly the lower extremities) and include erythematous macules and purpuric papules (90-95%), as well as ulcerations (10-25%). [25, 34, 24, 35]
Lesions in nondependent areas are more common in type I cryoglobulinemia (head and mucosa), as are livedo reticularis, Raynaud phenomenon, and ulcerations. Nailfold capillary abnormalities are common and include dilatation, altered orientation, capillary shortening, and neoangiogenesis. [36] See the image below.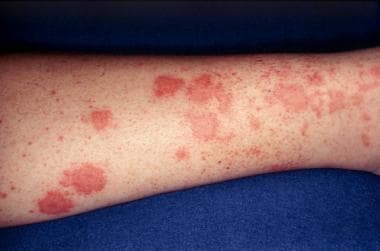 Rash on lower extremities typical of cutaneous small-vessel vasculitis due to cryoglobulinemia secondary to hepatitis C infection.
Musculoskeletal manifestations
Symptoms such as arthralgias and myalgias are rare in type I cryoglobulinemia and are common in types II and III disease. Frank arthritis and myositis are rare. Arthralgias commonly affect the proximal interphalangeal and metacarpophalangeal joints of the hands, knees, and ankles. Musculoskeletal symptoms are described in more than 70% of persons with cryoglobulinemia. [37, 38, 34]
Renal manifestations
Kidney disease may occur secondary to thrombosis (type I cryoglobulinemia) or immune complex deposition (types II and III). The incidence of kidney disease varies from 5-60%. Histologically, membranoproliferative glomerulonephritis is almost always the lesion in mixed cryoglobulinemia. Clinically, isolated proteinuria and hematuria are more common than nephrotic syndrome, nephritic syndrome, or acute kidney injury. Renal involvement is one of the most serious complications of cryoglobulinemia and typically manifests early in the course of the disease (within 3-5 y of diagknosis). Failure to treat may result in kidney failure. [25, 39, 40]
Pulmonary manifestations
A reduction in forced expiratory flow rates and the presence of interstitial infiltrates revealed by chest radiographs are common in mixed cryoglobulinemia. Approximately 40-50% of patients are symptomatic with dyspnea, cough, or pleuritic pain. Severe pulmonary disease is rare. [41, 42, 43, 44]
Neuropathy
Neuropathy is common in types II and III disease (as determined with electromyographic and nerve conduction studies), affecting 70-80% of patients. Symptomatic disease was once reported as less common (5-40%); however, more recently, subjective symptoms have been reported up to 91% of patients. Sensory fibers are more commonly affected than motor fibers, with pure motor neuropathy in approximately 5% of patients. [45, 34, 46, 47]
Other manifestations
Patients with cryoglobulinemia may also present with the following:
Abdominal pain has been reported in 2-22% of patients; vasculitis of the small mesenteric vessels that leads to acute abdomen has been reported

Acrocyanosis has been reported in up to 9% of patients

Arterial thrombosis has been reported in 1% of patients

A high incidence of new cases of thyroid autoimmunity and dysfunction hase been found in patients (particularly women) with hepatitis C–associated mixed cryoglobulinemia.

[48]
Physical Examination
Skin manifestations include the following:
Ischemic necrosis (40% in type I, 0-20% in mixed types)

Palpable purpura (15% in type I, 80% in mixed types)

Livedoid vasculitis (1% in type I, 14% in type III)

Cold-induced urticaria (15% in type I, 10% in type III)

Hyperkeratotic spicules in areas exposed to cold

Scarring of tip of nose, pinnae, fingertips, and toes

Acrocyanosis

Nailfold capillary abnormalities
Pulmonary manifestations include the following:
Dyspnea

Cough

Pleurisy

Pleural effusions
Gastrointestinal manifestations include the following:
Abdominal pain (2-22%)

Hemorrhage

Hepatomegaly or signs of cirrhosis (ie, palmar erythema, abdominal wall collateral vessels, spider angiomata)
Renal manifestations include the following:
Membranoproliferative glomerulonephritis described in all types (more common in type II)

Intraluminal cryoglobulin deposition

Hypertension

Nephrotic-range proteinuria with resultant edema
Joint manifestations include the following:
Arthralgias (5% of type I, 20-58% of mixed)

Frank arthritis and progressive joint deformity (distinctly rare)
Nervous system manifestations include the following:
Sensorimotor neuropathy

Visual disturbances

CNS involvement (rare, although pseudotumor cerebri and cerebral vascular events have been described)
Fever is another manifestation.
What would you like to print?