Workup
Laboratory Studies
To evaluate for serum cryoglobulins, the blood specimen must be collected in warm tubes (37°C) in the absence of anticoagulants. The blood sample must be allowed to clot before removal of serum with centrifugation (at 37°C).
The period required for the serum sample to incubate (at 4° C) depends on the type of cryoglobulin present, as follows:
Type I tends to precipitate within the first 24 hours (at concentrations >5 mg/mL)

Type III cryoglobulins may require 7 days to precipitate a small sample (< 1 mg/mL)
Repeat centrifugation is performed to determine cryocrit (volume of precipitate as a percentage of original serum volume). Cryoglobulin concentration may be determined via spectrophotometric analysis. Specific immunologic assays may be used to identify cryoglobulin components (immunoglobulins, light chains, clonality).
Additional laboratory findings in cryoglobulinemia include the following:
Urinalysis: Abnormalities may represent evidence of renal disease

Complete blood cell count: Leukocytosis may be a manifestation of concomitant infection or leukemia. Anemia may be present

Serum chemistry: Patients with renal insufficiency may present with elevated serum creatinine levels and electrolyte abnormalities

Liver function studies: Liver function studies may reveal evidence of underlying hepatitis; obtain hepatitis serology

Rheumatoid factor (RF): RF is positive in types II and III

Antinuclear antibody (ANA): ANA is indicated upon clinical suspicion of underlying connective-tissue disease (eg, systemic lupus erythematosus [SLE], Sjögren syndrome)

Erythrocyte sedimentation rate (ESR): Elevations may be secondary to rouleaux formation.

Complement evaluation (CH50, C3, C4): Patients may display hypocomplementemia (especially low C4 levels).

Hepatitis C virus (HCV) testing is required. HCV antibody or HCV RNA testing may be diagnostic. If HCV test results are negative and clinical suspicion remains high, these tests may be performed on the cryoprecipitate.

[46]
Other studies to consider are as follows:
Serum protein electrophoresis (SPEP), urine protein electrophoresis (UPEP), and quantitative immunoglobulin: Perform upon suspicion for underlying gammopathy

Serum viscosity: Measure serum viscosity if symptoms warrant

Further diagnostic laboratory tests, based on the level of suspicion for other associated disease: for example, one study demonstrated that patients with mixed cryoglobulinemia associated with hepatitis C virus (HCV) infection have elevated levels of interferon-inducible protein 10 and that these levels correlate with disease activity

[47]
Imaging Studies
Indications for imaging studies include the following:
A chest radiograph can be performed in patients with pulmonary manifestations; it may reveal interstitial involvement or pleural effusions.

CT imaging may be considered upon high suspicion of underlying malignancy.

Transesophageal echocardiography should be obtained if bacterial endocarditis is suspected.

Angiography may be considered to evaluate for evidence of vasculitis.
Procedures
Indications for procedures include the following:
Tissue biopsy may be required for diagnosis when patients with vasculitis, renal disease, or both are evaluated.

Electromyography and nerve conduction studies may be used to confirm neuropathy when history or physical examination findings are suggestive.

Further diagnostic procedures (eg, bone marrow biopsy, liver or kidney biopsy) usually depend on coexistent disease, especially HCV infection.
Histologic Findings
Skin: Purpura are histologically characterized by dermal vasculitis that extends variably to the subcutaneous interstitial space. HCV-associated proteins have been found in vasculitic skin biopsy samples, suggesting a role for these antigens in pathogenesis of the lesions.
Other organs: Autopsy studies have revealed unsuspected vasculitis of multiple organs (heart, lung, gastrointestinal tract, central nervous system, liver, muscle, adrenals). [21] Histologic evaluation of affected lung, kidney, and muscle reveals eosinophilic material in the lumen of small vessels with frequent extension into the vessel intima and inflammation of the vessel wall. [48]
Although biopsy samples generally exhibit inflammatory vascular changes (eg, leukocytoclastic vasculitis in patients with vasculitic purpura), intraluminal cryoglobulin deposits may be observed, especially in renal glomeruli. See the image below.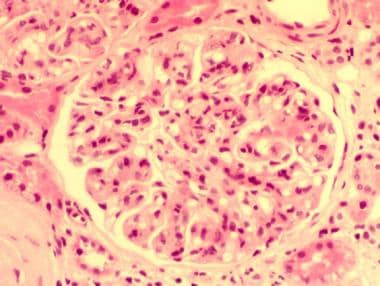 Renal biopsy sample that shows membranoproliferative glomerulonephritis in a patient with hepatitis C–associated cryoglobulinemia (hematoxylin and eosin; magnified X 200).
What would you like to print?