Workup
Approach Considerations
No routine diagnostic laboratory studies apply to this disorder. However, diabetes mellitus has been associated with Dupuytren contracture. A fasting blood glucose level should be obtained if diabetes mellitus is suggested by the patient's clinical history and physical examination findings.
No routine radiographs are necessary, but ultrasonography can demonstrate thickening of the palmar fascia, as well as the presence of a nodule. In addition, ultrasonography of a thickened cord may be useful prior to intralesional injections so that the underlying tendon can be identified and avoided during the injection. (See the image below.)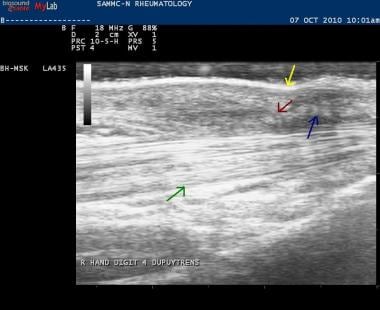 Ultrasound of the palm in Dupuytren disease of the fourth digit; the Dupuytren nodule and thickening of the palmar fascia with puckering of the skin is noted. Green arrow: Flexor tendon; Red arrow: Dupuytren nodule; Blue arrow: Thickened palmar fascia; Yellow arrow: Puckering of the skin.
Histologic Findings
Histologic analyses of lesions resulting from Dupuytren contractures indicate physiologic characteristics of hypertrophic scar formation, including the following: myofibroblastic proliferation with increased water levels, an increase in type III collagen, chondroitin sulfate, and reducible cross-linkages. In addition, surrounding tissue without clinical manifestations reveal newly formed type III collagen, reducible cross-links, and fibroblasts with myofibroblastic characteristics, such as intracellular microfilaments, as well as basement lamina-like condensation. This suggests that Dupuytren disease spreads by migrating along the altered collagen bundles and clinically silent areas are affected on a microscopic level. [67]
A histologic staging system was proposed by Luck in 1959. He described three progressive stages, as follows [21] :
Proliferative stage: This is characterized by intense cellularity with collagen fibrils randomly arranged and surrounded by proliferating fibroblasts

Involution stage: The collagen fibrils are organized along lines of tension; the myofibroblast is the predominant cell and aggregates near the collagen fibrils

Residual stage: Collagen is uniformly oriented, with few to no cells and fibrosis; this stage is analogous to that of wound healing
In all stages, a core of type I collagen is surrounded by type III collagen. Studies suggest that the percentage of type III collagen changes with the stage of the disease. [68]
What would you like to print?