Workup
Laboratory Studies
No laboratory findings are specific for relapsing polychondritis (RP). Anemia, if present, is typically normochromic and normocytic and is associated with a poor prognosis. Nonspecific indicators of inflammation (eg, elevated erythrocyte sedimentation rate, elevated levels of C-reactive protein) are often present. Mild leukocytosis may be detected.
Because relapsing polychondritis is associated with many multisystemic diseases, a laboratory evaluation commensurate with the spectrum of reported symptoms is indicated to ascertain the presence of complicating conditions.
Use antinuclear antibody reflexive panel, rheumatoid factor, and antiphospholipid antibodies (if history of thrombosis is found) to evaluate for other autoimmune connective-tissue diseases.
For a vasculitis workup, perform the following studies:
Complete blood cell count (CBC) with differential

Metabolic panel

Serum creatinine

Liver transaminase and serum alkaline phosphatase studies

Urinalysis dipstick and microscopic evaluation of sediment

Cryoglobulins

Viral hepatitis panel

Antinuclear antibody (ANA)

Antineutrophil cytoplasmic antibody (ANCA)
Use the purified protein derivative test to evaluate for exposure to tuberculosis. (Tuberculosis is often overlooked as an infectious cause of perichondritis.)
Use serologic tests for syphilis if it is suspected, including rapid plasma reagent or VDRL testing. Saddle-nose deformity is a clinical manifestation of congenital syphilis and can go undiagnosed into adulthood; however, it can also be a consequence of gumma formation in adulthood.
Cultures may be indicated, depending on the clinical presentation, as follows:
Sputum cultures for bacteria and acid-fast bacilli may be needed in patients with respiratory symptoms.

Bacterial, acid-fast bacilli, and fungal cultures may be appropriate for cartilage biopsy samples, especially from the respiratory tree.

Blood cultures may be useful in the assessment of febrile episodes that are combined with nausea, vertigo, and/or muscle weakness.

Bacterial and viral cultures of the cerebrospinal fluid may be indicated to exclude meningitis or to help exclude aseptic meningitis or CNS vasculitis.
Imaging Studies
Chest radiography (posteroanterior [PA] and lateral views)
Tracheal stenosis may be observed on plain radiographs. See the image below.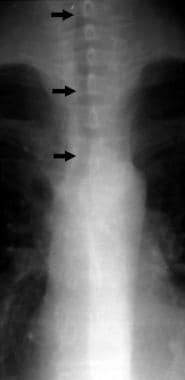 Tracheal stenosis on chest x-ray film. Courtesy of Julie E. Takasugi, MD.
Calcification of cartilaginous structures supports the diagnosis of relapsing polychondritis.
Coexisting systemic vasculitis may be suggested by the presence of pulmonary parenchymal infiltrates.
Spiral CT scanning (without contrast)
Spiral CT scanning (without contrast), from the superior trachea to the lower lobe bronchi, is advised in patients with relapsing polychondritis and respiratory symptoms. These investigations should be performed, even in asymptomatic patients, at the time of diagnosis, and repeated as necessary during follow-up. [49]
Spiral CT scanning is a noninvasive test that readily identifies tracheal and bronchial thickening, stenosis, and calcification. Smooth anterior and lateral wall thickening with sparing of the posterior wall of the trachea and mainstem bronchi is virtually pathognomonic for relapsing polychondritis.
High-resolution CT scanning can reveal air trapping and diffuse or focal thickening of the airways. Expiratory CT scanning can be used to evaluate for air trapping and malacia of the airways. A series of 18 patients with relapsing polychondritis and pulmonary symptoms revealed that 94% had airway malacia and air trapping on dynamic expiratory CT scans. [50] The authors suggest that this modality should be used in all patients with relapsing polychondritis to allow for early detection of airway compromise. However, they did not provide the duration of disease in the study population, nor did they correlate the findings with those of pulmonary function tests. The benefit of dynamic expiratory CT scanning is unproven but may provide more information in difficult cases.
CT scanning results correlate well with pulmonary function tests, identifying obstructive patterns. CT scanning is not only safer but is also more sensitive and specific than bronchoscopy.
FDG-PET/CT
Yamashita et al reported on the use of of fluorodeoxyglucose (FDG)-PET/CT for the diagnosis of relapsing polychondritis and evaluation of disease activity. According to the authors, FDG-PET/CT is a potentially powerful tool for the early diagnosis of RPC, especially in patients without easily biopsied organ involvement, and facilitates evaluation of disease extent and disease activity during treatment. Typical FDG accumulation was noted in the following sites in the 13 patients studied [51] :
Tracheobronchial tree (nine patients)

Costal cartilage (five)

Joints (five)

Larynx (four)

Nasal cavity/paranasal sinuses (three)

Auricles (three)

Lymph nodes (three)

Aorta (one)
MRI
MRI has been a useful adjunct in the clinical diagnosis of relapsing polychondritis. MRI is better able to distinguish between edema, fibrosis, and inflammation than is CT scanning. MRI may also be used to detect auricular inflammation. [35]
T1-weighted images, T2-weighted images, and T1-weighted images with gadolinium contrast provide characterization of relapsing polychondritis-related changes in cartilaginous tissues.
MRI also reveals thickening of the thoracic aorta before dilatation occurs.
MRI may be useful for monitoring the effects of treatment.
Posteroanterior and lateral dye contrast pharyngotracheogram
PA and lateral dye contrast pharyngotracheogram may be helpful if tracheal narrowing or edema is suggested.
Both PA and lateral views are required to avoid underestimating the severity of stenosis or swelling.
Scintigraphy
Scintigraphy may prove helpful for identifying potential sites for biopsy to aid the histologic diagnosis when the clinical diagnosis is in doubt (ie, because of unfulfilled diagnostic criteria).
Technetium-99m methylene diphosphonate bone scintigraphy has been used in the evaluation of chest pain, allowing identification of possible sites for biopsy in costochondral tissues.
Gallium-67 citrate scintigraphy has also been found to show increased uptake in affected areas.
Other Tests
Pulmonary function testing (PFT) with flow-volume loops is strongly recommended in patients who present with respiratory symptoms, since PFT may assist in the differential diagnoses and provide information about severity of the disease. This may also be used to monitor patients' disease activity. PFT in patients with relapsing polychondritis who have respiratory involvement demonstrates a nonreversible obstructive pattern with collapse and stenosis of the airways. The decrease in forced expiratory volume in 1 second correlates with the degree of dyspnea.
Perform ECG to assess patients with relapsing polychondritis who demonstrate signs of vasculitis. Also, perform ECG to monitor these patients, since they may incur silent ischemia if vasculitis has developed.
An echocardiogram may be needed to assess aortic root dilatation and degree of aortic regurgitation.
Procedures
Intubation may be dangerous and futile.
Bronchoscopy and a fortiori endoscopic intervention can lead to damage or perforation of the airways and bronchospasm and should only be performed by an experienced endoscopist after careful consideration of the risks and benefits. [49]
Tracheostomy is usually the best method for providing an airway in patients with relapsing polychondritis in acute respiratory distress (because of the high likelihood of tracheal or bronchial stenosis or edema).
Biopsy of the cartilage is a potential source of infection and cosmetic damage. Perform biopsy on cartilage only if histopathological data are required to meet the diagnostic criteria for relapsing polychondritis.
Biopsy of skin lesions (nonadjacent to cartilage) may provide useful adjunctive information.
Histologic Findings
Biopsy of cartilage in patients with relapsing polychondritis demonstrates chondrolysis, chondritis, and perichondritis. The cartilage loses its basophilia, probably by release of sulfated proteoglycans from the matrix, and the chondrocytes are decreased in number and may appear pyknotic. Early relapsing polychondritis is characterized by a mixed inflammatory infiltrate of lymphocytes, neutrophils, and plasma cells in the perichondrium. As the cartilage degenerates, mononuclear cells and macrophages infiltrate the matrix. The cartilage matrix is eventually destroyed and replaced by fibrous connective tissue. Despite the presence of clinical erythema, overlying skin is normal.
Distant lesions with the clinical appearance of vasculitis have histologic features consistent with the clinical syndrome, including leukocytoclastic or granulomatous vascular injury.
What would you like to print?