Workup
Approach Considerations
No test results are pathognomonic for rheumatoid arthritis (RA); instead, the diagnosis is made by using a combination of clinical, laboratory, and imaging features. For clinical and radiologic criteria used in determining disease progression, see 2012 ACR Disease Activity Measures. Bone scanning findings may help distinguish inflammatory from noninflammatory changes in patients with minimal swelling, and densitometry findings are useful for helping diagnose changes in bone mineral density that are indicative of osteoporosis.
Laboratory Studies
Routine viral screening by serologic testing does not significantly facilitate the diagnosis of RA in patients with early RA, nor is it helpful as a potential identifier of disease progression. [48] Potentially useful laboratory studies in suspected RA fall into 3 categories—markers of inflammation, hematologic parameters, and immunologic parameters—and include the following:
Erythrocyte sedimentation rate (ESR)

C-reactive protein (CRP) level

Complete blood count (CBC)

Rheumatoid factor (RF) assay

Antinuclear antibody (ANA) assay

Anti−cyclic citrullinated peptide (anti-CCP) and anti−mutated citrullinated vimentin (anti-MCV) assays (currently used in the 2010 American College of Rheumatology [ACR]/European League Against Rheumatism [EULAR] classification criteria)
The ESR and the CRP level are associated with disease activity. The CRP value over time correlates with radiographic progression.
Hematologic parameters
The CBC commonly demonstrates anemia of chronic disease and correlates with disease activity; it improves with successful therapy. Hypochromic anemia suggests blood loss, commonly from the gastrointestinal (GI) tract (associated with the use of nonsteroidal anti-inflammatory drugs [NSAIDs]). Anemia may also be related to disease-modifying antirheumatic drug (DMARD) therapy.
Thrombocytosis is common and is also associated with disease activity. Thrombocytopenia may be a rare adverse event of therapy and may occur in patients with Felty syndrome. Leukocytosis may occur but is usually mild. Leukopenia may be a consequence of therapy or a component of Felty syndrome, which may then respond to DMARD therapy.
Immunologic parameters
Immunologic parameters include autoantibodies (eg, RF, anti-CCP antibodies, and ANAs). RF is an immunoglobulin (Ig) M antibody directed against the Fc fragment of IgG that is present in approximately 60-80% of patients with RA over the course of their disease (but in fewer than 40% of patients with early RA). RF values fluctuate somewhat with disease activity, though titers of RF generally remain high even in patients with drug-induced remissions.
RF is not specific for RA but is also present in other connective tissue diseases, infections, and autoimmune disorders, as well as in 1-5% of healthy people. The presence of RF predicts radiographic progression of bone erosions, independent of disease activity. [49]
Although ANAs are present in approximately 40% of patients with RA, test results for antibodies to most nuclear antigen subsets are negative.
Assays for anti-citrullinated protein antibody (ACPA; often tested as anti-CCP) are now being used clinically for diagnosing RA. ACPA-positive and ACPA-negative RA may be 2 distinct disease subsets, with different underlying pathogeneses and risks for developing RA. [50, 51] ACPA-positive patients may have a more erosive RA disease course than ACPA-negative patients. [52] However, a 2011 study suggests that reassessment of ACPA or IgM RF during the first year after onset of arthritis does not provide significant additional information. [53]
The sensitivity of anti-MCV assays has been reported to be comparable to that of ACPA [54] ; however, other studies have found the specificity of anti-MCV to be slightly lower than that of ACPA. [55, 56] Anti-MCV and anti-CCP levels may correlate with disease activity. [54, 57]
Studies of anti-CCP antibodies suggest a sensitivity and specificity equal to or better than those of RF, with an increased frequency of positive results in early RA; the presence of both anti-CCP antibodies and RF is highly specific for RA. Additionally, the presence of anti-CCP antibodies, like that of RF, indicates a worse prognosis.
A trial that tested for 4 novel RA biomarkers improved the diagnosis of early RA in patients who tested negative on conventional tests. [58] In the study comprising 293 RA patients, 97 healthy control subjects, and 87 rheumatic control patients with other arthritides, the panel of 4 biomarkers—UH-RA.1, UH-RA.9, UH-RA.14 and UH-RA.21—had 83% specificity for RA. [58] These markers were found in 37% of patients with early RA and 26% of those who were seronegative for rheumatoid factor and anticitrullinated protein antibody. The investigators suggested that in addition to an improved diagnosis in early RA, use of these biomarkers may also have prognostic potential. [58]
Pregnancy
RA often goes into remission during pregnancy. The presence of RF neither helps predict nor correlates with the outcome of arthritis during pregnancy. The ESR cannot be used to assess RA disease activity during pregnancy, because pregnancy alters the normal values. The volume expansion that occurs during pregnancy can result in lower hematocrit values.
Radiography
Radiography remains the first choice for imaging in RA; it is inexpensive, readily available, and easily reproducible, and it allows easy serial comparison for assessment of disease progression. [59] Views of the hands, wrists, knees, feet, elbows, shoulders, hips, cervical spine, and other joints should be assessed with radiography when indicated (see the images below). Erosions may be present in the feet, even in the absence of pain and in the absence of erosions in the hands.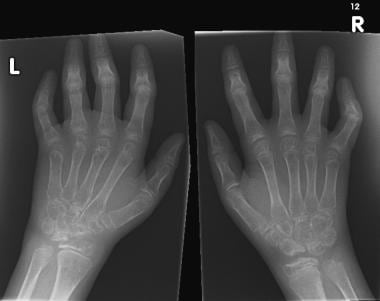 Juvenile rheumatoid arthritis. Widespread osteopenia, carpal crowding (due to cartilage loss), and several erosions affecting the carpal bones and metacarpal heads in particular in a child with advanced juvenile rheumatoid arthritis (also known as juvenile idiopathic arthritis).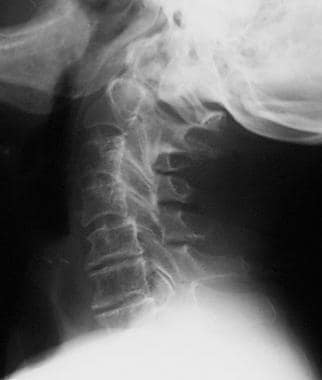 Rheumatoid arthritis. Lateral view of the cervical spine in a patient with rheumatoid arthritis shows erosion of the odontoid process.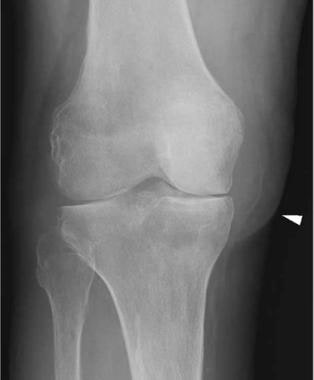 Rheumatoid arthritis. Anteroposterior radiograph of the knee shows uniform joint-space loss in the medial and lateral knee compartments without osteophytosis. A Baker cyst is seen medially (arrowhead).
Magnetic Resonance Imaging
Magnetic resonance imaging (MRI) provides a more accurate assessment and earlier detection of lesions than radiography does [60] ; however, the cost of the examination and the small size of the joints involved militate against its widespread use. MRI is used primarily in patients with abnormalities of the cervical spine (see the images below); early recognition of erosions on the basis of MRI images has been sufficiently validated.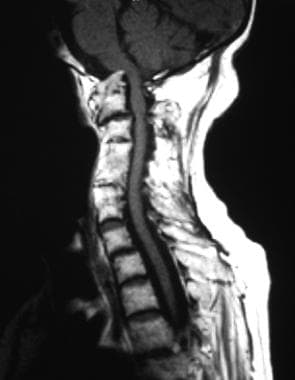 Rheumatoid arthritis. T1-weighted sagittal magnetic resonance image of the cervical spine shows basilar invagination with cranial migration of an eroded odontoid peg. There is minimal pannus. The tip of the peg indents the medulla, and there is narrowing of the foramen magnum due to the presence of the peg. Inflammatory fusion of several cervical vertebral bodies is shown.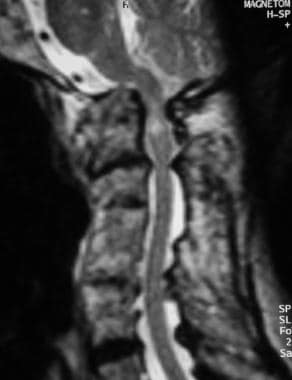 Sagittal T2-weighted magnetic resonance image of cervical spine in same patient as in previous image. Compromised foramen magnum is easily appreciated, and there is increased signal intensity within upper cord; this is consistent with compressive myelomalacia. Further narrowing of canal is seen at multiple levels.
Ultrasonography
Ultrasonography of joints (see the image below) is gaining increased widespread acceptance in clinical practice; however, its use in RA is not yet the standard of care. [61, 62, 63, 64] Ultrasonography allows recognition of effusions in joints that are not easily accessible (eg, the hip and, in obese patients, the shoulder) and of cysts (Baker cysts). In addition, high-resolution sonograms allow visualization of tendon sheaths, changes and degree of vascularization of the synovial membrane, and even erosions. Ultrasonography can often be done in the office.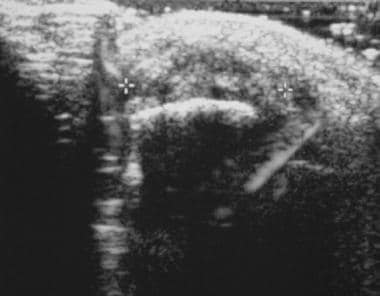 Rheumatoid arthritis. Ultrasonography-guided synovial biopsy of the second metacarpophalangeal joint of the right hand in a patient with rheumatoid arthritis of the hands. The biopsy needle is seen as a straight echogenic line on the left side of the image in an oblique orientation.
Imaging of Specific Structures
Hand
Hand imaging in RA can include radiography, MRI, ultrasonography, and computed tomography (CT), though the last of these plays only a minimal role. Radiography is the mainstay of imaging RA in the hands: It is inexpensive and easily reproducible, and it allows easy serial comparison for assessment of disease progression. Its main disadvantage is the absence of specific radiographic findings in early disease; erosions may only be visualized later.
MRI is sensitive than radiography to early changes in RA, and in the appropriate clinical setting, it is more accurate than plain radiography in the diagnosis of the disease. However, a systematic literature review concluded that widespread use of MRI for the diagnosis of early RA and for helping determine the prognosis of early RA is not currently recommended, though MRI bone edema may be predictive of progression in certain RA populations. [65]
Ultrasonography has been applied to the assessment of RA with the goal of improving on the current standard of conventional radiography. Like MRI, ultrasonography serves as an early diagnostic tool and can help in evaluating the cause of joint swelling in a patient with RA. [66, 67] However, the results of one study suggested that NSAID use may mask the ultrasonographic gray scale and power Doppler signal in the assessment of synovitis in RA, resulting in lower scoring despite continuing disease activity. [68]
See Rheumatoid Arthritis Hand Imaging for complete information on this topic.
Spine
Spinal imaging in RA involves radiography, MRI, and CT. As with hand imaging in RA, the mainstay of imaging remains plain radiography. Only about 50% of patients with radiographic evidence of atlantoaxial subluxation are actually symptomatic.
The role of plain radiography is to establish whether the patient has risk factors for cord compression. The major role for CT and MRI is in preoperative assessment of the 2 main indications for surgical intervention—namely, neurologic deficit and severe pain. [69, 70] Although CT scanning can document bone damage and alignment abnormalities, especially with more detailed multiplanar reconstruction, MRI has become the preferred modality for evaluation of the spinal cord and neural elements. [71]
See Rheumatoid Arthritis Spine Imaging for complete information on this topic.
Joint Aspiration
Consider joint aspiration when making the definitive diagnosis of RA or when ruling out coexistent infection or crystal arthritis in an acutely swollen joint. New-onset monoarticular arthritis or an unusual pattern of a joint flare in a patient with RA should encourage strong consideration of joint aspiration and synovial fluid analysis.
Analysis of synovial fluid includes Gram staining, cell count, culture, and assessment of overall appearance. In patients with RA, analysis typically reveals inflammation (white blood cell [WBC] count >2000/µL, generally in the range of 5000-50,000/µL). Usually, neutrophil predominance (60-80%) is observed in the synovial fluid (in contrast with mononuclear cell predominance in the synovium). Because of a transport defect, glucose levels of synovial fluids (as well as pleural and pericardial fluids) in patients with RA are often low compared with serum glucose levels.
Histologic Findings
Early in the course of the RA disease process, there is an influx of inflammatory cells into the synovial membrane, with subsequent angiogenesis, proliferation of chronic inflammatory (mononuclear) cells and resident synovial cells, and marked histologic changes—a 2-cell-layer lining membrane changes to a thickened membrane that often has villous projections into the joint space (see the images below).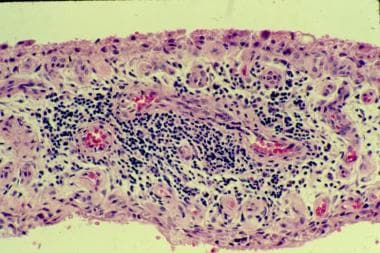 Rheumatoid arthritis. The hallmark of rheumatoid arthritis is a perivascular mononuclear cell infiltrate in the synovium (pictured here). The early stages are noted to have plasma cells as well, and syphilis needs to be part of the differential diagnosis.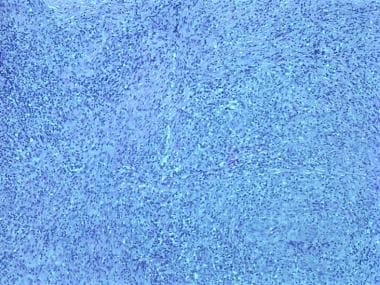 Rheumatoid arthritis. The inflammation involved in rheumatoid arthritis can be intense. It is composed of mononuclear cells and can resemble a pseudosarcoma.
The lymphoplasmacytic infiltration of the synovium with neovascularization seen in RA is similar to that seen in other conditions characterized by inflammatory synovitis. Early rheumatoid nodules are characterized by small-vessel vasculitis and later by granulomatous inflammation.
What would you like to print?