Workup
Approach Considerations
The diagnosis of systemic lupus erythematosus (SLE) must be based on the proper constellation of clinical findings and laboratory evidence. Familiarity with the diagnostic criteria helps clinicians to recognize SLE and to subclassify this complex disease based on the pattern of target-organ manifestations.
In 2019, the European League Against Rheumatism (EULAR) and the American College of Rheumatology (ACR) published new criteria for the classification of SLE. [5, 6] The EULAR/ACR criteria have sensitivity of 96.1% and specificity of 93.4%, compared with 82.8% sensitivity and 93.4% specificity of the 1997 ACR criteria, and 96.7% sensitivity and 83.7% specificity of the 2012 Systemic Lupus International Collaborating Clinics (SLICC) classification criteria. [7, 112]
The EULAR/ACR classification requires an antinuclear antibody (ANA) titer of at least 1:80 on HEp-2 cells or an equivalent positive test at least once; otherwise, the patient is considered not to have SLE. If it is present, 22 "additive weighted" classification criteria are considered, comprising seven clinical domains and three immunologic domains (see Tables 1 and 2, below). Each criterion is assigned points, ranging from 2 to 10. Patients with at least one clinical criterion and 10 or more points are classified as having SLE.
Table 1. EULAR/ACR Clinical Domains and Criteria for SLE (Open Table in a new window)
Domain

Criteria

Points

Constitutional

Fever

2

Hematologic

Leukopenia

Thrombocytopenia

Autoimmune hemolysis

3

4

4

Neuropsychiatric

Delirium

Psychosis

Seizure

2

3

5

Mucocutaneous

Non-scarring alopecia

Oral ulcers

Subacute cutaneous or discoid lupus

Acute cutaneous lupus

2

2

4

6

Serosal

Pleural or pericardial effusion

Acute pericarditis

5

6

Musculoskeletal

Joint involvement

6

Renal

Proteinuria > 0.5 g/24 h

Kidney biopsy class II or V lupus nephritis

Kidney biopsy class III or IV lupus nephritis

4

8

10
Table 2. EULAR/ACR Immunologic Domains and Criteria for SLE (Open Table in a new window)
Domain

Criteria

Points

Antiphospholipid antibodies

Anti-cardiolipin antibodies or

Anti-β2GP1 antibodies or

Lupus anticoagulant

2

Complement proteins

Low C3 or low C4

Low C3 and low C4

3

4

SLE-specific antibodies

Anti-dsDNA antibody or

Anti-Smith antibody

6
A criterion should not be counted if there is a more likely explanation for it than SLE

Occurrence of a criterion on at least one occasion is sufficient

Criteria need not occur simultaneously

Within each domain, only the highest-weighted criterion is counted toward the total score
Diagnostic Studies
Standard laboratory studies that are diagnostically useful when systemic lupus erythematosus (SLE) is suspected should include the following:
Complete blood count (CBC) with differential

Serum creatinine

Urinalysis with microscopy
The CBC count may help screen for leukopenia, lymphopenia, anemia, and thrombocytopenia. Urinalysis and creatinine studies may be useful to screen for kidney disease.
Other laboratory tests that may be used in the diagnosis of SLE are as follows:
Erythrocyte sedimentation rate (ESR) or C-reactive protein (CRP)

Complement levels

Liver function tests

Creatine kinase assay

Spot protein/spot creatinine ratio
Levels of inflammatory markers, including the ESR and CRP, may be elevated in any inflammatory condition, including SLE. However, the level of ESR elevation may show a discrepancy relative to a normal CRP level in SLE flares; if both markers are markedly elevated, suspect the presence of an infectious process. CRP levels change more acutely, and the ESR lags behind disease changes.
Measurement of complement may be useful, because C3 and C4 levels are often depressed in patients with active SLE as a result of consumption by immune complex–induced inflammation. In addition, some patients have congenital complement deficiency that predisposes them to SLE.
Liver test results may be mildly elevated in acute SLE or in response to therapies such as azathioprine or nonsteroidal anti-inflammatory drugs (NSAIDS). Creatine kinase levels may be elevated in myositis or overlap syndromes.
The spot protein/spot creatinine ratio may be used to quantify proteinuria. The 2012 ACR guidelines for lupus nephritis noted that a spot protein/spot creatinine ratio greater than 0.5 g/day can substitute for the 24-hour protein measurement and that an active urinary sediment (defined as > 5 red blood cells [RBCs] per high-power field [hpf]; > 5 white blood cells [WBCs]/hpf in the absence of infection; or cellular casts limited to RBC or WBC casts) can substitute for cellular casts. [113]
Autoantibody tests
Table 3, below, summarizes the autoantibody tests that are used in the diagnosis of SLE. [114]
Table 3. Autoantibody Tests for SLE (Open Table in a new window)
Test

Description

ANA

Screening test; sensitivity 95%; not diagnostic without clinical features

Anti-dsDNA

High specificity; sensitivity only 70%; level is variable based on disease activity

Anti-Sm

Most specific antibody for SLE; only 30-40% sensitivity

Anti-SSA (Ro) or Anti-SSB (La)

Present in 15% of patients with SLE and other connective-tissue diseases such as Sjögren syndrome; associated with neonatal lupus

Anti-ribosomal P

Uncommon antibodies that may correlate with risk for CNS disease, including increased hazards of psychosis in a large inception cohort, although the exact role in clinical diagnosis is debated [115]

Anti-RNP

Included with anti-Sm, SSA, and SSB in the ENA profile; may indicate mixed connective-tissue disease with overlap SLE, scleroderma, and myositis

Anticardiolipin

IgG/IgM variants measured with ELISA are among the antiphospholipid antibodies used to screen for antiphospholipid antibody syndrome and pertinent in SLE diagnosis

Lupus anticoagulant

Multiple tests (eg, direct Russell viper venom test) to screen for inhibitors in the clotting cascade in antiphospholipid antibody syndrome

Direct Coombs test

Coombs test–positive anemia to denote antibodies on RBCs

Anti-histone

Drug-induced lupus ANA antibodies are often of this type (eg, with procainamide or hydralazine; p-ANCA–positive in minocycline-induced drug-induced lupus)

ANA = antinuclear antibody; CNS = central nervous system; ds-DNA = double-stranded DNA; ELISA = enzyme-linked immunoassay; ENA = extractable nuclear antigen; Ig = immunoglobulin; p-ANCA = perinuclear antineutrophil cytoplasmic antibody; RBCs = red blood cells; RNP = ribonucleic protein; SLE = systemic lupus erythematosus; Sm = Smith; SSA = Sjögren syndrome A; SSB = Sjögren syndrome B.
In June 2022 the US Food and Drug Administration (FDA) cleared the EliA Rib-P test (Thermo Fisher Scientific, Waltham MA), a fluorescence enzyme immunoassay (FEIA) for anti–ribosomal P antibodies. [116] These autoantibodies have high specificity for SLE, and detection of them can support the diagnosis of SLE, particularly in ANA- negative patients. [23]
Radiologic Studies
Joint radiography often provides little evidence of systemic lupus erythematosus (SLE), even in the presence of Jaccoud arthropathy with deformity or subluxations. The most common radiographic anomalies in SLE are periarticular osteopenia and soft-tissue swelling without erosions.
Chest imaging studies include radiography (see the first image below) and computed tomography (CT) scanning (see the second image below). These modalities can be used to monitor interstitial lung disease and to assess for pneumonitis, pulmonary emboli, and alveolar hemorrhage.
Echocardiography is used to assess for pericardial effusion, pulmonary hypertension, or verrucous Libman-Sacks endocarditis (see the image below).
Brain magnetic resonance imaging (MRI)/magnetic resonance angiography (MRA) is used to evaluate for central nervous system (CNS) lupus white-matter changes (see the following image), vasculitis, or stroke, although findings are often nonspecific and may be absent in as many as 42% of cases with neuropsychiatric symptoms. [117]
Investigators have suggested that cardiac MRI (CMR) provides an excellent alternative to clinical assessment, electrocardiography, and echocardiography for diagnosing SLE myocarditis. [118] They reported that patients who were positive for infectious myocarditis on CMR were more symptomatic than those with active SLE disease and that more than 50% of patients with CMR-positive myocarditis had a concurrent positive endomyocardial biopsy. [118]
Joint Effusion and CSF Studies
Arthrocentesis
Arthrocentesis may be performed in patients with joint effusions, which can be inflammatory or noninflammatory. The cell count may range from less than 25% polymorphonuclear neutrophils (PMNs) in noninflammatory effusions to more than 50% in inflammatory effusions. Viscosity will be high in noninflammatory effusions and low in inflammatory effusions. The gross appearance of these fluids will be straw-colored or clear in noninflammatory cases and either cloudy or yellow in inflammatory ones.
Lumbar puncture
Lumbar puncture may be performed to exclude infection with fever or neurologic symptoms. Nonspecific elevations in cell count and protein level and decrease in glucose level may be found in the cerebrospinal fluid of patients with central nervous system lupus.
Biopsies and Histologic Features
Kidney biopsy
The 2012 American College of Rheumatology (ACR) guidelines for lupus nephritis recommend kidney biopsy for all cases of active, previously untreated lupus nephritis, unless contraindicated. [113] Kidney biopsy is used to confirm the presence of lupus nephritis; to aid in classification of systemic lupus erythematosus (SLE) nephritis based on the International Society of Nephrology/Renal Pathology Society (ISN/RPS) classification (see Table 4, below); and to guide therapeutic decisions. [113] Another benefit of kidney biopsy is in distinguishing renal lupus from renal vein thrombosis, which may be a complication of antiphospholipid antibody syndrome and require anticoagulation rather than immunomodulatory therapy.
Kidney biopsy is indicated in the presence of the following features [113] :
Increasing serum creatinine in the absence of strong evidence for another etiology (eg, sepsis, hypovolemia, medication)

Proteinuria of more than 1.0 g per 24 hours, as confirmed by 24-hour urine specimens or spot protein/spot creatinine ratios

Proteinuria of 0.5 g or more per 24 hours, along with either (1) hematuria (≥5 RBCs/hpf) or (2) cellular casts, as confirmed by a minimum of 2 tests within a short period and in the absence of alternative causes
The ISN/RPS published revisions to the World Health Organization (WHO) classification for lupus nephritis in 2003. The classification is based on light microscopy, electron microscopy, and immunofluorescence findings from kidney biopsy results, as summarized in the table below. [119]
Table 4. International Society of Nephrology 2003 Revised Classification of SLE Nephritis (Open Table in a new window)
Class

Classification

Features

Class I

Minimal mesangial

Normal light microscopy findings; abnormal electron microscopy findings

Class II

Mesangial proliferative

Hypercellular on light microscopy

Class III

Focal proliferative

< 50% of glomeruli involved

Class III lupus nephritis is further subclassified as follows:

Class III (A), focal proliferative: Active lesions

Class III (A/C), focal proliferative and sclerosing: Active and chronic lesions

Class III (C ) (focal sclerosing): Chronic lesions

Class IV

Diffuse proliferative

=50% of glomeruli involved; classified segmental or global; treated aggressively

Class IV lupus nephritis is also further subclassified, as follows:

Class IV-S: Diffuse segmental proliferative

Class IV-G: Diffuse global proliferative

Class IV-S or IV-G, active (A) or chronic (C)

Note: It remains to be determined whether further subcategories have a prognostic difference. [120] There are conflicting data from studies; some investigators report that class IV-G (A) has a better prognosis relative to class IV-S (A/C), which is less responsive to treatment.

Class V

Membranous

Predominantly nephrotic disease

Note: Class V may occur with class III or IV (then, both cases would be diagnosed) [113]

Class VI

Advanced sclerosing

≥90% of glomeruli involved without residual activity [113]

Chronic lesions and sclerosis

Source (except as noted otherwise) : Weening JJ, D'Agati VD, Schwartz MM, et al. The classification of glomerulonephritis in systemic lupus erythematosus revisited. J Am Soc Nephrol. Feb 2004;15(2):241-50. [121]

SLE = systemic lupus erythematosus.
Histologic images of a normal renal cortex and of various stages of SLE are shown below.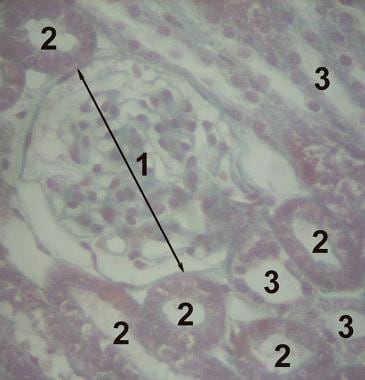 Histologic image of a normal renal cortex, including the glomerulus (1) and proximal (2) and distal (3) convoluted tubule. [Image from Wikipedia: http://en.wikipedia.org/wiki/File:Histology-kidney.jpg]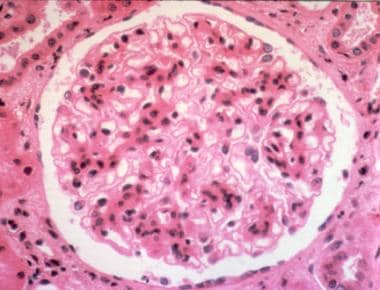 Mesangial proliferative lupus nephritis with moderate mesangial hypercellularity. International Society of Nephrology/Renal Pathology Society 2003 class II (×200, hematoxylin-eosin).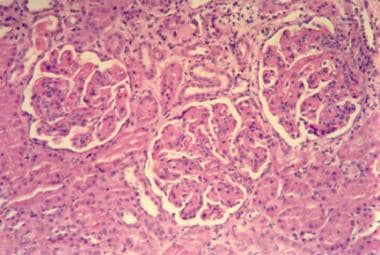 Focal lupus nephritis. International Society of Nephrology/Renal Pathology Society 2003 class III (×100, hematoxylin-eosin).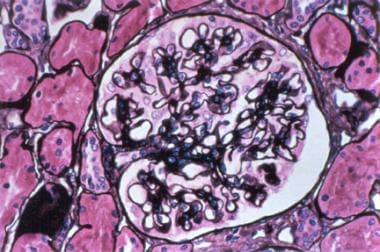 Membranous lupus nephritis showing thickened glomerular basement membrane. International Society of Nephrology/Renal Pathology Society 2003 class V (×200, silver stain).
Skin biopsies
Skin biopsy can help in diagnosing SLE or unusual rashes in patients with this condition. Many different rashes may herald SLE, making review by a dermatopathologist important.
Lupus skin rash often demonstrates inflammatory infiltrates at the dermoepidermal junction and vacuolar change in the basal columnar cells. Discoid lesions demonstrate more-significant skin inflammation, with hyperkeratosis, follicular plugging, edema, and mononuclear cell infiltration at the dermoepidermal junction. In many SLE rashes, immunofluorescent stains demonstrate immunoglobulin and complement deposits at the dermoepidermal basement (see the images below).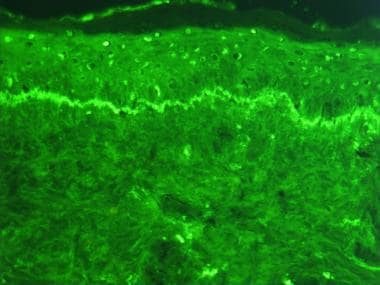 Lupus band test. Microphotograph of a histologic section of human skin prepared for direct immunofluorescence using an anti-IgG antibody. The skin is from a patient with systemic lupus erythematosus and shows IgG deposit at 2 different places: the first is a band-like deposit along the epidermal basement membrane ("lupus band test" is positive); the second is within the nuclei of the epidermal cells (anti-nuclear antibodies).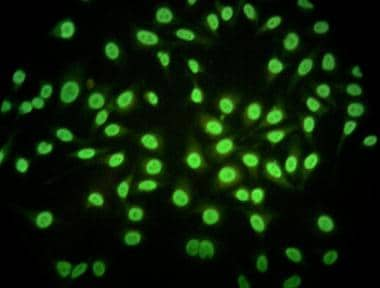 Microphotograph of a fixed Hep-2 line cell prepared for indirect immunofluorescence. The preparation was exposed to a serum of a patient with systemic lupus erythematosus and labeled using a murine anti-human immunoglobulin G (IgG) antibody. It shows IgG deposit in the nucleus and nonspecific deposit in the cytoplasm.
What would you like to print?