Presentation
History
Clinician awareness is important to prevent delayed or missed diagnosis. Recurrent respiratory infection in an adult may be an indicator of granulomatosis with polyangiitis (GPA). However, the clinician must remain mindful that GPA has a spectrum of clinical presentations.
Patients may report the following chronic, nonspecific constitutional complaints:
Fevers, night sweats

Fatigue, lethargy

Loss of appetite

Weight loss
Ophthalmic signs
Ocular involvement occurs in many patients, including the following:
Conjunctivitis

Episcleritis

Uveitis

Optic nerve vasculitis

Retinal artery occlusion

Nasolacrimal duct occlusion

Proptosis
Ear, nose, and throat manifestations
The symptoms causing pediatric patients to seek medical care are usually attributable to the upper and lower respiratory tract.
Chronic sinusitis is the most common initial complaint (67%); failure to respond to conventional treatment is suggestive. Rhinitis and epistaxis occur in 22% and 11% of patients with GPA, respectively. [2]
The development of a saddle nose deformity caused by collapse of nasal support is common. Serous otitis media and hearing loss are the presenting manifestations of GPA in some patients. Tracheal or subglottic granulomatous masses can cause stridor and lead to respiratory compromise.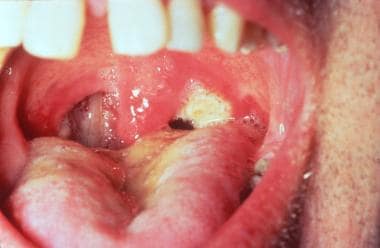 Granulomatosis with polyangiitis (formerly known as Wegener granulomatosis). Large ulceration of the pharynx covered with a dense necrotic membrane.
Pulmonary manifestations
Pulmonary involvement can be asymptomatic, insidious in onset, or severe and fulminant. Pulmonary disease may cause any of the following [2] :
Pulmonary infiltrates (71% of patients)

Diffuse alveolar hemorrhage (DAH) due to alveolar capillaritis (5%-45% [3] )
Musculoskeletal symptoms
Musculoskeletal symptoms are common. Arthralgias are usually polyarticular and symmetric, affecting small and large joints. Arthritis can also occur, and typically affects large joints, but is rarely deforming.
Renal involvement
Renal disease is present in 17% of patients at initial diagnosis and is usually asymptomatic. [4] Renal failure occurs in 11% at presentation. [2] Renal disease manifests as crescentic necrotizing glomerulonephritis characterized by urinary sediment with more than 5 red blood cells per high-power field or erythrocyte casts.
Nervous system involvement
The nervous system is affected in numerous patients. Peripheral nervous system (PNS) involvement may occur in as many as 67% of patients, typically later in the disease course. PNS manifestations include mononeuritis multiplex, sensorimotor polyneuropathy, and cranial nerve palsies.
Central nervous system (CNS) manifestations include vasculitis of small to medium–sized vessels of the brain or spinal cord and granulomatous masses that involve the orbit, optic nerve, meninges or brain. [50] Pituitary involvement with resulting hormonal dysfunction occurs about 1% of all cases of GPA, predominantly in women. [51]
Cutaneous signs
The skin is involved in 45% of patients with GPA due to vasculitis. Cutaneous involvement can lead to palpable purpura or skin ulcers. [2]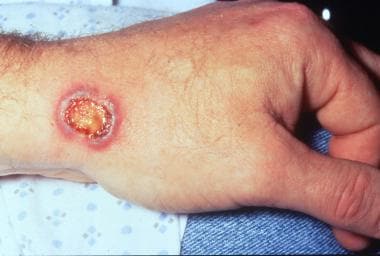 Necrotic, purpuric, and blistering plaque on the wrist in a patient with granulomatosis with polyangiitis.
Cardiac involvement
Cardiac involvement most often consists of pericarditis or coronary vasculitis, but myocarditis, endocarditis, conduction system granulomata, and valvular involvement may also occur. [52] Necrotizing vasculitis of the coronary vessels can result in myocardial infarction or sudden death.
Estimates of the frequency of cardiac involvement vary widely, with a North American study reporting a rate of 33.3% and no association with a higher rate of relapse or premature death, [53] while a European study reported cardiac involvement in 46% of GPA patients assessed with electrocardiography and echocardiography, along with increased all-cause and cardiovascular mortality. [54]
Physical Examination
Signs related to the head, ears, eyes, nose, and throat
Sinusitis and disease in the nasal mucosa are the most common findings. Ocular findings include scleritis, episcleritis, keratitis, uveitis, and conjunctivitis. Proptosis may signal a retrobulbar granulomatous mass. Xanthelasma has also been reported.
Otitis media and/or hearing loss may be present. Purulent or serosanguinous nasal discharge may be seen. Saddle nose deformity may be present. (See image below.)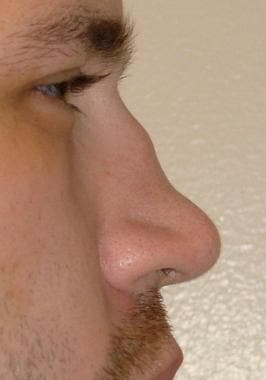 Saddle nose deformity in a 26-year-old man with granulomatosis with polyangiitis. Image courtesy of P. Papadopoulos, MD.
Oral involvement is rare; however, a classic presentation includes "strawberry gingival hyperplasia."
Pulmonary/respiratory signs/symptoms
Pulmonary/respiratory symptoms can include the following:
Atelectasis - May be present, with examination findings of dullness on percussion, decreased breath sounds, and crackles on auscultation

Lower respiratory tract involvement - May also produce signs of pulmonary consolidation and/or pleural effusion

Tracheobronchial disease - May manifest as hoarseness, cough, dyspnea, stridor, and wheezing

Subglottic or tracheal stenosis – May also manifest as stridor; stenosis may prove fatal if untreated

Hemoptysis - may result from cavitated pulmonary parenchymal lesions, DAH, or bronchiectasis
Cutaneous findings
Cutaneous findings are variable and nonspecific and usually affect the lower extremities. Palpable purpura, papules, subcutaneous nodules, and ulcerations are the most common findings. Ulcerations may resemble pyoderma gangrenosum.
Petechiae, vesicles, pustules, hemorrhagic bullae, livedo reticularis, digital necrosis, subungual splinter hemorrhages, and genital ulcers resembling squamous cell carcinoma have been reported.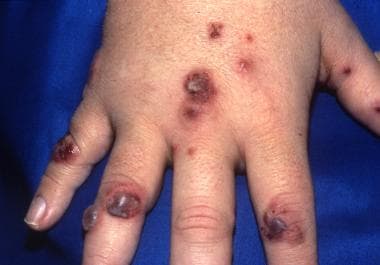 Several necrotic, purpuric, and blistering papules and plaques on the hands in a patient with granulomatosis with polyangiitis.
Additional findings
Other symptoms may include the following:
General - Patients may be febrile and appear ill

Cardiac - Pericardial rub may occur with pericarditis

Gastrointestinal - Abdominal pain may be present with splanchnic vasculitis

Musculoskeletal - Large- and medium-joint arthritis; polyarticular, symmetrical small- and medium-joint arthralgias; and myalgias may be appreciated

Neurologic - Examination of the nervous system may confirm a pattern of mononeuritis multiplex, polyneuropathy, or cranial nerve paralysis
What would you like to print?