DDx
Diagnostic Considerations
When patients present with a limited form of granulomatosis with polyangiitis (GPA) that includes upper airway disease, orbital disease, or pulmonary disease, the differential diagnosis may include infectious and neoplastic diseases and other forms of vasculitis. Biopsies of the nasal mucosa, even when ulcerated, often are not diagnostic.
GPA localized to the upper respiratory tract should be distinguished from primary nasal natural killer/T-cell lymphoma (lethal midline granuloma) before immunosuppressive therapies are initiated, especially if an oral-nasal fistula is present and/or mass is appreciated. [52]
GPA, which is a pulmonary-renal syndrome, should also be distinguished from other pulmonary-renal syndromes such as Goodpasture syndrome (anti–glomerular basement membrane antibody disease). Goodpasture syndrome is a much less common disorder but can manifest as renal and pulmonary findings similar to those of GPA or may overlap with GPA. Goodpasture syndrome may be recognized clinically by the absence of upper-airway abnormalities, the presence of anti–glomerular basement membrane antibodies, and the deposition of immune complexes in the basement membrane as observed on renal biopsy specimens. (See the image below).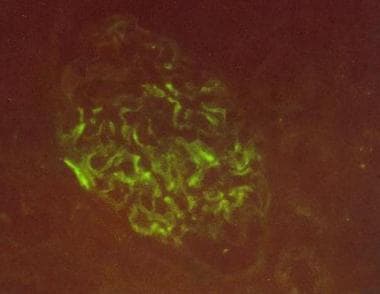 Goodpasture syndrome: Linear deposition of immunoglobulin G and C3 are observed on a renal biopsy specimen from a patient with Goodpasture syndrome. Immunofluorescence staining. Image courtesy of K. Orr, MD.
Other conditions to consider in the differential diagnosis of GPA include the following:
Cocaine abuse

Acute glomerulonephritis

Crescentic glomerulonephritis

Diffuse proliferative glomerulonephritis

Membranoproliferative glomerulonephritis

Membranous glomerulonephritis

Poststreptococcal glomerulonephritis

Rapidly progressive glomerulonephritis

Lymphomatoid granulomatosis

Malignancy

Microscopic polyangiitis

Pneumocystis jiroveci pneumonia

Bacterial pneumonia

Fungal pneumonia

Polyarteritis nodosa

Polychondritis

Nasal-type primary NK/T-cell lymphoma (formerly known as lethal midline granuloma)

Pyoderma gangrenosum

Rhinoscleroma

Sarcoidosis

Systemic lupus erythematosus
Differential Diagnoses
What would you like to print?