DDx
Diagnostic Considerations
The diagnosis of ankylosing spondylitis (AS) is generally made by combining clinical criteria of inflammatory back pain and enthesitis or arthritis with radiologic findings. [6, 7, 8] Two sets of sensitive and specific criteria are available for diagnosis of spondyloarthropathy in general: (1) the European Spondyloarthropathy Study Group (ESSG) criteria and (2) the Amor criteria (see Table 5 below). Two other sets are used widely for diagnosis of AS: the New York criteria and the Rome criteria (see Table 6 below).
Table 5. ESSG and Amor Criteria for Diagnosis of Spondyloarthropathy (Open Table in a new window)
ESSG Criteria

Amor Criteria*

Inflammatory spinal pain or synovitis and one of the following:

Inflammatory back pain

1 point

Alternating buttock pain

Unilateral buttock pain

1 point

Enthesitis

Alternating buttock pain

2 points

Sacroiliitis

Enthesitis

2 points

IBD

Peripheral arthritis

2 points

Positive family history of spondyloarthropathy

Dactylitis (sausage digit)

2 points

Acute anterior uveitis

2 points

HLA-B27 positive or family history of spondyloarthropathy

2 points

Good response to NSAIDs

2 points

*Diagnosis of spondyloarthropathy with 6 or more points.

European Spondyloarthropathy Study Group (ESSG); IBD = inflammatory bowel disease; NSAID = nonsteroidal anti-inflammatory drug.
Table 6. New York and Rome Criteria for Diagnosis of Ankylosing Spondylitis (Open Table in a new window)
New York Criteria

Rome Criteria

Low back pain with inflammatory characteristics

Limitation of lumbar spine motion in sagittal and frontal planes

Decreased chest expansion

Bilateral sacroiliitis grade 2 or higher

Unilateral sacroiliitis grade 3 or higher

Low back pain and stiffness for >3 months that is not relieved by rest

Pain and stiffness in the thoracic region

Limited motion in the lumbar spine

Definite ankylosing spondylitis when the fourth or fifth criterion mentioned presents with any clinical criteria

Diagnosis of ankylosing spondylitis when any clinical criteria present with bilateral sacroiliitis grade 2 or higher
The New York criteria for the diagnosis of AS, which are based on clinical and radiographic findings, include the following:
Limitation of motion of the lumbar spine in all 3 planes

History of pain or presence of pain at the thoracolumbar junction or in the lumbar spine

Limitation of chest expansion to 1 inch or less, as measured at the fourth intercostal space
Radiographic sacroiliac (SI) changes are graded as follows:
Grade 2 – Minimal sacroiliitis

Grade 3 – Moderate sacroiliitis
The disease progression is a gradual process, and the grading is somewhat subjective.
A definite diagnosis of AS is met if there is (1) grade 3-4 bilateral sacroiliitis with at least 1 clinical criterion or (2) grade 3-4 unilateral sacroiliitis or grade 2 bilateral sacroiliitis with clinical criterion 1 or with both clinical criteria 2 and 3. A probable diagnosis of AS is made if grade 3-4 bilateral sacroiliitis exists without any signs or symptoms that satisfy the clinical criteria.
In addition to the conditions listed in the differential diagnosis, the following problems should be considered:
Inflammatory bowel disease (IBD)–associated spondyloarthropathy (SpA)

Juvenile idiopathic arthritis

Diffuse idiopathic skeletal hyperostosis
Classification of axial and peripheral spondyloarthropathy
The Assessment of SpondyloArthritis International Society (ASAS) has developed criteria for the classification of axial and peripheral SpA. These criteria incorporate the emerging concept of nonradiographic axial SpA, which refers to patients who have signs and symptoms of axial disease but lack the radiographic damage to the sacroiliac joints needed to meet the modified New York criteria. [87] Some, but not all, of these cases will progress to AS over time.
Axial spondyloarthropathy
ASAS classification criteria for axial SpA are as follows [87] :
Back pain for 3 months or longer

Sacroiliitis on imaging (plain radiographs or MRI) plus one or more SpA features or

HLA-B27 plus two or more other SpA features
SpA features are as follows:
Elevated C-reactive protein level
However, the use of this classification in clinical practice does pose the risk of misdiagnosis, especially in a population with a low pretest probability of disease. This could lead to inappropriate use of tumor necrosis factor (TNF) inhibitors in patients who actually have chronic mechanical back pain. [87]
Peripheral spondylarthropathy
According to the ASAS, criteria for peripheral SpA are the absence of back pain and the presence, usually in a person under 45 years old, of peripheral arthritis (usually lower limb predominant and asymmetric), enthesitis, or dactylitis, alone or in combination, along with one of two sets of additional features.
The first set consists of one or more of the following:
Inflammatory bowel disease

Sacroiliitis on imaging (radiographs or MRI)
The second set consists of two or more of the following:
Past history of inflammatory back pain

Positive family history of SpA
Rudwaleit et al evaluated the ASAS classification criteria for peripheral SpA and found that, with a sensitivity of 77.8% and a specificity of 82.9%, the ASAS criteria performed better than modified versions of the ESSG (sensitivity 62.5%, specificity 81.1%) and the Amor criteria (sensitivity 39.8%, specificity 97.8%). [88]
In recent years, classification criteria have been developed to increase sensitivity in order to include patients who are early in the course of their disease. Recent classification criteria for spondyloarthropathy have been developed for patients with predonminantly axial disease [89] and those with predominantly peripheral disease [88] . An important change is that criteria can be met without a radiographic criterion and that axial changes on MRI are included in the criteria for axial spondyloarthropathy.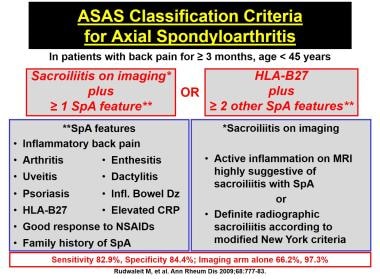 ASAS Classification Criteria for Axial Spondyloarthropathy.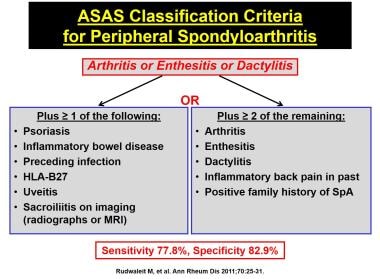 ASAS Classification Criteria for Peripheral Spondyloarthropathy.
Differential Diagnoses
Psoriatic Arthritis

Spinal Stenosis
What would you like to print?