Overview
Practice Essentials
Eosinophilic granulomatosis with polyangiitis (EGPA)—or, as it was traditionally termed, Churg-Strauss syndrome—is a rare systemic necrotizing vasculitis that affects small-to-medium-sized vessels and is associated with severe asthma and blood and tissue eosinophilia. [1, 2] Like granulomatosis with polyangiitis (Wegener granulomatosis), and the microscopic form of periarteritis (ie, microscopic polyangiitis), EGPA is an antineutrophil cytoplasmic antibody (ANCA)–associated vasculitide. [3, 4, 5, 6]
In 1951, Churg and Strauss first described the syndrome in 13 patients who had asthma, eosinophilia, granulomatous inflammation, necrotizing systemic vasculitis, and necrotizing glomerulonephritis. [4] In 1990, the American College of Rheumatology (ACR) proposed the following six criteria for the diagnosis of Churg-Strauss syndrome [7] :
Asthma (wheezing, expiratory rhonchi)

Eosinophilia of more than 10% in peripheral blood

Paranasal sinusitis

Pulmonary infiltrates (may be transient)

Histological proof of vasculitis with extravascular eosinophils
The presence of four or more criteria yields a sensitivity of 85% and a specificity of 99.7%. The 1994 Chapel Hill consensus conference on the classification of vasculitides did not modify the ACR criteria. [8]
A 2017 study by the Groupe d'Etudes et de Recherche sur les Maladies Orphelines Pulmonaires—conducted in 157 patients with asthma, eosinophilia, and at least one systemic organ manifestation attributable to systemic disease—found that 41% of patients had definite vasculitis manifestations (37%) or strong surrogates of vasculitis (4%), of whom only 53% had ANCA. This group proposed a new entity termed hypereosinophilic asthma with systemic (non-vasculitic) manifestations. The image below depicts transient pulmonary infiltrates. [9]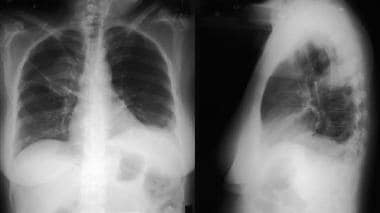 Transient pulmonary infiltrates in a patient with Churg-Strauss syndrome (CSS).
See Vasculitis: Case Presentations, a Critical Images slideshow, for more information on clinical, histologic and radiographic imaging findings in various forms of vasculitis.
Pathophysiology
EGPA is a granulomatous small-vessel vasculitis. The cause of this allergic angiitis and granulomatosis is unknown. [10] No data have been reported regarding the role of immune complexes or cell-mediated mechanisms in this disease, although autoimmunity is evident with the presence of hypergammaglobulinemia, increased levels of immunoglobulin E (IgE), rheumatoid factor, and ANCA.
An EGPA-like syndrome is a rare complication that develops in steroid-dependent patients with asthma who have their oral steroid dose reduced after they start treatment with a leukotriene receptor antagonist (eg, montelukast, zafirlukast). [11] It has also been reported in patients in whom withdrawal of oral steroids is facilitated by use of inhaled steroids.
This complication is probably related to steroid withdrawal, which unmasks underlying EGPA, [12, 13, 14] rather than to the drugs themselves. However, in rare cases, this syndrome has developed when a leukotriene receptor antagonist has been substituted for inhaled steroids ini patients without a history of oral steroid withdrawal. [15]
HLA-DRB4 positivity may be a genetic risk factor for the development of EGPA, and may increase the likelihood of vasculitic manifestations of the disease. [16]
Epidemiology
Frequency
The incidence of EGPA in the United States is 1-3 cases per 100,000 adults per year. [17] The international incidence of EGPA is approximately 2.5 cases per 100,000 adults per year.
Mortality/Morbidity
The principal causes of morbidity and mortality in EGPA are myocarditis and myocardial infarction secondary to coronary arteritis. [18] With treatment, the 1-year survival rate is 90% and the 5-year survival rate is 62%. [3, 19]
Sex- and Age-related Demographics
EGPA is slightly more common in males than in females. The age at onset varies from 15-70 years, with a mean age of approximately 38 years. EGPA in pediatric patients is well described, but mostly as case reports. [20] The mean age at diagnosis is around 50 years.
What would you like to print?