Workup
Approach Considerations
European guidelines from the EGPA Consensus Task Force recommend the following for the workup of eosinophilic granulomatosis with polyangiitis (EGPA; Churg-Strauss syndrome) [2] :
Serologic testing for toxocariasis and HIV

Specific IgE and IgG for Aspergillus species

Testing for Aspergillus spp. in sputum, bronchoalveolar lavage fluid, or both

Tryptase and vitamin B12 levels

Peripheral blood smear (looking for dysplastic eosinophils or blasts)

Antineutrophil cytoplasmic antibody (ANCA) with indirect immunofluorescence and enzyme-linked immunosorbent assay (ELISA)

Chest computed tomography (CT) scan
Additional investigations should be guided by patient-specific clinical findings and an extensive search for causes of hypereosinophilia. [2]
The EGPA Consensus Task Force encourages obtaining biopsies from patients with suspected EGPA. In the correct clinical context (asthma with eosinophilia or systemic manifestations, or even eosinophilia with extrapulmonary disease), a biopsy showing small- or medium-vessel vasculitis, a strong clinical surrogate of vasculitis, or both strongly supports a diagnosis of EGPA. [2]
Laboratory Studies
In patients with EGPA, the complete blood cell count (CBC) with differential typically demonstrates eosinophilia, usually with at least 10% eosinophils (or 5000-9000 eosinophils/µL), and anemia. The erythrocyte sedimentation rate (ESR) and C-reactive protein (CRP) level are usually elevated.
In patients with renal involvement, blood urea nitrogen (BUN) and serum creatinine levels are elevated. Urinalysis demonstrates abnormal urine sediment, proteinuria, microscopic hematuria, and red blood cell casts.
Antineutrophil cytoplasmic antibodies (ANCAs) are present in approximately 40% of patients with EGPA. Most of these patients are perinuclear-ANCA (p-ANCA)–positive (antimyeloperoxidase antibodies). [29]
Other immunologic test results are as follows:
Elevated serum IgE levels

Hypergammaglobulinemia

Positive results for rheumatoid factor at low titer

Elevated levels of eosinophil cationic protein (ECP), soluble interleukin-2 receptor (sIL-2R), and soluble thrombomodulin (sTM), which is a marker of endothelial cell damage; elevated ECP and sIL-2R levels indicate an immunoregulatory defect associated with vasculitis and eosinophilia
On bronchoalveolar lavage (BAL), eosinophilia is evident in 33% of cases.
The laboratory tests that might correlate with disease activity include ESR and peripheral blood eosinophilia. In some patients, ANCA titers are related to disease activity.
Imaging Studies
Imaging studies used in the workup of patients with EGPA include chest radiography and chest computed tomography (CT). Other imaging studies are indicated for the complications of the disease and specific organ-system involvement, including abdominal CT scanning for pancreatitis, coronary angiography for myocardial ischemia and infarction, and echocardiography for congestive heart failure (CHF).
Chest radiography findings are as follows [30, 31] :
Pulmonary opacities can be found in 26%-77% of cases of EGPA; films demonstrate no abnormalities in approximately 25% of patients

[31]

Localized parenchymal opacities usually are bilateral, peripheral, and patchy.

Cavitation is rare.

Pulmonary infiltrates may be transient; occasionally, infiltrates are similar to those observed in patients with chronic eosinophilic pneumonia, or they may be nodular (see the image below).

Extensive air-space opacities in the setting of a drop in hemoglobin levels suggest massive intra-alveolar hemorrhage as a result of pulmonary alveolar capillaritis; hemoptysis is present in only 45%-66% of cases.

Pleural effusions are observed in 5%-30% of cases and can be eosinophilic.

Hilar nodal enlargement has occasionally been reported.
In the limited number of reported cases of EGPA studied with CT scanning, findings included peripheral areas of parenchymal consolidation with ground-glass attenuation similar to that of chronic eosinophilic pneumonia. [32, 33] Much less commonly, parenchymal nodules (from 5 mm to 3.5 cm), with cavitation or air bronchograms, can be observed. Bronchial dilatation and bronchial wall thickening may also be visible.
High-resolution CT scanning of chest produces findings that include significant enlargement of peripheral pulmonary arteries with stellate and irregular configuration—a vasculitis pattern.
Diffuse subendocardial fibrosis or past myocarditis was seen on cardiovascular magnetic resonance imaging in both ANCA-positive and ANCA-negative patients with EGPA in a study that included 28 EGPA patients, but the incidence and amount of fibrosis was significantly higher in ANCA-negative patients. Acute cardiac lesions were observed in all ANCA-negative patients with active disease and acute cardiac symptoms but in only one asymptomatic ANCA-positive patient with active disease. During 2 years of follow-up, one third of the EGPA patients with diffuse subendocardial fibrosis developed deterioration in left ventricular dysfunction. [34]
Other Tests
The following studies are indicated for specific organ-system involvement:
Electrocardiogram (ECG) for cardiac manifestations

Gastrointestinal endoscopy for GI bleeding

Electromyelography (EMG) and nerve conduction studies for peripheral neuropathies
Histologic Findings
The characteristic pathologic changes in EGPA, found especially in the lung, [35, 36] include small necrotizing granulomas, as well as necrotizing vasculitis involving small arteries and venules. The granulomas are composed of a central eosinophilic core surrounded radially by macrophages and epithelioid giant cells. EGPA affects medium-sized and small vessels.
Glomerulonephritis is not as common or severe as in granulomatosis with polyangiitis (Wegener granulomatosis), but, when present, it is usually focal and segmental and indistinguishable from other forms of so-called pauci-immune (without significant tissue deposition of immune complexes) glomerulonephritis. [37, 38]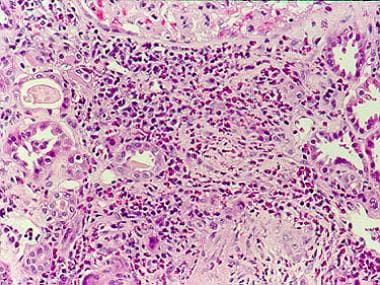 Eosinophilic granuloma in a patient with Churg-Strauss syndrome (CSS).
Biopsy
If local organ involvement exists, obtaining a biopsy of that organ is most helpful in confirming the diagnosis. Biopsies of the following may be considered:
Skin

Lung - Open or video-assisted thoracoscopic biopsy is preferred over transbronchial

Renal

Nerve

Muscle - Muscle biopsy has a sensitivity of about 67% in detecting systemic vasculitis

[39]
If no localizing finding exists, obtaining nerve or muscle biopsy may be considered. Sural nerve biopsy is the most feasible procedure. In the case of renal involvement, kidney biopsy results may show focal or crescentic glomerulonephritis; however, this pathological change is only consistent with, but not diagnostic of, EGPA.
What would you like to print?