Presentation
History
Patients with leukocytoclastic vasculitis (LCV) may experience itching, burning, or pain, or they may have asymptomatic lesions. See the image below.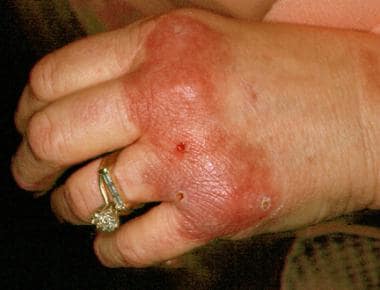 Erythema elevatum diutinum, a rare cutaneous vasculitis.
Leukoctyoclastic vasculitis may manifest as a cutaneous eruption only, or it may occur in conjunction with any of the following:
Collagen-vascular disorders

Paraproteinemia

Certain foods

Oral or parenteral medications

Infections

Malignancy
A thorough history with complete review of systems should be obtained, with specific evaluation for the following:
Preceding fever

Arthralgias

Arthritis

Myalgias

Abdominal pain

Diarrhea

Melena

Hematochezia

Cough

Hemoptysis

Sinusitis

Parasthesias

Weakness

Hematuria
Additional questions should be asked regarding new prescription, over-the-counter, and herbal medications, as well as dose changes in pre-existing medications. Consideration should also be given for an underlying disorder, such as collagen vascular disease, including rheumatoid arthritis, systemic and cutaneous lupus erythematosus, and Sjögren syndrome, hepatitis, inflammatory bowel disease, and history of blood transfusion. A thorough social history should be obtained regarding recent travel, new environmental exposures, and illicit drug use.
Physical
The most common manifestation of leukocytoclastic vasculitis (LCV) is palpable purpura, but other manifestations may develop. Features of palpable purpura in LCV are as follows:
Lesions are usually round and 1-3 mm

They may coalesce to form plaques; in some instances, they may form bullae and ulcerate

Palpable purpura is most common on dependent areas, such as the lower legs; areas of tight-fitting clothing; and areas of trauma (Koebner phenomenon

[17]

); however, any surface can be involved

In some cases, the purpuric lesions are barely palpable
Urticarial lesions may develop in some patients with LCV. In rare cases, this type of lesion predates the purpuric lesions.
The urticarial lesions associated with LCV differ from those of classic urticaria. The following three characteristics of these lesions, although not always present in every patient, are typical of urticarial vasculitis:
Longer duration (often >24 h)

Residual pigmentation or ecchymosis after resolution (see the image below)
To determine the duration of individual lesions, the examiner may encircle several lesions and ask the patient to periodically observe them and note when they resolve or move to another site.
Patients with hypocomplementemic urticarial vasculitis syndrome may develop arthritis, chronic obstructive pulmonary disease, uveitis, episcleritis, and glomerulonephritis. Consequently, careful examination of the joints, heart, lungs, eyes, and kidneys is warranted.
Other distinguishing features are as follows:
Livedo reticularis or racemosa are rarely manifestations of small-vessel vasculitis; these are more common in patients with occlusive or inflammatory disease of medium-sized vessels

Nodular lesions may develop in some patients with small-vessel vasculitis, although these are more common in patients with medium-vessel vasculitis

Ulceration is more common in vasculitis that affects larger vessels, but it may complicate intense LCV and is often referred to as bullous LCV

A careful physical examination is warranted in patients with vasculitis and should include specific observation of the cardiopulmonary, musculoskeletal, and gastrointestinal systems

Retiform purpura has been described by Piette and Stone and has been linked to immunoglobulin A (IgA)–associated disease [18]
Causes
Between one third and one half of LCV cases are idiopathic. The remainder have various identifiable causes, including drugs; infections; food or food additives; and collagen-vascular diseases, malignancies, and other diseases.
The most common drugs that cause LCV are antibiotics, particularly beta-lactam drugs, nonsteroidal anti-inflammatory drugs, and diuretics. However, almost all drugs are potential causes. Foreign proteins such as streptokinase, those found in vaccines, [19] and those used in monoclonal antibody therapy can be associated with a serum sickness syndrome with LCV.
LCV has been reported in users of cocaine adulterated with levamisole, a veterinary anthelminthic drug that was withdrawn from human use because of adverse effects including vasculitis but is found in as much as 70% of cocaine in the United States. [20] Although most cases of levamisole-induced LCV are associated with high titers of antineutrophil cytoplasmic antibodies (ANCA), ANCA-negative vasculitis also occurs in levamisole-adulterated cocaine. [21]
Infections that may be associated with vasculitis include the following:
Upper respiratory tract infections, particularly with beta-hemolytic streptococci, and viral hepatitis are implicated most often

HIV infection is also associated with some cases of LCV; in addtion, LCV has been posited as an immune reconstitution inflammatory syndrome (IRIS) related to antiretroviral treatment for HIV infection [22]

Hepatitis C is a commonly recognized cause of LCV, likely through the presence of cryoglobulins. [23]
When LCV develops in a patient who has received pharmacologic treatment for an infection (eg, antibiotics for an upper respiratory tract infection), determining whether the infection or the drug is responsible for the LCV may be impossible.
Collagen-vascular diseases account for 10-15% of LCV cases. In particular, rheumatoid arthritis, Sjögren syndrome, and systemic lupus erythematosus may have an associated vasculitis. In many cases, the presence of vasculitis denotes active disease.
Inflammatory bowel disease, ulcerative colitis, and Crohn disease [24] may be associated with LCV.
Leukocytoclastic vasculitis may be associated with underlying malignancy and may behave as a paraneoplastic syndrome. [25] Lymphoproliferative diseases, such as monoclonal gammopathy of undetermined significance, [26] multiple myeloma, and hairy cell leukemia, may be more common culprits. However, any type of tumor at any site may be related to LCV.
A study analyzing 421 adult cases of LCV found that 16 patients (3.8%) had an underlying malignancy, including nine hematologic malignancies and seven solid-organ malignancies. The most common presenting sign was palpable purpura, which preceded the diagnosis of malignancy by an average of 17 days. Paraneoplastic LCV was found more commonly in older patients with constitutional symptoms and in those with anemia and immature cells on peripheral smears. [7]
Effective treatment of the malignancy has led to an apparent cure of the vasculitis in some patients.
Cutaneous vasculitis may be part of a larger-vessel vasculitis such as the following [27] :
What would you like to print?