Presentation
History
Patients with leukocytoclastic vasculitis (LCV) may experience itching, burning, or pain, or they may have asymptomatic lesions. See the image below.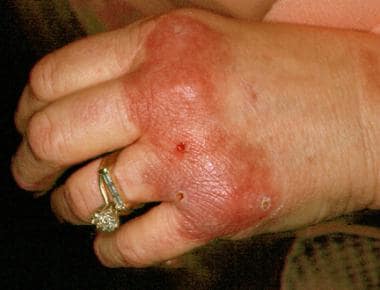 Erythema elevatum diutinum, a rare cutaneous vasculitis.
Leukoctyoclastic vasculitis may manifest as a cutaneous eruption only, or it may occur in conjunction with any of the following:
Collagen-vascular disorders

Paraproteinemia

Certain foods

Oral or parenteral medications

Infections

Malignancy
A thorough history with complete review of systems should be obtained, with specific evaluation for the following:
Preceding fever

Arthralgias

Arthritis

Myalgias

Abdominal pain

Diarrhea

Melena

Hematochezia

Cough

Hemoptysis

Sinusitis

Parasthesias

Weakness

Hematuria
Additional questions should be asked regarding new prescription, over-the-counter, and herbal medications, as well as dose changes in pre-existing medications. Consideration should also be given for an underlying disorder, such as collagen vascular disease, including rheumatoid arthritis, systemic and cutaneous lupus erythematosus, and Sjögren syndrome, hepatitis, inflammatory bowel disease, and history of blood transfusion. A thorough social history should be obtained regarding recent travel, new environmental exposures, and illicit drug use.
Physical
The most common manifestation of leukocytoclastic vasculitis (LCV) is palpable purpura, but other manifestations may develop. Features of palpable purpura in LCV are as follows:
Lesions are usually round and 1-3 mm

They may coalesce to form plaques; in some instances, they may form bullae and ulcerate

Palpable purpura is most common on dependent areas, such as the lower legs; areas of tight-fitting clothing; and areas of trauma (Koebner phenomenon

[30]

); however, any surface can be involved

In some cases, the purpuric lesions are barely palpable
Urticarial lesions may develop in some patients with LCV. In rare cases, this type of lesion predates the purpuric lesions.
The urticarial lesions associated with LCV differ from those of classic urticaria. The following three characteristics of these lesions, although not always present in every patient, are typical of urticarial vasculitis:
Longer duration (often >24 h)

Residual pigmentation or ecchymosis after resolution (see the image below)
To determine the duration of individual lesions, the examiner may encircle several lesions and ask the patient to periodically observe them and note when they resolve or move to another site.
Patients with hypocomplementemic urticarial vasculitis syndrome may develop arthritis, chronic obstructive pulmonary disease, uveitis, episcleritis, and glomerulonephritis. Consequently, careful examination of the joints, heart, lungs, eyes, and kidneys is warranted.
Other distinguishing features are as follows:
Livedo reticularis or racemosa are rarely manifestations of small-vessel vasculitis; these are more common in patients with occlusive or inflammatory disease of medium-sized vessels

Nodular lesions may develop in some patients with small-vessel vasculitis, although these are more common in patients with medium-vessel vasculitis

Ulceration is more common in vasculitis that affects larger vessels, but it may complicate intense LCV and is often referred to as bullous LCV

A careful physical examination is warranted in patients with vasculitis and should include specific observation of the cardiopulmonary, musculoskeletal, and gastrointestinal systems

Retiform purpura has been described by Piette and Stone and has been linked to immunoglobulin A (IgA)–associated disease [31]
What would you like to print?