Overview
Practice Essentials
Microscopic polyangiitis (MPA) is a vasculitis of small vessels. Patients frequently present with renal manifestations, but systemic manifestations, arthritis, mononeuritis multiplex, and other signs and symptoms are also common. [1] (See Presentation and Workup.)
Vasculitis in small vessels, including arterioles, capillaries, and venules, a characteristic of MPA, is absent in polyarteritis nodosa. This absence is the proposed distinguishing feature between those two disorders. Granulomatosis with polyangiitis (Wegener granulomatosis, GPA), MPA, and eosinophilic granulomatosis with polyangiitis (Churg-Strauss syndrome, EGPA) comprise a category of small vessel vasculitis related to antineutrophil cytoplasmic antibodies (ANCAs) and are characterized by a paucity of immune deposits.
MPA and GPA seem to be part of a clinical spectrum. However, an absence of granuloma formation and sparing of the upper respiratory tract are features of MPA. These features help to distinguish MPA from GPA, although the two conditions are occasionally difficult to distinguish.
The image below depicts pulmonary alveolar capillaritis.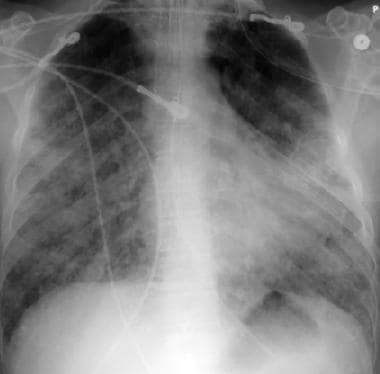 Pulmonary alveolar capillaritis.
Immunosuppressive medications are used to control MPA. The choice of agents depends in part on the extent of disease, the rate of progression, and the degree of inflammation. See Treatment and Medication.
See Vasculitis: Case Presentations, a Critical Images slideshow, for more information on clinical, histologic, and radiographic imaging findings in various forms of vasculitis.
Background
MPA was initially considered as a microscopic form of polyarteritis nodosa. In 1990, the American College of Rheumatology developed classification criteria for several types of systemic vasculitis but did not distinguish between polyarteritis nodosa and microscopic polyarteritis nodosa. [2]
In 1994, a group of experts held an international consensus conference in Chapel Hill, North Carolina, to attempt to redefine the classification of small-vessel vasculitides. [3, 4] A second International Chapel Hill Consensus Conference was held in 2012. [5] The conference recommended categorizing small-vessel vasculitis as follows:
ANCA-associated vasculitis (AAV) - MPA, GPA, EGPA

Immune complex–associated small-vessel vasculitis - Anti-glomerular basement membrane (anti-GBM) disease, cryoglobulinemic vasculitis, IgA vasculitis (Henoch-Schönlein), hypocomplementemic urticarial vasculitis (anti-C1q vasculitis)
In addition, the conference recommended adding the following categories of vasculitis:
Variable vessel vasculitis - Behcet disease, Cogan syndrome

Single-organ vasculitis (eg, cutaneous leukocytoclastic angiitis, isolated aortitis)

Vasculitis associated with systemic disease (eg, lupus, rheumatoid arthritis, sarcoid)

Vasculitis associated with probable etiology (eg, hepatitis, drugs, cancer)
Pathophysiology
Vasculitis is inflammation of the vessel walls. This may lead to necrosis and bleeding. MPA is characterized by pauci-immune, necrotizing, small vessel vasculitis without clinical or pathological evidence of granulomatous inflammation.
Etiology
Based on current understanding of the inflammatory response, cytokine-mediated changes in the expression and function of adhesion molecules coupled with inappropriate activation of leukocytes and endothelial cells are postulated to be the primary factors influencing the degree and location of vessel damage in the vasculitis syndromes. However, the stimuli that initiate these pathologic inflammatory changes are not well understood.
ANCA may play a role in the pathogenesis of MPA.
Case reports have described an association of MPA with medications such as propylthiouracil and with diseases such as primary biliary cirrhosis. [6, 7]
Epidemiology
In the United States, the annual incidence of MPA is 3.6 cases per million persons. The prevalence is one to three cases per 100,000 population.
Internationally, the incidence is approximately two cases per 100,000 persons in the United Kingdom and approximately one case per 100,000 persons in Sweden.
Race-, Sex-, and Age-related Demographics
Demographic features of MPA in the United States are as follows:
MPA is more frequent in white persons than black persons

Males are affected slightly more frequently than females

The median age of onset is approximately 50 years
Prognosis
With treatment, 90% of patients with MPA improve and 75% achieve complete remission. The 5-year survival rate is approximately 75%. MPA carries a worse long-term survival rate than granulomatosis with polyangiitis or Churg-Strauss syndrome, probably because of renal involvement at disease onset.
Of patients with MPA, 30% relapse in 1-2 years. Oh et al reported that neither myeloperoxidase (MPO)-ANCA nor proteinase 3 (PR3)-ANCA positivity at diagnosis affected prognosis. However, risk of relapse was significantly higher in patients with chest and renal manifestations, Birmingham vasculitis activity score ≥13.5, or five factor score ≥1. [8]
Long-term damage in a study of 296 patients with MPA or granulomatosis with polyangiitis, as measured with the Vasculitis Damage Index (VDI), was associated with the severity of initial disease, older age, the number of relapses, and duration of glucocorticoid treatment. Patients were followed for 7 years post-diagnosis. Mean duration of glucocorticoid treatment was 40.4 months. [9]
In another study of 151 patients with ANCA-associated vasculitis, patients presenting with pulmonary involvement at baseline had higher damage and disease activity scores at 6, 12 and 24 months follow-up. Patients presenting with lung involvement had an increased risk of developing cardiovascular and renal involvement and were more likely to develop pulmonary fibrosis. [10]
What would you like to print?