Workup
Laboratory Studies
The complete blood cell count (CBC) in patients with microscopic polyangiitis (MPA) demonstrates leukocytosis and a normocytic anemia. The erythrocyte sedimentation rate (ESR) is elevated.
Kidney function test results are as follows:
Elevated blood urea nitrogen (BUN) and serum creatinine levels (70%)

Abnormal urine sediment

Proteinuria (80%)

Hematuria (67%)

Leukocyturia (44%)

Erythrocyte casts
Antineutrophil cytoplasmic antibody (ANCA) test results are as follows:
ANCA positive (80%)

Perinuclear ANCA related to myeloperoxidase ANCA (60%)

Cytoplasmic ANCA related to proteinase-3 ANCA (40%)
Blood cultures may be performed to rule out bacterial endocarditis. On complement testing, C3 and C4 levels are normal.
Imaging Studies
Chest radiograph findings are as follows:
Bilateral irregular, nodular, and patchy opacities

Pulmonary cavitary lesions (less frequently than in granulomatosis with polyangiitis [Wegener granulomatosis])

Diffuse parenchymal infiltrates secondary to pulmonary alveolar capillaritis and hemorrhage (see image below)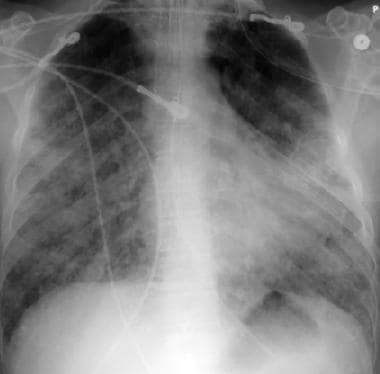 Pulmonary alveolar capillaritis.
Other imaging studies may be indicated for the complications of the disease and specific organ system involvement. For example, abdominal computed tomography may be indicated for suspected pancreatitis, or mesenteric angiography to differentiate MPA from polyarteritis nodosa.
Other Tests
Other tests may be ordered according to the specific organ system involved, as follows:
Electrocardiography (ECG) - For possible myocardial infarction, pericarditis, or heart failure

Gastrointestinal endoscopy - In cases of gastrointestinal bleeding

Electromyography (EMG) - In patients with clinical evidence of neuropathy
Procedures
Biopsy
The following biopsies may be useful:
Skin biopsy if skin is involved

Open lung biopsy

Renal biopsy to help diagnose crescentic glomerulonephritis

Sural nerve biopsy if EMG results are consistent with sural nerve involvement
The results of a retrospective study suggest muscle biopsy may be helpful for the diagnosis of systemic vasculitides even in the absence of myalgias or creatine phosphokinase (CPK) elevation. [22]
Histologic Findings
Pathologically, microscopic polyangiitis (MPA) may cause necrotizing arteritis that is histologically identical to that caused by polyarteritis nodosa.
According to the Chapel Hill consensus conference on the classification of small vessel vasculitis, polyarteritis nodosa and MPA are distinguished pathologically by the absence of vasculitis in vessels other than arteries in patients with polyarteritis nodosa and the presence of vasculitis in vessels smaller than arteries, such as arterioles, venules, and capillaries, in patients with MPA.
Because of sparing of muscular and larger vessels in MPA, macroscopic infarcts similar to those seen in polyarteritis nodosa are uncommon. Histologically, segmental fibrinoid necrosis of the media may be present, but in some, the change is limited to infiltration with neutrophils, which become fragmented as they follow the vessel wall (leukocytoclasia). The term leukocytoclastic angiitis is given to such lesions, most commonly found in postcapillary venules.
Immunoglobulins and complement components may be present in the vascular lesions of the skin. The paucity of immunoglobulin is demonstrable using immunofluorescence microscopy (ie, pauci-immune injury).
The glomerulonephritis in MPA is characterized by focal necrosis, crescent formation, and the absence or paucity of immunoglobulin deposits. Pulmonary manifestation is in the form of pulmonary alveolar capillaritis. Biopsy of the muscle and sural nerve may reveal necrotizing vasculitis in small and medium vessels.
What would you like to print?