Workup
Approach Considerations
Measurement of serum alkaline phosphatase—in some cases, bone-specific alkaline phosphatase (BSAP)—can be useful in the diagnosis of Paget disease. Elevated levels of urinary markers, including hydroxyproline, deoxypyridinoline, C-telopeptide, [5] and N -telopeptide, may help identify patients with Paget disease.
Procollagen I N -terminal peptide (PINP) has emerged as a sensitive serum marker for bone formation. Serum osteocalcin, which is produced specifically by osteoblasts, does not reflect disease activity.
Serum calcium and phosphate levels should be within the reference range in patients with Paget disease. Urinary excretion of calcium also should be normal. However, hypercalcemia or hypercalciuria may develop with immobilization or coincident primary hyperparathyroidism.
Hyperuricemia from Paget disease is more common in men than women and appears to be caused by the increased turnover of nucleic acids from high bone turnover. Elevated serum uric acid levels have been found in men with severe Paget disease and have been associated with gouty arthritis. Paget disease was found in 23% of a group of patients with gout. [28]
Serum total acid phosphatase is an osteoclastic enzyme that may be elevated in active Paget disease. In males, however, the clinical value of this finding is compromised, as acid phosphatase levels also may be elevated in the presence of metastatic prostate carcinoma.
Secondary hyperparathyroidism may occur in 10-15% of patients with Paget disease. This development may be due to inadequate calcium intake in the face of increased demand from extensive bone remodeling. An increased incidence of primary hyperparathyroidism does not seem to exist among patients with Paget disease.
Plain radiographs and bone scanning should be performed upon initial diagnosis. Radiography is typically used for diagnostic purposes. Repeated radiography may be helpful in monitoring an osteoarthritis program or in evaluating for malignant degeneration. In the appropriate clinical setting, radiography may also be indicated to evaluate for fracture.
Plain radiographs are less sensitive than bone scan scintigraphy in the diagnosis of Paget disease. An entire skeletal survey with plain radiographs to assess the extent of skeletal involvement is not recommended when bone scanning would be more sensitive and involve less radiation exposure.
Computed tomography (CT) scanning and magnetic resonance imaging (MRI) are not needed for the diagnosis of Paget disease of bone. However, both are useful in the evaluation of complications of Paget disease, such as neoplastic degeneration, articular abnormalities, and spinal involvement with neurologic compromise. (See Paget Disease Imaging.) Bone biopsies may be indicated to evaluate for malignant transformation.
Alkaline Phosphatase
Because of increased osteoblastic activity and bone formation, bone-specific alkaline phosphatase (BSAP) levels are elevated. Measuring total alkaline phosphatase levels may be useful in patients with normal liver function. However, BSAP is more specific than total alkaline phosphatase for Paget disease.
A strong relationship exists between the extent of disease activity measured by scintigraphy and the degree of the elevation of alkaline phosphatase in persons with untreated Paget disease.
In patients with monostotic disease or local disease, the total alkaline phosphatase level may be normal. Consequently, a normal alkaline phosphatase level does not exclude the disorder. In this scenario, a BSAP level should be ordered. In patients with abnormal liver function or other causes of elevated alkaline phosphatase activity not due to bone, BSAP is a reasonable means of assessing Paget disease activity.
BSAP had the highest diagnostic sensitivity (84%) in a comparative study of different markers of bone turnover in patients with Paget disease. The next most sensitive marker was total alkaline phosphatase, which had a sensitivity of 74%. [29]
Urinary Markers
Urinary hydroxyproline levels are elevated in Paget disease, as a reflection of increased osteoclastic activity and bone resorption. Hydroxyproline is a product of collagen breakdown. Approximately 20-30% of total hydroxyproline levels are from bone resorption.
Measurement of total urinary hydroxyproline previously was the criterion standard as a marker for bone resorption, hydroxyproline levels having been demonstrated to correlate with the extent and activity of disease. However, the hydroxyproline assay is difficult to perform and is not widely available.
Dietary sources of collagen may increase hydroxyproline excretion in 24-hour urine collections; therefore, an overnight fast often is necessary before testing. Patients with skin disease also may have elevated hydroxyproline levels, since the skin is a major site of collagen synthesis.
Measurement of the urinary excretion of bone-specific pyridinium collagen cross-links has been found to be a sensitive and specific index of bone resorption. Additionally, levels of excreted bone-specific pyridinium collagen cross-links may be better indicators of bone resorption and response to treatment than the hydroxyproline assay. The urinary pyridinoline collagen cross-link assay may replace assessment of hydroxyproline levels as the test of choice.
Urinary N -telopeptide (NTx) and alpha-C telopeptide (CTx) have emerged as sensitive biochemical markers for bone resorption. An abnormally high alpha-CTx/beta-CTx ratio is present in patients with active Paget disease. This ratio returns to the reference range following treatment with bisphosphonates. [30]
Radiographs
The radiographic appearance of pagetic bone reflects the underlying process. Lytic lesions may be the only finding early in the disease. As the disease progresses, radiographs may demonstrate both osteolysis and excessive bone formation. (See the images below.)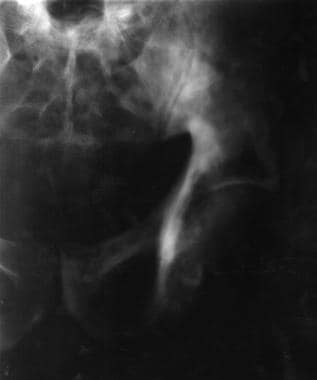 Radiograph showing a 44-year-old African American man with characteristic changes of Paget disease in the left hemipelvis.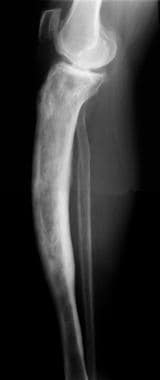 Radiograph showing a 72-year-old white woman with Paget disease of the lower leg and typical bowing.
The initial pathologic lesion, which is osteolysis, appears as a radiolucency on the radiograph and is particularly evident in the frontal and occipital bones of the skull, where it is termed osteoporosis circumscripta. The body's previous attempts to repair these areas are seen as areas of increased density or as coarsened trabecula. In some areas, an overt sclerotic appearance may be seen.
Osteolysis of the tubular bones usually occurs subchondrally in the epiphysis, with extension into the metaphysis and diaphysis. Advancing osteolysis may appear as a V- or wedge-shaped radiolucent area that may resemble a blade of grass or flame. The remaining trabeculae may be obliterated and a hazy ground-glass or washed-out pattern observed. Focal radiodensities have a cotton-wool appearance. Areas of lysis and radiodensities may be separate or superimposed. In the pelvis, Paget disease may produce the "brim sign," which is the thickened iliopectineal line.
Paget disease of the spine typically affects the vertebral bodies and posterior elements. The enlarged coarse trabeculae combined with the prominent radiodense peripheral contour of the vertebral body gives the appearance of a picture frame that is diagnostic of Paget disease. A homogeneous increase in osseous density in the vertebral body gives the manifestation of an ivory vertebra. Skeletal metastasis and lymphoma also may produce ivory vertebrae.
Furthermore, altered vertebral body shape is common as a result of structurally weak pagetic bone. Biconcave-shaped vertebral bodies, also called fish vertebrae, may be seen in osteomalacia, hyperparathyroidism, and osteoporosis. The biconcave shape is caused by intervertebral disc compression of the weakened vertebrae.
Intervertebral disc space narrowing may occur from secondary degenerative disc and joint disease. Vertebral body ankylosis may be seen. Loss of vertebral height is observed commonly as a result of bone remodeling and compression fractures. Posterior element involvement may manifest as increased pedicular radiodensities that also are seen in osteoblastic metastasis.
Later in the disease, evidence of lysis may be absent because only sclerotic thickened bones may remain. The osteosclerosis is most notable in the axial skeleton and pelvis. An enlarged bone with increased radiodensity and trabeculations is characteristic; as seen in advanced disease, burnt out bones are widened and heterogeneously ossified. [31] Radiographic evidence of remineralization may occur after initiation of appropriate treatment, such as with the bisphosphonates.
Bone Scans
Radionuclide bone scans have several uses in Paget disease. Initially, scans are helpful for documenting the extent of the disease. Serial bone scans may provide objective evidence of the effect of therapeutic agents. If a patient experiences increases in pain, elevation in BSAP levels, or pathologic fractures, further studies are important to help exclude neoplasms, including sarcomas and giant cell tumors.
Bone scanning is the most sensitive test for evaluating the extent of lesions in the whole skeleton affected by Paget disease. Bone scintigraphic abnormalities are observed earlier than radiographic changes during the active stage of Paget disease. However, bone scanning is less specific than plain radiography, and changes detected by scintigraphy may need to be confirmed by a plain radiograph of at least one site.
With bone scanning, the percentage of isotope retention after 24 hours may provide an index of total pagetic nuclear imaging. The concentration of scintigraphic uptake in a pagetic lesion may correlate with the grade of radiologic deformation and the frequency of pain. Total skeletal uptake may correlate with levels of serum alkaline phosphatase and urinary hydroxyproline; however, bone scans are sensitive but not specific. Quantitative bone scintigraphy is useful for assessing a monostotic lesion with a normal alkaline phosphatase.
During the aggressive osteoclastic resorptive phase, bone scanning may underestimate disease activity, as in multiple myeloma. In the quiescent osteosclerotic stage, pagetic lesions may be detected radiographically but not scintigraphically.
CT and MRI
Articular abnormalities require CT scanning or MRI to delineate the extent of involvement. CT scanning and MRI are useful to diagnose and evaluate neurologic complications, such as basilar invagination, spinal cord compression, or hydrocephalus. Spinal stenosis and vertebral involvement are assessed best with CT scanning or MRI.
CT scanning provides better visualization of bone and the posterior fossa, while MRI gives superior detailing of the brain, spinal cord, cauda equina, and soft tissue. Thus, neoplastic entities, such as pagetic sarcomas, and their extent of involvement are evaluated better with MRI.
Histologic Findings
The major histologic feature of Paget disease is abnormal bony architecture. The 3 distinct phases in Paget disease (osteolytic, mixed, and osteosclerotic) may exist separately or in the same bone at one time.
The initial osteolytic phase is marked by disordered areas of resorption produced by an increased number of overly large osteoclasts. These abnormal osteoclasts may contain as many as 100 nuclei. The subsequent osteoblastic phase follows, with haphazard laying of new bone matrix and formation of woven bone. Repeated episodes of bone removal and formation result in the appearance of many small, irregularly shaped bone fragments that appear to be joined in a jigsaw or mosaic pattern. This pattern is the histologic hallmark of Paget disease. [32]
As the disease progresses, the osteoblastic phase predominates, and excessive abnormal bone formation occurs, resulting in more compact and dense bone. The pagetic bone is coarse and fibrous, with avidity for calcium and phosphorus.
Marrow spaces fill with loose, highly vascularized connective tissue. The hypervascular bone, combined with cutaneous vasodilation, causes an increase in the regional blood flow and accounts for the rise in skin temperature seen clinically. The hypervascularity consists of an increased number of patent capillaries and dilated arterioles, as well as of larger venous sinuses.
The normal trabecular appearance is distorted, with a mosaic pattern of irregular cement lines joining areas of lamellar bone. Pagetic bone shows no tendency to form haversian systems or to center on blood vessels; the bones are very hard and dense. Eventually, the osteoblastic activity diminishes, and an osteosclerotic or burned-out phase predominates. The new bone is disordered, is poorly mineralized, and lacks structural integrity.
What would you like to print?