Workup
Approach Considerations
Early evaluation for prevention and treatment of joint and muscle contractures and deformities is important.
In retroperitoneal fibrosis, laboratory abnormalities are nonspecific, including an elevated erythrocyte sedimentation rate. The diagnosis is often suggested by findings on intravenous pyelography. Ultrasonography, CT scanning, and MRI are useful, showing a fibrotic paraaortic mass. Gallium scintigraphy may help assess activity of inflammation. Multiple deep biopsies may be required to distinguish this condition from malignancy.
Laboratory Studies
Currently, no reliable laboratory markers are available for assessing disease activity. Antinuclear antibodies can be detected in 46-80% of patients with morphea. The most common pattern is homogeneous, but this is nonspecific.
The erythrocyte sedimentation rate may be increased in eosinophilic fasciitis, in some forms of linear and localized morphea, and in mediastinal and retroperitoneal fibrosis.
A polyclonal gammopathy may occur in patients with morphea or eosinophilic fasciitis.
Imaging Studies
Computed tomographic scanning and magnetic resonance imaging of the chest and abdomen are helpful in evaluating patients with mediastinal and retroperitoneal fibrosis, respectively. See the image below.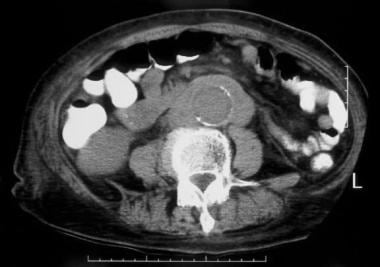 CT scan of the abdomen showing the typical paraaortic mass of retroperitoneal fibrosis.
Procedures
A biopsy of the lesion is considered the criterion standard. For plaque, generalized, and bullous morphea, a deep punch biopsy is often sufficient. For linear and deep forms of morphea, an excisional biopsy of the skin including the dermis, panniculus, and fascia is preferred. Biopsies of fibrotic lesions of the mediastinum and retroperitoneum are useful in establishing a diagnosis in regional fibrosing disorders and for ruling out infection or malignancy.
Histologic Findings
Dermal fibrosis characterizes the cutaneous lesions of both local and systemic forms of scleroderma. The lesion seen in localized sclerosing conditions is characterized by infiltration of lymphocytes, mast cells, plasma cells, and eosinophils with excess collagen deposition extending into the dermis, the subcutaneous fat, and, in some forms, deeper structures.
The focus of morphea seems to be collagen fibers, which become altered with thickening and hyalinization. The histology of mediastinal and retroperitoneal fibrosis consists of foci of chronic inflammatory infiltrates at the periphery of the lesion with lymphocytes and macrophages and a central region of fibrosis.
Histopathology of progressive hemifacial atrophy (PHA) shows homogenized dermal sclerosis, fat atrophy, decrease in adnexal structures, and perivascular plasma cells and lymphocytes. [4]
What would you like to print?