Workup
Laboratory Studies
Laboratory studies used in the workup for mixed connective-tissue disorder (MCTD) are as follows:
Complete blood cell count (CBC)

Urinalysis

Routine blood chemistry

Indicators of acute phase response (erythrocyte sedimentation rate [ESR] or C-reactive protein [CRP])

Muscle enzymes if myositis is suspected clinically

Antinuclear antibodies

Anti–U1-ribonucleoprotein (RNP) antibodies

Amylase and lipase - To assess for pancreatitis if clinically indicated

Serologic indicators of pulmonary hypertension (such as brain natriuretic peptide [BNP]) if clinically indicated
Antibody study results
High-titer speckled pattern fluorescent antinuclear antibody (FANA) is typical of MCTD. However, the presence of FANA is not specific to MCTD.
Anti-RNP antibodies are required for diagnosis of MCTD. Titers are typically high. The presence of anti–U1-70 kd is characteristic of MCTD.
MCTD can enter sustained remission later in the clinical course. Anti-RNP autoantibodies typically become undetectable in patients in remission.
Other immune studies
Further results are as follows:
Antiphospholipid antibodies (including anticardiolipin antibodies and lupus anticoagulant) may be associated with pulmonary hypertension

Rheumatoid factor is frequently detected

Other lupus-specific antibodies (eg, anti–double-stranded DNA antibodies) are typically absent

Scleroderma-specific antibodies, including anticentromere, anti–Scl-70 (topoisomerase), and anti–PM-1 (Pm-Scl), are typically absent

C3 and C4 complement levels are more likely to be depleted in lupus than in MCTD
Imaging Studies
Imaging studies used in the workup of patients with MCTD include the following:
Chest radiography - To assess for infiltrates, effusion, or cardiomegaly (see the image below)

Echocardiography - In patients with effusion or chest pain, used to evaluate for pulmonary hypertension or valvular disease (exercise echocardiography may have increased sensitivity for identifying pulmonary hypertension) [32]

Ultrasonography/CT scanning - Used to evaluate abdominal pain (indicated for evidence of serositis, pancreatitis, or visceral perforation related to vasculitis)

MRI - Used to assess neuropsychiatric signs or symptoms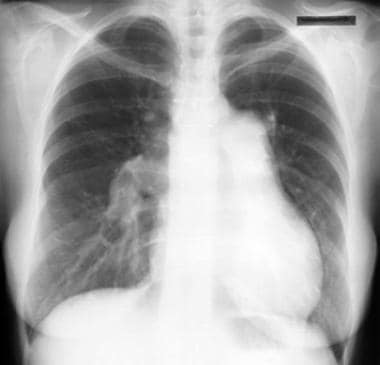 Chest radiograph in a patient with pulmonary hypertension reveals enlarged pulmonary arteries.
Other Tests
See the list below:
Pulmonary function testing - To screen for declining diffusing capacity of lung for carbon monoxide (DLCO), possibly indicating pulmonary hypertension, [33] or to assess lung volumes and forced vital capacity to screen for suspicion/progression of interstitial lung disease

Electrocardiogram and/or cardiac enzymes - To assess for myocardial ischemia and myocarditis

Cerebral spinal fluid (CFS) analysis - To monitor for infection, stroke, or neuropsychiatric manifestations

Six-minute walk - To assess for cardiopulmonary insufficiency, possibly indicating pulmonary hypertension [34]

Right-sided heart catheterization is the criterion standard for confirming the diagnosis of pulmonary hypertension
What would you like to print?