Workup
Approach Considerations
The following laboratory findings may be present in polymyositis:
Complete blood count (CBC) - May show leukocytosis or thrombocytosis; leukocytosis is present in more than 50% of patients

Erythrocyte sedimentation rate or C-reactive protein level - Elevated in 50% of patients with polymyositis

Elevated muscle enzyme levels - creatinine phosphokinase (CPK), aldolase

Myoglobinuria

Autoantibodies

Positive rheumatoid factor - Found in more than 50% of patients
Perform age-appropriate evaluation for malignancy. Testing for associated malignancy is based on age and sex and can be performed using imaging techniques such as the following [25] :
Chest radiography

Computed tomography (CT)

Mammography

Pelvic ultrasonography

Upper and lower gastrointestinal endoscopy

Magnetic resonance imaging (MRI)
Depending on the clinical presentation, other studies that may be appropriate include the following:
Pulmonary function tests and diffusion capacity for evaluation of interstitial lung disease

Electrocardiogram/echocardiogram

Swallowing study
Muscle enzyme levels
Serum creatine kinase (CK) levels are usually elevated in persons with polymyositis, ranging from 5-50 times the reference range. A level greater than 100 times the reference level is rare.
Serum CK levels, along with careful physical examination, may be used to monitor myositis activity. However, serum CK levels may be within reference ranges despite increased disease activity (eg, in cases of chronic and late-stage polymyositis). CK levels are usually minimally elevated or within the reference range in patients with inclusion body myositis. CK levels are within the reference range in patients with corticosteroid-induced myopathy.
Other muscle enzyme levels that may be elevated include the following:
Lactate dehydrogenase

Aspartate aminotransferase

Alanine aminotransferase

Aldolase
Antibody findings
Antinuclear antibody assays are positive in one third of patients with polymyositis and in only 15% of patients with inclusion body myositis. In patients with overlap syndromes, other disease-specific antibodies may be present, such as those of Sjögren syndrome, systemic lupus erythematosus, or systemic sclerosis (eg, SSA, SSB, dsDNA, anti Sm/RNP, Scl ).
Myositis-specific antibodies include the following [26] :
Antisynthetase antibodies (such as anti-Jo-1 antibodies) - Associated with certain clinical features; antisynthetase syndrome may manifest as idiopathic inflammatory myopathy, interstitial lung disease, arthritis, Raynaud phenomenon, fever, and/or mechanic's hands

Signal-recognition particle (SRP) antibodies - Approximately 5% of patients with polymyositis have antibodies to signal recognition particles (SRPs), which are associated with acute onset of severe weakness, increased incidence of cardiac involvement, and higher mortality rates.

Anti-HMGCR autoantibodies in statin-induced auto immune myopathy [27]

Other myositis-specific autoantibodies (MSA) include Mi-2 ,TIF1-γ, anti-p155/p140, anti-CADM-140, NXP2, and SAE, among others [28]
Imaging Studies
Muscle-imaging techniques such as magnetic resonance imaging (MRI) and ultrasonography may be useful to document and localize the extent of muscle involvement. MRI scans show signal intensity abnormalities of muscle due to inflammation, edema, or scarring (see the image below) .Whole-body MRI can also identify associated extramuscular diseases, such as interstitial lung disease and systemic malignancy. [29]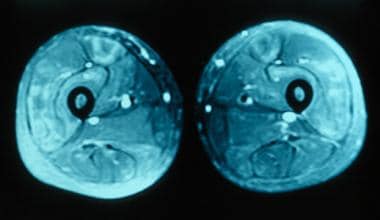 Polymyositis. MRI of thighs showing increased signal in the quadriceps muscles bilaterally consistent with inflammatory myositis.
MRI scans may also be used to guide muscle biopsy and to monitor disease activity. [30] However, many clinicians choose the biopsy site on the basis of findings at electromyography and clinical examination and believe that MRI is not required. Barium swallow studies are helpful for evaluation of dysphagia or dysphonia.
Chest radiography and high-resolution CT scanning of the chest are helpful for the evaluation of interstitial lung disease. CT scanning of the chest, abdomen, and pelvis is considered for screening of associated malignancy. Chest radiography may also reveal evidence of associated malignancy.
Other studies to consider in screening for associated malignancy are as follows:
Mammography

Pelvic ultrasonography

Upper and lower gastrointestinal endoscopy
Electromyography
Electromyographic findings are abnormal in almost all patients (90%) with polymyositis. Various abnormalities consistent with polymyositis may be found, depending on the stage of disease. In patients with inclusion body myositis, the following myopathic and neuropathic changes may be present:
Evidence of membrane irritability, increased insertional activity, fibrillation potentials, positive sharp waves at rest

Myopathic changes of motor unit action potential; decreased amplitude and duration; increased polyphasic potentials; bizarre, high-frequency, repetitive discharges

Chronic changes, evidence of denervation-reinnervation
Biopsy
Muscle biopsy (eg, deltoid or quadriceps femoris) is crucial in helping to diagnose polymyositis and in excluding other rare muscle diseases. [31] MRI and EMG can be used to guide the site of biopsy. Avoid biopsy of sites recently studied with EMG by using the contralateral side.
Inflammatory changes are seen on muscle biopsy. Findings occasionally may be normal because of patchy involvement. (See the images below.)
Macrophage-predominant myocyte destruction, with few to no lymphocytes, is the histopathologic hallmark of necrotizing autoimmune myopathy (NAM), a recently recognized entity within the spectrum of idiopathic inflammatory myopathies. Patients typically have a history of malignancy or statin use and present with proximal muscle weakness and markedly elevated creatine kinase levels.
Histologic Findings
Muscle biopsy shows muscle fibers in varying stages of inflammation, necrosis, and regeneration. Findings include focal endomysial infiltration by mononuclear cells (consisting of mostly CD8+ T lymphocytes and macrophages), capillary obliteration, endothelial cell damage, and increased amounts of connective tissue. Later in the course of polymyositis, muscle-cell degeneration, fibrosis, and regeneration may be observed. (See the images below.)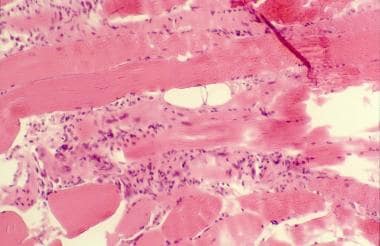 Polymyositis. Histopathology slide shows endomysial mononuclear inflammatory infiltrate and muscle fiber necrosis.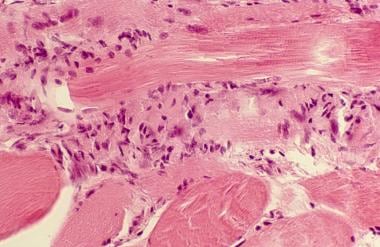 Polymyositis. Close view of muscle biopsy, showing chronic inflammatory infiltrate consisting of T lymphocytes, especially CD8+ T lymphocytes.
Because the inflammatory infiltrates can be small and multifocal, they can be missed in a small muscle-biopsy specimen. Perifascicular atrophy or prominent perivascular infiltrates are not present, and the blood vessels are normal. When the disease becomes chronic, the connective tissue increases. The diagnosis of polymyositis is definite when a patient has subacute elevated levels of serum CK and findings on muscle biopsy consistent with the histologic features of polymyositis.
Inclusion body myositis is histologically similar to polymyositis, with the additional presence of intracytoplasmic inclusion bodies observed on electron microscopy. Dermatomyositis shows inflammatory changes, predominantly in the perimysial and perivascular regions with CD4+ T and B lymphocytes (see the image below). Corticosteroid-induced myopathy causes no inflammatory changes. Type II fiber atrophy is the characteristic feature.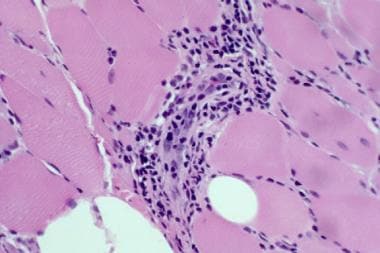 Polymyositis. Hematoxylin and eosin paraffin shows dermatomyositis. In dermatomyositis, inflammation is characteristically perivascular and perimysial. Vessel oriented approximately vertically in the center has a mild perivascular chronic inflammatory infiltrate. The endothelium is plump. The wall is not necrotic. A few lymphocytes in the wall of the vessel are probably in transit from the lumen to the external aspect of the vessel. Some observers may interpret this finding as vasculitis, but it is certainly neither necrotizing vasculitis nor arteritis. Image courtesy of Roberta J. Seidman, MD.
What would you like to print?