Overview
Overview
Capillary telangiectasias (CTSs) are small areas of abnormally dilated capillaries within otherwise normal brain tissue. Although CTSs most commonly occur in the pons, they have been described throughout the brain. McCormick et al described 30 CTSs in the posterior fossa, most of which involved the pons, and 22 in the supratentorial brain.11 CTSs can occur anywhere in the brain or spinal cord, however. (See the images below.) [1]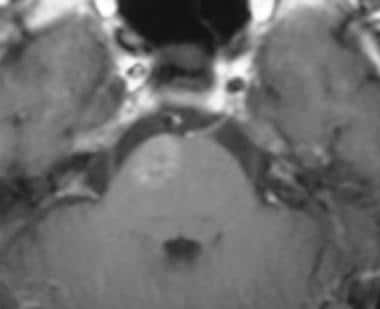 Axial contrast-enhanced T1-weighted MRI obtained through the pons demonstrates an area of mild enhancement without mass effect in a patient with a capillary telangiectasia.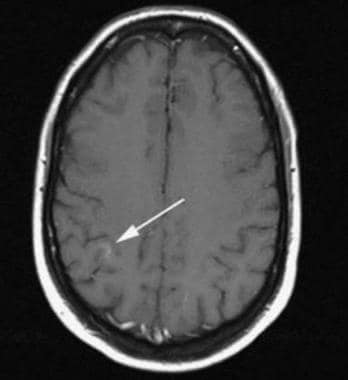 Axial contrast-enhanced T1-weighted MRI demonstrates a subtle area of enhancement in the right parietal subcortical white matter in a patient with capillary telangiectasia (arrow).
CTSs are formed by a network of aneurysmally dilated capillaries that are usually located in a section of normal brain tissue, although adjacent areas of gliosis and small amounts of hemorrhage have been described. The presence of normal brain tissue between the capillaries is a pathologic characteristic that distinguishes CTSs from cavernous angiomas, although they may resemble each other on imaging studies.
CTSs constitute one of the 4 types of vascular malformations of the brain, along with arteriovenous malformation, cavernous angioma, and venous angioma. CTSs are occasionally found in conjunction with these other vascular malformations. Typically, such cases involve CTSs and 1 other type of malformation, but the triad of CTSs, cavernous malformation, and developmental venous anomaly has been reported. [2, 3, 4, 5, 6, 7] (See the images below.)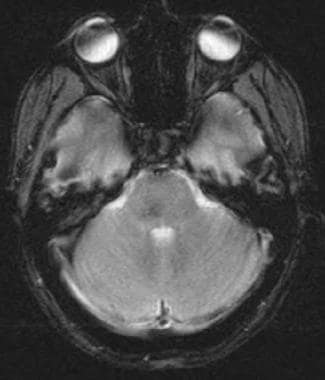 Axial fast low-angle shot MRI demonstrates decreased signal intensity associated with the brain capillary telangiectasia. This finding is characteristic of capillary telangiectasia, but it is also seen in developmental venous anomalies. The decreased signal intensity is not a result of hemorrhage, but rather, it is from the deoxyhemoglobin in the blood flowing in the malformations.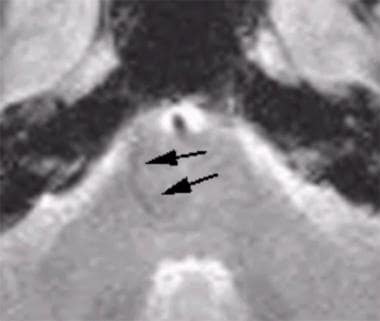 Axial fast low-angle shot gradient-recalled echo MRI obtained through the pons shows a linear area of decreased signal extending from the inferior edge of the malformation (arrows). This finding indicates that the lesion may be a combined capillary telangiectasia and developmental venous anomaly because it has characteristics of both.
Although the magnetic resonance imaging (MRI) appearance of CTSs is fairly specific, distinguishing them from cavernous angiomas without hemorrhage is often impossible. With both types of lesions, angiographic findings are typically negative. These features have led to the adoption of the term occult cerebrovascular malformations (OCVMs).
Most CTSs are clinically insignificant and are discovered as incidental findings on MRI. Rarely, however, CTSs are associated with hemorrhage. CTSs are estimated to account for 16-20% of all brain vascular malformations. From autopsy studies, the prevalence is estimated to be 0.4%, although many of these CTSs are not visible on imaging studies.
Preferred examination
Although CTSs are occasionally visible on computed tomography (CT) scans, the ideal modality for detecting and imaging the lesions is contrast-enhanced MRI, which should include a gradient-echo sequence (eg, fast low-angle shot, gradient-recalled echo [GRE]). [8, 9, 10]
Limitations of techniques
MRI with contrast medium and fast low-angle shot imaging is necessary to detect most CTSs. Despite the high sensitivity of current MRI, however, many CTSs are not detectable and are found only at autopsy.
Computed Tomography
Nonenhanced CT scanning studies typically do not depict CTS, and most lesions are not visible even after the administration of contrast medium. When visible, CTSs appear as a small area of subtle contrast enhancement. Rarely, a tiny calcification may be associated with the lesion.
Degree of confidence
Negative CT scan findings do not exclude CTS, because most lesions are occult. The appearance on contrast-enhanced CT scans is nonspecific.
Magnetic Resonance Imaging
MRI findings in CTS are variable, but contrast enhancement is required for diagnosis or even detection in almost all cases. Lee et al evaluated 18 patients and found enhancement in all patients, with little or no abnormal signal intensity on T2-weighted images [11] ; however, increased signal intensity may be seen occasionally. T1-weighted images may show isointensity. The enhancement pattern is described as lacelike and usually subtle. (See the images below.) [12, 13]
Occasionally, an associated prominent draining vein is present.
The use of susceptibility-weighted MRI to diagnosis pontine CTS has been reported. [14] The patient's lesion did not demonstrate signal loss on conventional gradient-echo MRI, but susceptibility-weighted MRI showed marked signal loss of the lesion.
Gradient-echo sequences can facilitate the detection and diagnosis of CTS. Barr et al [15] and Lee et al [11] describe susceptibility dephasing in all CTS lesions that are imaged by using GRE sequences. The exact reason why this susceptibility occurs is not clear, because hemosiderin and calcifications are not typically found on pathologic analysis. However, Lee and colleagues surmise that the hemoglobin within may be only partly converted to deoxyhemoglobin, because the blood is relatively stagnant due to capillary dilatation; therefore, it has only a mild paramagnetic effect. This theory explains the imaging differences between cavernous angiomas and CTSs.
Because cavernous angiomas demonstrate susceptibility dephasing on GRE images, as a result of the presence of hemosiderin and sometimes calcifications, they also have markedly decreased signal intensity on T2-weighted images. Conversely, T2-weighted images of CTSs typically show no abnormality, because the deoxyhemoglobin should not cause decreased signal intensity. [16, 17]
Degree of confidence
The finding of a small area of enhancement without an abnormality or mass effect on a T2-weighted image and the finding of susceptibility dephasing on GRE images is strongly suggestive of a CTS, particularly if the lesion is in the pons. If doubt exists, short-term follow-up studies can be performed to document stability of the lesion.
Although CTSs are usually not visible on T2-weighted and nonenhanced T1-weighted images, abnormalities on T2-weighted images can be associated with CTSs. However, the presence of such signal intensity should prompt consideration of alternative diagnoses. (See the images below.)
What would you like to print?