Overview
Overview
Dermoid tumors are not true neoplasms but are inclusion cysts composed of ectodermal elements. They are uncommon, usually benign lesions, accounting for approximately 0.3% of all brain tumors and occur 4-10 times less frequently than do epidermoid tumors. Dermoid tumors are often discussed with epidermoid tumors because of their similar appearance and developmental origin. [1, 2, 3] See the images below.
Preferred examination
Dermoid tumors are often first detected on computed tomography (CT) scans. Low attenuation values consistent with fat are suggestive of the diagnosis of dermoid tumor. Calcifications are frequent in dermoid tumors and are best seen through CT scanning. [4] Magnetic resonance imaging (MRI) is the preferred diagnostic procedure — not only because of its high spatial resolution but also because of its multiplanar format — for optimal depiction of the location of dermoid tumors and the involvement of adjacent structures. [4] The fat components that are characteristic of dermoid tumors are well demonstrated through MRI. Fat droplets located in the ventricles or subarachnoid spaces due to dermoid tumor rupture also are better appreciated with MRI than through other studies. [5, 6, 7, 8, 9, 10, 1, 11, 12, 2]
Radiography
Focal erosion of the calvarial bone may be present adjacent to a dermoid tumor of the scalp or orbit. In particular, epidermoid tumors of the skull can cause local bone expansion or erosion and round, intradiploic, lytic lesions with a thin, sclerotic margin. Deformity of the sella may occur from parasellar dermoid tumors. Spinal dermoid tumors can cause focal vertebral bone erosion, widening of the vertebral spinal canal, and flattening of the pedicles and laminae.
Large, calvarial dermoid tumors can be visualized on plain skull radiographs, but radiographs have low sensitivity in depicting intracranial dermoid tumors. CT scanning and MRI demonstrate the location and imaging features of intracranial lesions.
Computed Tomography
CT scanning is useful in the initial diagnosis of central nervous system (CNS) dermoid tumors if the typical findings are present. A dermoid tumor appears as a well-circumscribed, predominantly cystic mass on a CT scan (as seen in the images below), with decreased attenuation in the range of -20 to -40 Hounsfield units (HU) because of its fat content. The tumor may appear slightly heterogeneous due to additional ectodermal elements, including hair follicles, sebaceous glands, and sweat glands. Calcifications are frequent in the wall of the tumor. A fat-fluid level in the ventricles or fat droplets in the subarachnoid spaces due to dermoid tumor rupture adds additional confidence to the diagnosis. [5, 8, 9, 10] MRI may be performed to further localize the lesion and to identify any involvement of adjacent structures.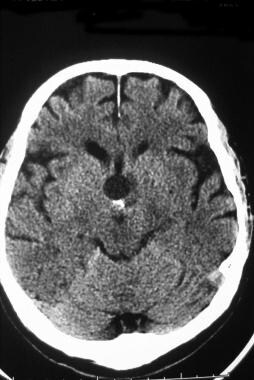 A nonenhanced computed tomography scan of the head from an elderly woman with chronic headaches. This image demonstrates a well-circumscribed, cystic, low-attenuating lesion located at the cranial midline in the suprasellar region, posterior to the third ventricle. A small focus of calcification is noted at the posterior margin of the tumor.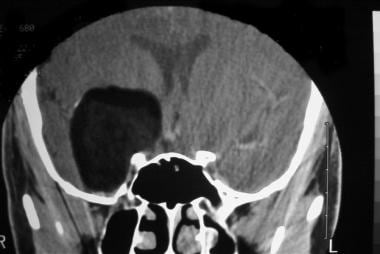 Coronal computed tomography scan of the paranasal sinuses from a 26-year-old man with sinusitis. A large, well-circumscribed, low-attenuating, cystic lesion is present in the right temporal lobe, lateral to the cranial midline. Note the peripheral, marginal calcification in the lesion. No erosion is seen in the adjacent bone of the sella.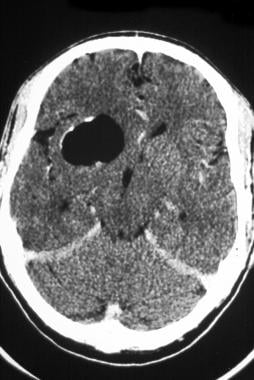 Contrast-enhanced axial computed tomography scan of the same lesion as in the above image shows partial marginal enhancement. The attenuation measurements in the center of the lesion are consistent with fat.
Contrast enhancement is uncommon, but some enhancement may be seen in the wall. If enhancement is present in a suprasellar tumor, other diagnoses should be considered, including craniopharyngioma, teratoma, or germinoma. [13, 14] Fat droplets in the ventricular or subarachnoid spaces strongly suggest rupture of a dermoid tumor.
Dermoid tumors located in the fourth ventricle do not often cause obstructive hydrocephalus. The differential diagnosis include tumors that do commonly cause hydrocephalus, such as ependymomas, medulloblastomas, hemangioblastomas, or cystic astrocytomas of the fourth ventricle.
Epidermoid tumors often have attenuation similar to cerebrospinal fluid (CSF), but these lesions may have hyperattenuation on nonenhanced images because of high tumoral protein content, hemorrhage, or cellular debris. The wall of epidermoid tumors may sometimes enhance after intravenous administration of contrast medium.
Magnetic Resonance Imaging
A unilocular cystic mass located at or near the cranial midline, with signal intensity similar to that of fat, is highly suggestive of a dermoid tumor. Epidermoid tumors are rarely hyperintense on T1-weighted images and may simulate a dermoid tumor. Definitive diagnosis then requires histologic correlation.
Most dermoid tumors have signal intensity characteristics similar to fat -- that is, they are hyperintense on T1-weighted images and hypointense on T2-weighted images. Fat-suppression techniques may be helpful in confirming the presence of fat in the lesion. Centrally, dermoid tumors may appear inhomogeneous due to the presence of hair follicles, calcifications, and cellular debris.
Rupture of a dermoid tumor (as seen in the images below) can result in fat droplets in the subarachnoid spaces or ventricles, with T1 high signal intensity. Fat-fluid levels may be found anteriorly in the lateral ventricles. A chemical-shift artifact is often present on T2-weighted images as a markedly hypointense band posterior at the fat-fluid interface. [15]
Vascular displacement or encasement by the dermoid tumor may be demonstrated by means of magnetic resonance angiography (MRA) or CT angiography (CTA).
Epidermoid tumors are usually hypointense on T1-weighted images and hyperintense on T2-weighted images (ie, epidermoid tumors are slightly more hyperintense with a heterogeneous signal relative to CSF on T1 and T2 sequences). [16, 17] See the images below
Fast fluid-attenuated inversion recovery (FLAIR) sequences demonstrate slightly higher signal intensity than do fast spin-echo T2-weighted sequences in epidermoid tumors. [18, 19] Echo-planar diffusion-weighted imaging shows a hyperintense signal within epidermoid tumors. The calculated apparent diffusion coefficient (ADC) exceeds that of CSF, but it is less than that of the brain substance.
Magnetic resonance spectroscopy in epidermoid tumors has a lactate peak at 1.3 ppm. Additional protein metabolites, when present, can simulate brain abscess. Epidermoid tumors and arachnoid cysts have similar fluid attenuation on CT scans; they often have similar signal intensities on T1- and T2-weighted MRIs. FLAIR sequences frequently demonstrate a heterogeneously increased signal intensity in epidermoid tumors as compared with that in arachnoid cysts. Diffusion-weighted imaging shows definitive high signal intensity (whiteness) in epidermoid tumors and low signal intensity (blackness) in arachnoid cysts.
Orakcioglu et al reviewed the charts of 5 men and 2 women with intracranial dermoid cysts and found that diffusion-weighted imaging (DWI) hyperintensity in dermoid cysts is related to a decrease of water proton diffusion and should be used for both the diagnosis and follow-up of these lesions. [3] In addition, they noted that although rupture does not necessarily cause hydrocephalus, radical removal of the tumor and close monitoring of ventricular size are necessary. [3]
A study by Jolapara et al indicated that diffusion tensor imaging (DTI) and diffusion tensor metrics (DTM) can be used together to analyze the microstructural anatomy of epidermoid tumors. [20] The investigators found that the epidermoid tumors demonstrated high fractional anisotropy (FA) but, according to the directionally averaged mean diffusivity (Dav) and exponential apparent diffusion coefficient (eADC) values, no indication of diffusion restriction. Diffusion tensor mode values were close to -1, and planar anisotropy (CP) values within the tumor were high. [20]
Similar results were obtained by Santhosh et al in a DTI/DTM analysis in 3 patients with epidermoid cysts. Epidermoid cysts showed high FA, with Dav values similar to that of normal white matter. eADC maps did not show any restriction of diffusion. FA values were high, but not as high as that for the white matter. CP values were higher and linear anisotropy (CL) values were lower than those obtained for the white matter in various regions. [21]
Gadolinium-based contrast agents (gadopentetate dimeglumine [Magnevist], gadobenate dimeglumine [MultiHance], gadodiamide [Omniscan], gadoversetamide [OptiMARK], gadoteridol [ProHance]) have been linked to the development of nephrogenic systemic fibrosis (NSF) or nephrogenic fibrosing dermopathy (NFD). For more information, see the eMedicine topic Nephrogenic Systemic Fibrosis. The disease has occurred in patients with moderate to end-stage renal disease after being given a gadolinium-based contrast agent to enhance MRI or MRA scans.
NSF/NFD is a debilitating and sometimes fatal disease. Characteristics include red or dark patches on the skin; burning, itching, swelling, hardening, and tightening of the skin; yellow spots on the whites of the eyes; joint stiffness with trouble moving or straightening the arms, hands, legs, or feet; pain deep in the hip bones or ribs; and muscle weakness. For more information, see FDA Information on Gadolinium-Based Contrast Agents or Medscape.
Ultrasonography
Although ultrasonography has a limited role in the evaluation of CNS dermoid tumors, in young children, subgaleal dermoid cyst of the anterior fontanelle has been assessed by this modality. [22]
Angiography
A dermoid tumor is an avascular mass on angiography; thus, angiography is seldom used in the study of dermoid and epidermoid tumors. However, displacement or encasement of blood vessels adjacent to the tumor may be well demonstrated by angiography (ie, MRA or CTA).
What would you like to print?